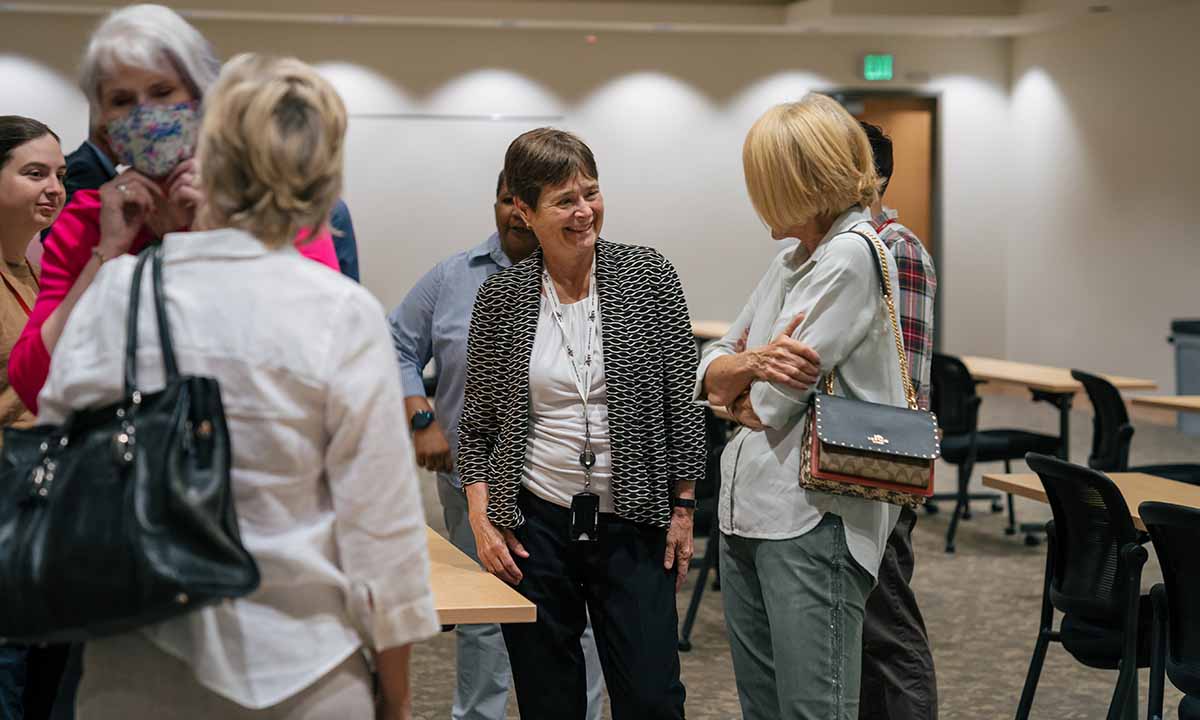 A former employee chats with CEO Sherrie L. Perkins, MD, PhD (center), during a reception on June 24, 2021, to celebrate Perkins' retirement after 31 years at ARUP and the University of Utah.
June 30, 2021
ARUP Laboratories today bid farewell to CEO Sherrie L. Perkins, MD, PhD, who retired after 31 years with the company and the University of Utah Department of Pathology.
Perkins called her retirement "bittersweet" in a companywide message in which she thanked employees.
"Not a day has gone by when I have not been inspired by and proud of the work we do at ARUP to benefit patients and support healthcare throughout the United States while remaining true to our academic roots," she said. "This is a rare company, and I feel fortunate to have spent most of my career here doing work that matters with people who care."
An internationally known hematopathologist, Perkins joined ARUP in 1990 as a fellow and built a distinguished career as a clinician, researcher, educator, and leader. When she became ARUP's first female CEO—and the first woman to lead a national reference laboratory—she had already achieved a number of firsts at the company. Read more about Perkins' many accomplishments in this profile in Magnify, ARUP's online magazine. The most recent LabMind podcast episode also features an interview with her.
Andy Theurer is ARUP's new CEO, effective Thursday.
Theurer also has held multiple leadership positions at ARUP in his more than 30 years with the company. Most recently, he has served as ARUP's president. Tracy George, MD, ARUP's chief medical officer (CMO), will become president to replace Theurer while retaining the CMO role.
"We're thrilled to have the opportunity to build on the success Dr. Perkins and I have been able to achieve as ARUP's top leaders for the past four years," Theurer said.
Read more about Theurer in this Magnify article and about George in this article in ARUP's online magazine. An interview with Theurer will be available in a new LabMind podcast episode that will air in mid-July.
Lisa Carricaburu, lisa.carricaburu@aruplab.com