ARUP Laboratories CEO Sherrie L. Perkins, MD, PhD, is not the first pathologist to recognize that revealing the story told by a pattern of cells viewed through a microscope is something like unraveling the secrets of a treasured work of art.
For Perkins, though, the connection is unusually direct.
Her path to becoming an internationally known hematopathologist and widely recognized expert in pediatric lymphoma began in a back room at the Louvre. As an art student living and working in Paris, Perkins spent time as an intern using mass spectrometry to date and analyze paintings to try to detect whether canvases had been painted over. She quickly realized that her interest in science outweighed her interest in art, and a career in science and medicine was born.
When Perkins retires on June 30, 2021, after more than 30 years at ARUP, she will have held nearly every major leadership position in the company, each time adding diversity to ARUP's top ranks and championing the importance of work-life balance for employees at every level of the company. She became ARUP's first female CEO after amassing countless other professional accomplishments.
"In academic medicine, Sherrie is what we call a 'triple threat' because she is an outstanding clinician, researcher, and educator," said Carl Kjeldsberg, MD, who recruited Perkins to ARUP as a hematopathology fellow in 1990. "If you have all three of these things, you are a real star, but she has contributed so much more with her management and leadership skills," said Kjeldsberg, who was ARUP's CEO from 1993 until his retirement in 2009.
From Biologist to Hematopathologist
From Paris, Perkins went to Waterville, Maine, to study chemistry at Colby College, but she ended up graduating in biology. From there, she enrolled at the University of Arizona to pursue a doctorate in cell and molecular biology, but when she wasn't able to land on a good thesis project at Arizona, she transferred to San Francisco State University, where she finished her master's degree.
Meanwhile, thanks to the urging of a mentor with whom she'd worked at Los Alamos Laboratories as a teenager living in New Mexico, Perkins began to consider a career in medicine. She got into an MD/PhD program at the University of Miami and headed back East.
Perkins met her husband, Don Kohan, MD, PhD, in her first medical school classes at Miami. "He had managed to shut his finger in a car door that first week, and he tells the story that he asked the best-looking girl in the class to take notes for him," she said. "That's how we met."
While at Miami, Perkins also got her first exposure to hematology research. She began working with Adel Yunis, MD, who was researching how growth factors drive proliferation of bone marrow cells. Perkins' PhD thesis, which looked at how colony-stimulating factor pushed the production of myeloid cells, grew from Yunis's research in more ways than one. Perkins and Kohan both sold the lab bone marrow that she and other researchers needed for their experiments. "We were pretty poor," she said. "For 50 bucks, we were all in."
Perkins was still completing her PhD when Kohan finished medical school and headed to Washington University for his residency. She remained in Miami for a year to finish her PhD research, then headed to St. Louis, Missouri, to join him. Perkins finished medical school at Wash U, choosing to specialize in pathology only after an emergency appendectomy and time needed to recover from surgery led her to a pathology rotation with Juan Gonzalez, MD, as an alternative to the pediatric hematology/oncology specialization she had been considering. "He is someone who loves everything about pathology, and it was infectious. I thought to myself, 'Wow, this is pretty cool,'" she said. "I loved that it involved pattern recognition, which felt very comfortable from my art training."
She and Kohan both joined the Wash U faculty while Perkins also continued to do bone marrow research. Her investigation of how bone could be pushed to make more osteoclasts and osteoblasts to treat osteoporosis landed her one of her first grants, a prestigious NASA award to study the effects of aging on the recruitment of osteoblasts and subsequent bone loss.
The couple excelled at Wash U, but the work was grueling—never ending. Perkins became pregnant with their first daughter, and work-life balance became a primary consideration. "What pushed Don and me over the edge was that after 28 hours of labor, they were wheeling me out of the delivery room with my new daughter and a colleague was sitting there saying, 'You've got to finish this abstract to submit to this meeting,'" Perkins said. "I thought, 'Is this really what I want for the rest of my career? I'm not sure.'"
Finding a Home at ARUP
With a child in the picture, she and Kohan began exploring opportunities, and both landed jobs as University of Utah faculty members, drawn to Utah in part by a shared love of the outdoors.
It ended up being a move Perkins will never regret. She spent a year as a hematopathology fellow working with Kjeldsberg as his leadership responsibilities grew. Within a couple of years, she became section chief, with responsibility for recruiting and building the department when she was in her early 30s.
In Kjeldsberg, she found a generous and caring mentor. "He trained me to be a great hematopathologist, but he was also incredible in helping me achieve and value a successful work-life balance," said Perkins, whose second daughter was born after she and Kohan moved to Utah. "He'd come in and say, 'You have to go home. You have your children. You have a husband. You need to work hard when you are here, but also be able to step away.'"
"When I look back at my accomplishments and what I am most proud of, my family is at the top," Perkins said. "My marriage is the best partnership I ever entered, and without my family's constant support, I would never have been able to follow the path that I have taken during my career, nor would I have been as successful."
Work That 'Really Made a Difference'
It also was Kjeldsberg who paved the way for Perkins' involvement in what is now the Children's Oncology Group. Through that association, she met Mitchell Cairo, MD, a pediatric oncologist now at New York Medical College with whom she has collaborated extensively on groundbreaking pediatric cancer research. Cairo is a coauthor on more than 40—and counting—of the 200-plus peer-reviewed papers Perkins has to her credit.
Perkins was the pathology reviewer on multiple clinical trials investigating whether new forms of chemotherapy could improve the cure rate of different pediatric cancers. She played the crucial role of helping to determine which patients, based on their diagnoses, should be enrolled in the trials.
The new therapies often were successful in improving cure rates, in some cases from about 60% to as high as 90%. Perkins considers this some of the most important work of her career. "This was work that really made a difference in patients' lives and advanced the field," she said.
Cairo characterized Perkins as "a true force in the field."
In addition to confirming patients' eligibility to participate in trials, she is responsible for several life-changing scientific discoveries. Perkins, for example, was the first to document that the protein CD20 is expressed on all forms of mature pediatric B-cell lymphoma, which led to clinical trials and subsequent widespread use of a drug (rituximab) targeting CD20 to treat the disease, Cairo said. She also was part of a group that identified specific genetic abnormalities and other prognostic features associated with poor outcomes in children with B-cell lymphoma.
"In addition to being a generous collaborator, she is an astute administrator and an exemplary leader," Cairo said, adding that the two of them initiated what is now a monthly Zoom call that brings together scientists of many different disciplines to discuss, facilitate, and advance lymphoma research. The gathering is known as the "Perkins biology call," he said.
"The respect she has earned is not just because she's a brilliant physician scientist. She's collegial, trustworthy, responsible, nurturing, and acts with integrity," Cairo said. "I have never heard her give an excuse for anything. She would always say, 'I'll move it up on my list,' and it was always done perfectly. You just don't have many relationships like that."
Reaching Out to Educate and Mentor
Even as Perkins' pediatric lymphoma research proceeded, she continued to review and sign out hematopathology cases at ARUP and engage in other research with residents, fellows, and new faculty members whom she trained and mentored. She frequently taught and lectured, both in the U School of Medicine and through the College of American Pathologists, the American Society for Clinical Pathology (ASCP), and the Society for Hematopathology, of which she also was president from 2014–2016. She wrote more than 75 book chapters on topics in hematopathology and pediatric lymphoma. With Kjeldsberg, she coedited a popular textbook, "Practical Diagnosis of Hematologic Disorders." Perkins also is a coeditor of a well-known pediatric lymphoma textbook. She has served on countless professional committees and has received numerous awards.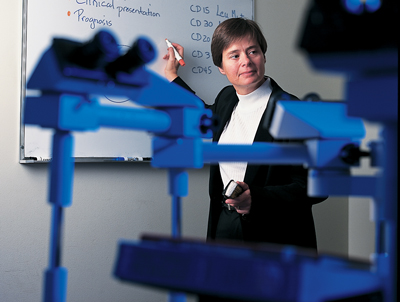 "She is incredibly well known and well connected in the world of hematopathology," said Kristi Smock, MD, medical director of ARUP's Hemostasis/Thrombosis Laboratory. "We all know her as our CEO, but many people don't realize all she has achieved in her professional life and as a pathologist."
Smock said that Perkins' role as a teacher and mentor to her and dozens of others may be her most important contribution. Perkins is well known for providing opportunities for others to get published or earn authorship credits for textbook chapters, she said.
"She is amazing," said Smock, who worked with Perkins first as a resident and later as a hematopathology fellow. "I felt so lucky to get to be trained by someone who is so well known and has so many professional accomplishments. … It's just very inspiring."
Rodney Miles, MD, PhD, current section chief of Hematopathology at ARUP, agreed.
As Perkins' leadership responsibilities at ARUP grew, she trained and mentored Miles as he, too, became engaged in pediatric lymphoma research that he said is now central to his career. He now has most of the responsibilities Perkins once had with the Children's Oncology Group, although she remains a coauthor with him and Cairo on papers, including one just accepted for publication.
"My reputation outside the walls of the University of Utah is for my work with pediatric lymphoma, and really all of that grew out of working with her," he said.
ARUP's First Woman CMO
In 2009, the reputation Perkins had earned and her many accomplishments led to her selection as ARUP's chief medical officer (CMO). She was the first woman to ascend to this important role, and she welcomed it as an opportunity to learn more about ARUP and add diversity to ARUP's leadership.
"It was a lot of work that first year, but it helped me start to learn the business, and to really realize what an incredible thing had been built here at ARUP," she said.
By 2013, Perkins was division chief of Clinical Pathology, and she also became the codirector of the ARUP Institute for Clinical and Experimental Pathology® with Julio Delgado, MD, ARUP executive vice president and current Clinical Pathology Division chief. They were charged by then-CEO Ed Ashwood, MD, with restructuring Research and Development (R&D) to position it to do more test development to capitalize on business opportunities, without abandoning support for medical directors' academic pursuits.
That task was difficult because ARUP's academic affiliation and its dedication to the advancement of laboratory medicine were an important part of its mission and still are. Adding some focus to business needs in R&D was challenging. "It was a big job, but I think the changes have brought a lot of value to ARUP," Perkins said.
Perkins' growing role in leadership earned her a seat on ARUP's Executive Committee and often a vote in decision-making for the company, but she still never anticipated becoming CEO.
Giving Back as CEO
Her selection in September 2017 to serve in ARUP's top position followed a period during which ARUP had two other CEOs—Dean Li, MD, PhD, and Edgar Braendle, MD, PhD—in the short period after Ashwood's 2015 departure.
Because ARUP is a nonprofit enterprise of the U, the university exerts significant influence on determining ARUP's leadership. Vivian Lee, MD, PhD, MBA, the U's senior vice president for Health Sciences from 2011–2017, had a vision for ARUP that likely would have changed the company's course had she remained in her position. Lee hired Braendle, who had worked in the pharmaceutical industry for most of his career but had little experience in laboratory testing.
Lee resigned not long after Braendle's arrival, and Braendle also departed within months, leaving ARUP without a clear successor. Perkins learned she would be asked to be CEO when she was approached first by Peter Jensen, MD, chairman of both the ARUP Board of Directors and of the U Department of Pathology, and then by Lorris Betz, MD, PhD, who had replaced Lee as the acting U of U Health Sciences senior vice president.
"They needed someone to do it, and I definitely felt that I owed so much of my career and my successes to ARUP that when Peter asked me, I really felt that I couldn't say no," Perkins said.
She accepted the role of CEO after Jensen and Betz agreed to appoint Andy Theurer as president for his business acumen—something Perkins felt she needed to help her succeed as CEO. The pair had plenty of work in front of them.
"We really had lost three or four years with everything that happened [after Ashwood left], and I didn't want to take another year gaining the business experience that I knew Andy would bring to the table," Perkins said. "He has been an excellent partner in fostering the growth and success of ARUP over the past four years."
As CEO, Perkins quickly reactivated plans for a new 220,000-square-foot building. She reorganized the Executive Committee to boost its efficiency and effectiveness and made some changes to improve operations, particularly in the areas of quality and IT. With the many changes that ARUP had experienced in leadership, she felt it was important to address employee morale at all levels and provide a sense of stability and renewed purpose.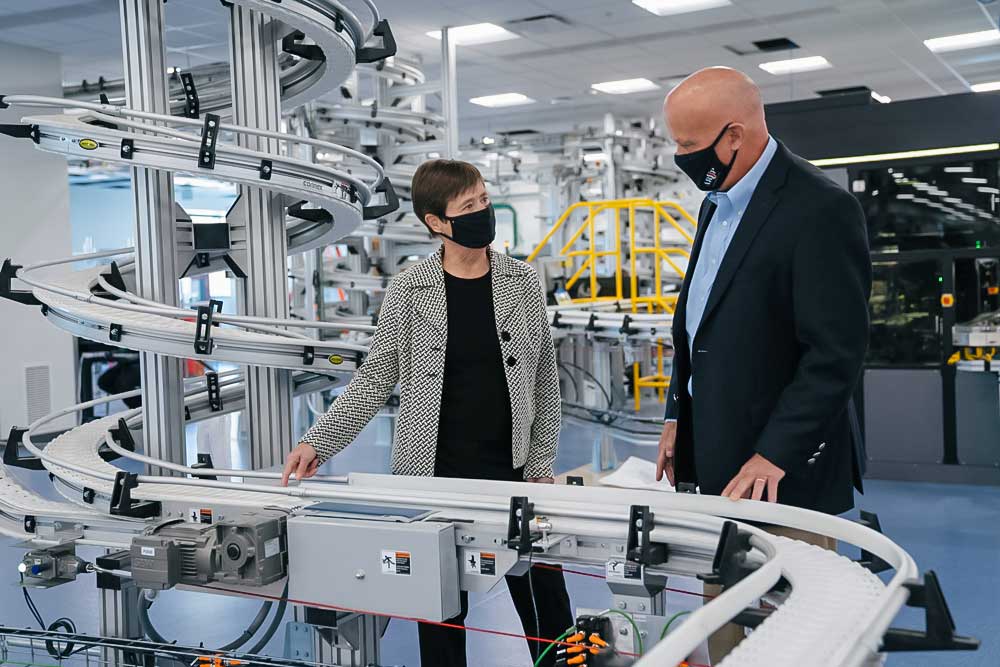 "ARUP went through some difficult times, and when Sherrie became CEO, she really righted the ship. ARUP quickly got back to doing what it does well as an academic reference lab," Miles said. "Thinking back to ARUP's course over the past 10 years, she's really had a big imprint on that."
Part of that imprint, certainly, has been shepherding ARUP through a global pandemic and arguably the most tumultuous year in the company's history. Perkins signed a three-year contract in 2017, but agreed to stay on for an additional year after COVID-19 hit.
"There was never any question that I would stay on an additional year, and if it had been necessary, I would have stayed for another year," she said. "It's just what you have to do as part of being a leader."
Kjeldsberg said Perkins' leadership through the global health crisis has been stellar.
"Something I have always appreciated about Sherrie is that she is very focused and does not waste time on unimportant issues, but at the same time, she is very caring about people," he said. "I am so proud that in the past year, when many companies were laying people off, she was very determined that ARUP would have no layoffs because she understands that people are ARUP's most important asset. … She has earned people's respect and trust."
Perkins acknowledged that focus and hard work have been key in every step of her journey as a woman blazing trails as a clinician, a researcher, an educator, and a leader.
"There has always been a lot to learn and there have been barriers to overcome, but … I'm a person who is driven, and I'm going to put in the work to be excellent regardless of which opportunity I've been given," she said. "My approach has always been, 'If you don't think I'm good enough, just watch.'"
It won't be easy to step back, but Perkins is looking forward to easing into retirement and having a schedule not completely consumed by obligation and work.
Kohan fully retired in October. "We're really looking forward to spending some time together that is not just on Saturday afternoon or Sunday," said Perkins. She will travel, ski, and hike. She will spend more time with her two daughters and nurture her relationships with friends.
Perkins said she is proud to be leaving ARUP a more diverse and inclusive place than it was when she arrived. "That's really important, because you're stronger if you're diverse and benefitting from lots of viewpoints that aren't always aligning with your own."
She is also grateful to ARUP for enabling her to stay true to "the really important things."
"To me, the things that really differentiate ARUP are our academic focus and the fact that we put patients first. That's really why we're here," Perkins said. "ARUP makes money, but it also supports things that are so important to push laboratory medicine forward and make sure we continue to improve all the time. I've been lucky to have been here and to have been able to spend my entire career doing the things that I believe in and love to do with so many wonderful people."