ARUP's New President:


'I've Won the Lottery by Being at ARUP'
Most people can recall a few defining moments in their careers, milestones or accomplishments that serve always to remind them, "This is what I do. This is who I am."
For Tracy I. George, MD, who will become ARUP Laboratories' president on July 1, 2021, one of those moments occurred in Budapest in November 2008 at a meeting of the European Competence Network on Mastocytosis. George and her Stanford University School of Medicine colleague Jason Gotlib, MD, stood before members of the prestigious organization and shared a dramatic discovery.
A clinical trial at Stanford and two other U.S. sites using the drug midostaurin to treat advanced systemic mastocytosis had led to remarkable outcomes in nearly 70% of patients enrolled in the trial. Gotlib presented the clinical data, while George presented on bone marrow evaluation of treated patients.
"There was a complete uproar," George said. "People gathered around us after our presentations asking question after question because they were so excited. It was just really unbelievable."
That moment fed her growing reputation as a hematopathologist with unrivaled expertise in mast cell disease, an often misdiagnosed or undiagnosed disorder. It also cemented her love of clinical trials and the vital role pathologists play in identifying candidates for participation and interpreting how they respond to novel therapies. "When you're involved in clinical trials, you're on the cutting edge of medicine. You're evaluating treatments for patients with diseases that either have no treatments or they're not effective," she said. "You're very directly helping patients, and that's exciting."
Ten years after that triumph in Hungary, CEO Sherrie L. Perkins, MD, PhD, was able to lure George to ARUP with the opportunity to direct Clinical Trials and PharmaDx, and George set about dramatically boosting that line of business. Perkins said George's stellar contributions as a physician scientist coupled with her demonstrated leadership skills led to her appointment as chief medical officer (CMO) in September 2020, and ultimately to her selection by the ARUP Board of Directors to become president, replacing Andy Theurer. Theurer will become CEO to replace Perkins when Perkins retires on June 30, 2021, after more than 30 years at ARUP.
"I've known Tracy for nearly 20 years, and I've always been impressed by her skills as a leader and a physician," Perkins said. "She will bring a deep knowledge of laboratory medicine and a recognition of the important role that academics play at ARUP and our ongoing need to remain true to that touchstone."
Becoming a 'Medical Detective'
George is a Northern California native who grew up in rural Humboldt County, a place better known for its cannabis and dairy products than for its cultivation of internationally recognized mastocytosis experts. She said she loved science and math from the start, but her opportunities were few in the rural schools she attended, so she petitioned the school board to allow her to take classes at Humboldt State University as a high school junior. "My parents were like, 'What are you doing?' and I told them I just needed a couple of hundred dollars to enroll in college."
She was her high school valedictorian, an honor that earned her a scholarship to the University of California, Berkeley, where she worked part time as a security guard at night and on weekends to help pay for her undergraduate education. "When I got to Berkeley, I had never seen so many big buildings or so much diversity, and I just loved it," she said. "I thought, 'I'm never going back home.'"
While at Berkeley, George earned an honor student fellowship at Lawrence Livermore National Laboratory. There, she met hematopathologist Susan Atwater, who, knowing that George intended to apply to medical school, encouraged George to contact her. George did after enrolling in the School of Medicine at the University of California, San Francisco. "I did a rotation with her on the bone marrow service and I loved it, but I still thought I was going to be an oncologist," she said.
Pathology continued to lure her, however. At UCSF, George did back-to-back internships in hematopathology and pathology. "I loved the diagnosis part of pathology and being a medical detective. I thought it was just so cool," she said. "But I was a little worried because I was thinking I wasn't taking care of patients, and I also thought I was terrible at it."
Needless to say, George was not terrible at pathology. She ended up doing surgical pathology and hematopathology fellowships at Stanford, followed by a brief stint in private practice in San Luis Obispo, California, before the widely known and respected hematopathologist Dan Arber, MD, encouraged her to return to Stanford, where her work with Gotlib and others on groundbreaking clinical trials took off. George was at Stanford for 10 years. She said she would have remained there had she felt she had more opportunities to advance her career.
'The Best Job I've Had'
Leadership opportunities she saw at TriCore Laboratories and the University of New Mexico led George to Albuquerque in 2013. Her clinical trials work continued, and she also worked hard to grow TriCore's consult service, help with recruiting, and learn what it takes to run a regional reference laboratory. She was there only five years, however, before she learned of the opportunity to join ARUP's Hematopathology group and lead Clinical Trials and PharmaDx and was intrigued.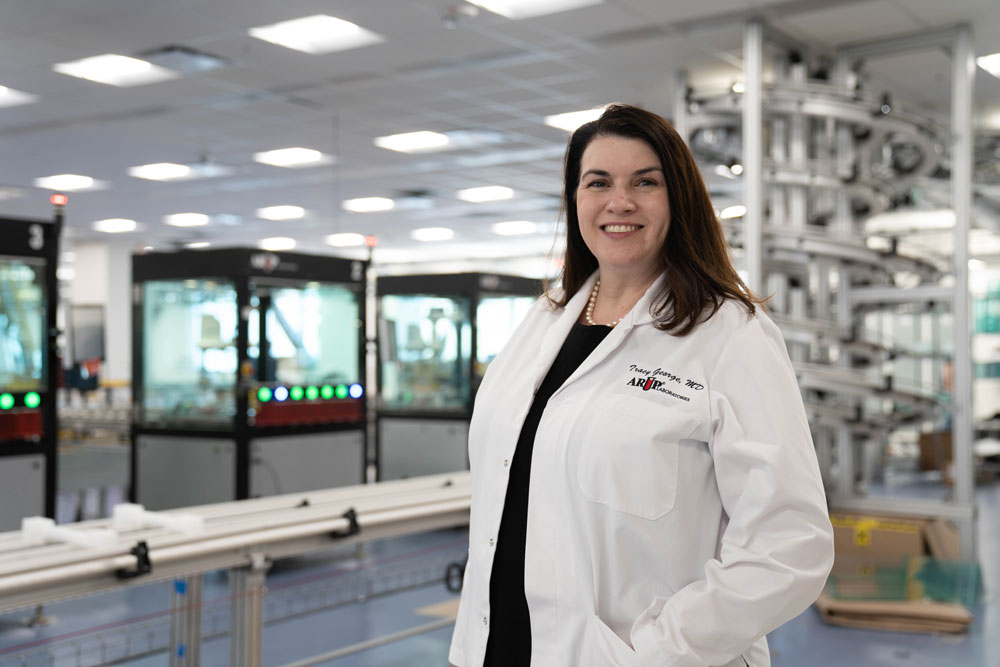 "I saw in ARUP the infrastructure and the opportunity to do all the types of work I really care about well," she said. "Every day, to this day, I'm surrounded by people with an incredible depth of knowledge and understanding, and they're wonderful people to work with, so I feel like I've won the lottery by being at ARUP."
As executive director of Clinical Trials and PharmaDx, George created a central pathology review of slides that has proven to be highly marketable to clients seeking to identify the best candidates for participation in trials and to assess candidates' response to treatment. In the past three years, the offering has helped generate more than $15 million in new business for ARUP—and counting. "Coming in in charge of these two groups was just a natural fit and it was so much fun," she said. "It was the best job I've had. I could have happily done it forever."
When an opportunity to become ARUP's chief medical officer (CMO) arose in September 2020, however, George knew it would be the next logical step in her career. She embraced the challenge to oversee the clinical activities of ARUP's 90 or so medical directors and make sure they work well with operations in the midst of a global pandemic. "We have been through a very difficult period, but our medical directors really came together as a team with a single purpose to offer accurate and fast COVID-19 testing, and we were able to do that," George said. "We continue to capitalize on that competitive spirit."
George will remain CMO after she becomes ARUP's president. She knows she faces a daunting workload, but, "The way I look at it, these are opportunities that happen once in a lifetime. I can think of 1,000 reasons why I shouldn't do it, but at a certain point you have to take a leap of faith and say to yourself, 'You know what? I can do this.'"
Theurer, ARUP's soon-to-be CEO, has no doubt.
"Tracy is the type of person who can look at Mount Everest and not be intimidated, and that's really a rare quality," he said. "Many of us will look at a challenge of that nature and say, 'Oh my gosh, I don't even know how to take the first step,' while she's already mapping out her path without even getting bothered at the enormity of the climb. That's a valuable characteristic that will be really useful in her new job."
His goal is to develop a working relationship with George similar to the trusting and collaborative relationship he has enjoyed with Perkins. "She has incredible capabilities and is a quick learner," Theurer said. "My mentoring of Tracy is going to be me running about 2 feet in front of a steamroller making sure I don't become part of the pavement. My job is going to be easier with her skill and knowledge and background."
George is eager to get started. "We're doing exciting work at ARUP, and we're doing it with the highest quality and concern for patients," she said. "I'm very much looking forward to all the amazing things we're going to be able to achieve for patients, for our clients, and for our employees."