Laboratory stewardship is essential in this era of value-based care. ARUP Healthcare Advisory Services has taken it one step further by looking at how the lab can also affect one of the highest-cost items in healthcare: pharmacy.

10%–30% of lab tests are unnecessarily or inappropriately ordered.

~7% of patients experience adverse drug effects, increasing hospital costs by 1.9% and drug costs by 15%.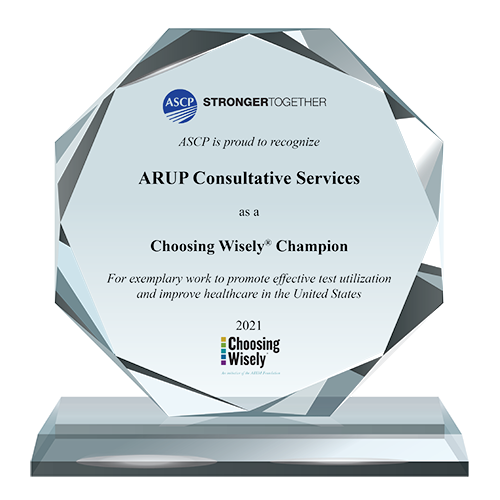 What's the Advantage of Working With ARUP?
We've been helping clients optimize their testing through utilization management best practices for more than 20 years, and we've helped establish hospital and systemwide lab stewardship programs for the last decade.
As a reference lab and a hospital lab, we have firsthand knowledge of industry trends.
More than 100 medical directors keep us up to date on the clinical utility of tests.
Our evidence-based recommendations are supported by powerful data analytics.
Our lab consulting team won two 2021 American Society for Clinical Pathology (ASCP) Choosing Wisely Awards for driving effective lab test utilization to reduce overuse or waste in medicine, cut healthcare costs, and improve patient care.
Where Do I Begin?
An effective laboratory stewardship program goes beyond data analysis and extends into continual improvement and cultural adaptation. By creating a lab stewardship program, you can help your hospital or health system eliminate waste, reduce costs, and improve patient care.
Our healthcare consultant will help:
Analyze your data for opportunities
Establish a governance structure
Apply evidenced-based guidelines based on our analysis
Prioritize interventions and identify next steps
Create a structure to assess and maintain the program
Unpack the Data to Reveal Opportunities
Whether it's the last piece of the puzzle or the start of your stewardship journey, our 12-month analysis identifies your top opportunities for improvement and the associated cost savings without putting a strain on your valuable IT resources.
This comprehensive inpatient report finds:
Duplicate testing
Unnecessary repeat testing or inappropriate testing intervals
Reflex testing
Misordered or misutilized testing
Explore Pharmacy Stewardship to Further Reduce Costs and Improve Patient Care
Appropriate laboratory testing can positively influence pharmacy utilization, helping health systems improve patient care and achieve cost savings. You can maximize the value your laboratory brings to the health system with the following strategies: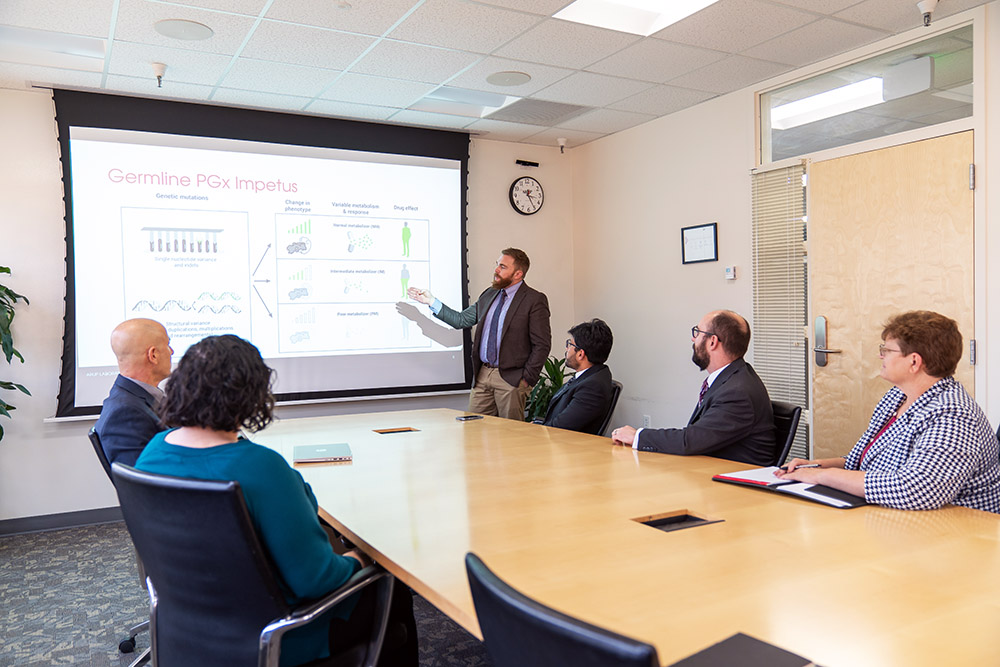 Collaborate With Pharmacy
Standardize workflow and practices
Enhance opioid and antibiotic stewardship
Align budget planning
Enhance continuity of care
Assist With Therapeutic Drug Monitoring
Optimize drug dosing for individual patients
Prevent ineffective drug therapy
Decrease time to therapeutic results
Reduce pharmacy costs
Improve patient safety
Integrate Pharmacogenetics (PGx)
Understand and improve patient response to treatment
Deliver the right drug and right dose at the right time
Improve patient care
Decrease the number of adverse medication-related events
Whichever way you choose to approach your pharmacy stewardship initiatives, our experienced pharmacy and healthcare consultants can guide you through the process.
Standardize Point-of-Care Testing
Help your providers order the right test at the right time with standardized order sets. This systemwide opportunity reduces variation in care, promotes patient safety, and reduces costs associated with unnecessary testing.
Let our healthcare consultants help you:
Develop a governing committee
Perform an initial analysis of order sets
Provide guidance for the committee to create standardized processes going forward
Establish metrics to quantify improvement
Conserve Limited Blood Resources
Blood utilization management is a critical aspect of preserving limited and often critical blood resources, and studies show hospitals with a robust blood utilization program reduce excessive ordering patterns by 20%–30%, potentially saving upwards of $250,000 per year.
Our Healthcare Advisory Services team will help:
Establish a collaborative committee to identify opportunities
Standardize workflow and identify ordering opportunities with evidence-based best practices and Choosing Wisely guidelines
Develop a proactive communication plan to address blood utilization management efforts
Establish metrics to quantify improvement