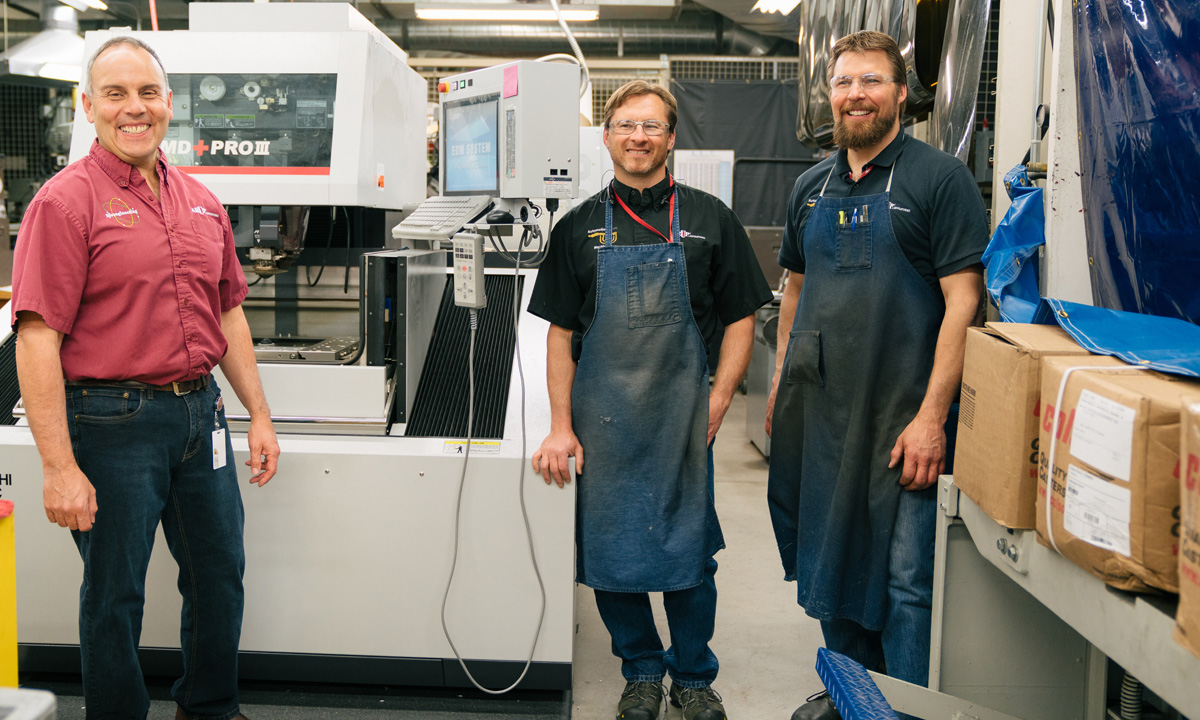 July 6, 2016
ARUP's machine shop staff. From left to right: Dan Valdez, Shane Spensko, and Chance Spensko.
---
Deep in the heart of ARUP's central facility is a room you won't find in most labs. The technicians wear heavy leather aprons rather than lab coats; instead of specimen samples the shelves are filled with bars of steel; and the hum of high-tech mills and lathes cutting raw material fills the air.
ARUP's machine shop was a natural extension of the company's efforts to automate its lab processes. When Chris Semrow, engineer and part of the Automation Team, joined ARUP his goal was to automate many of the tasks that had traditionally been performed manually in the lab. At the time, his team relied on various external machine shops located in Utah and Colorado to make their designs a reality. "It took weeks or longer for us to get the completed parts," recalls Semrow. "Naturally, we weren't a high priority for our suppliers, since the parts we needed were relatively small in quantity."
To meet its automation goals in a more efficient manner, ARUP made the decision to open an in-house machine shop. Daniel Valdez, an experienced machinist, was hired in 2011 to head up the endeavor. Since its inception the shop has grown from a closet that contained one manual mill to a full shop with eight state-of-the-art instruments. Two full-time machinists, brothers Shane and Chance Spensko, have also been a welcome addition.
Automating and Innovating
The shop has been instrumental in reaching many of ARUP's automation milestones, including the new specimen automation system completed in 2015. "When I first came to ARUP, the track was just a drawing on a whiteboard," says Valdez. "We were able to manufacture the pieces to make it a reality."
The shop did indeed manufacture all 400 pucks for the track in-house, collaborating with the Engineering Team throughout the process to ensure the highest quality product. For instance, the machinists constructed the pucks out of aluminum rather than molded plastic for optimum longevity. ARUP was also able to save a substantial amount of expense using its shop rather than an outside company to construct the automation components.
The comradery that exists between the machine shop and other departments at ARUP has led to a collaborative process allowing for brainstorming and troubleshooting with shop staff without the inconvenience and cost involved in dealing with an outside vendor. This has led to many innovations developed at ARUP, including the new generation S2L system, an anti-cross-talk plate, and various instruments for ARUP's individual labs.
Meeting the unique automation needs of each lab can be a challenge for the machine shop. The team recently built an automatic de-capping and labeling machine for the Reagent Lab, and it took a lot of research and development in order to perfect a machine that could handle the delicate glass tubes without breaking them. "It's been a game changer for sure," says lab technician Tess Nell. "I used to get calluses and achy wrists from labelling the tubes by hand. I never want to go back to the old process."
The Drive Behind the Design: Patient Care
In addition to new automation projects and inventions, the shop also participates in day-to-day lab operations. The advantages of having a manufacturing shop in-house have been immense in maintaining a high standard of patient care and quick turnaround time.
When a part is needed for one of the lab's various instruments, the team of machinists—who fabricate parts from raw bar stock— are usually able to manufacture it in a fraction of the time that it would take to get the part from a different source. "We had a machine break down in the Core Lab in the morning, and by replacing one part we were able to get it up and running by the afternoon," says Shane Spensko. The team has also been able to reverse engineer parts that are no longer made by other distributors, or create higher quality products than what is commercially available.
"It's satisfying to know that ultimately what we build here is helping someone out there achieve better health."
Dan Valdez
Machinist, ARUP Machine Shop
In performing their daily tasks, the machinists never lose sight of the purpose behind their creations. "The end product of everything we do in the machine shop is improving patient care," says Shane Spensko: "I try to keep that in the back of my mind throughout the building process." Valdez adds, "It's satisfying to know that ultimately what we build here is helping someone out there achieve better health."
By Daria Cassity, PR & Marketing Specialist