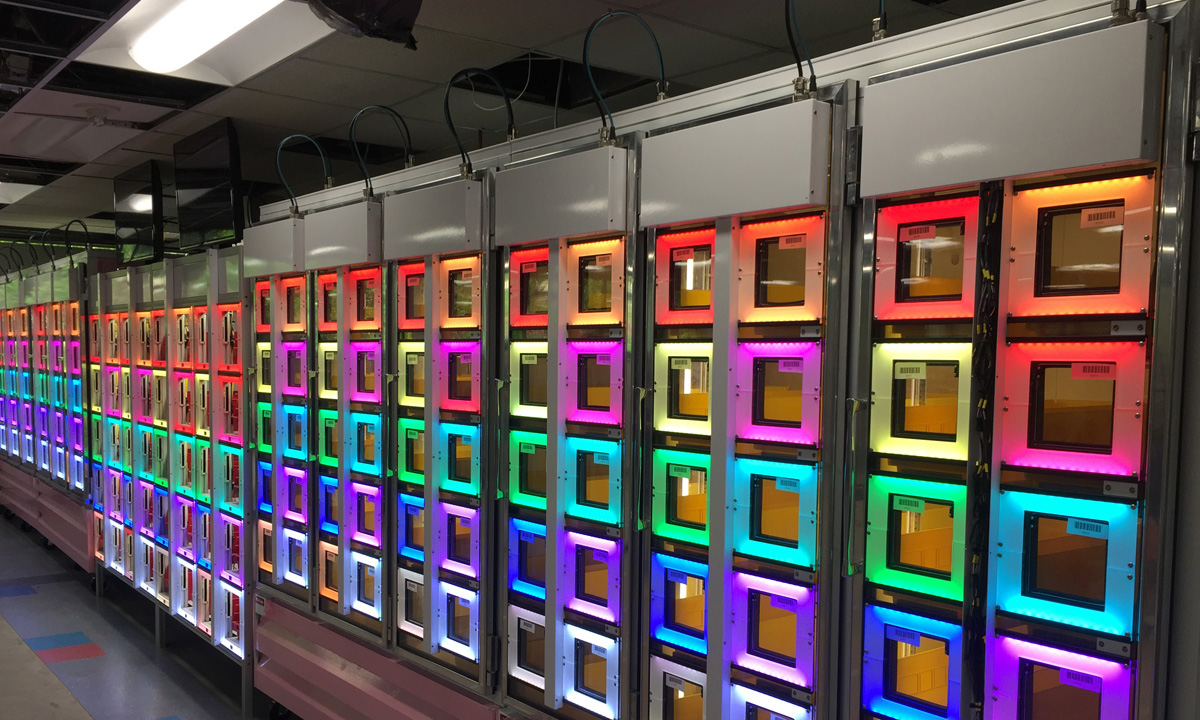 July 16, 2015
---
What started as a simple facility tour at Overstock.com in 2007 got the wheels of ingenuity turning among several ARUP's engineers when they spotted Overstock's package-picking system. The result is the world's first and only medical laboratory Sort-to-Light (S2L) system for sorting specimens faster and more efficiently.
Aside from the "Wow" factor in seeing a "rainbow" light up among the sterility of a busy lab, ARUP's newest generation of the S2L system further ensures efficiency and reliability as some 200,000 manually delivered specimens enter and exit through its colorful doors (panels) each month. This accounts for 15–18 percent of ARUP's monthly volume of specimens that cannot be placed on the automated specimen transport system (non-track specimens).
All of these non-track specimens must be manually sorted and delivered to the correct laboratory. "It's a very straightforward process to manually sort specimens, yet it can introduce error," says Group Manager Clint Wilcox.
While the original S2L was deployed in 2008, the newer generation S2L replaced it on July 6, offering substantial improvements. "We knew what the issues were from working with the previous generation, so we knew what we wanted to focus on," says mechanical engineer Eric Last.
"It really does take a village," adds Wilcox, citing the team consisted of multiple disciplines, including ARUP mechanical, electrical, and software engineers and laboratory staff.
Bigger Is Better
The new generation S2L allows for double the capacity and for nine, instead of four, technicians to sort when workflow increases. It also increases total sort groups from 84 to 160. Specimens are logged into sort groups (bins) according to their lab destination and required temperature—frozen, refrigerated, or ambient. In rebuilding the new S2L, a key focus was to decrease compromised and lost specimens.
"Before we might have had one lab with three or four different tests in one bin. The laboratory technicians would then have to sub-sort when they got to their laboratories," explains Heidi Kildee, project manager. "Now the number of bins allows for less sub-sorting, saving time and decreasing sort errors."
Each sort group consists of a bin that is behind a flipper door (except ambient, which does not have a flipper door) in the refrigerator or freezer, therefore maintaining specimen temperature. All the bin spaces are outlined at the doors by panels with a LED array that can illuminate in nine different colors. "We knew the more color options we had the more users we could have, so we planned the lighting system to allow for this," says Last.
The technicians select one of nine color-coded handheld barcode readers, assigned to them via scanning an employee badge barcode, and proceed to sort the non-track specimens by reading the barcode on the specimen, which causes one of the lighted doors to illuminate in the color that matches their barcode reader.
For example, a S2L operator would pick up the red barcode reader and log into the system, then scan a specimen and sort to the bin that lights up red. "This allows us to have multiple operators simultaneously and still make sure they are sorting to the correct location," says Last.
With the new generation S2L, the team also focused on correcting barcode inadequacies to prevent misreads. The improved tracking system, which tracks specimens from entrance to exit by date, time, location, and user identification, has decreased the risk of losing or misplacing a specimen helping ARUP earn Six Sigma quality levels.
"The new S2L is made for high specimen volumes and can withstand the rigors of different operators using it," says Wilcox. He adds that the driving impetus for creating such a system is ARUP's commitment to improving quality for the benefit of patients. "It shows we care."
By Peta Owens-Liston, ARUP Science Communications Writer