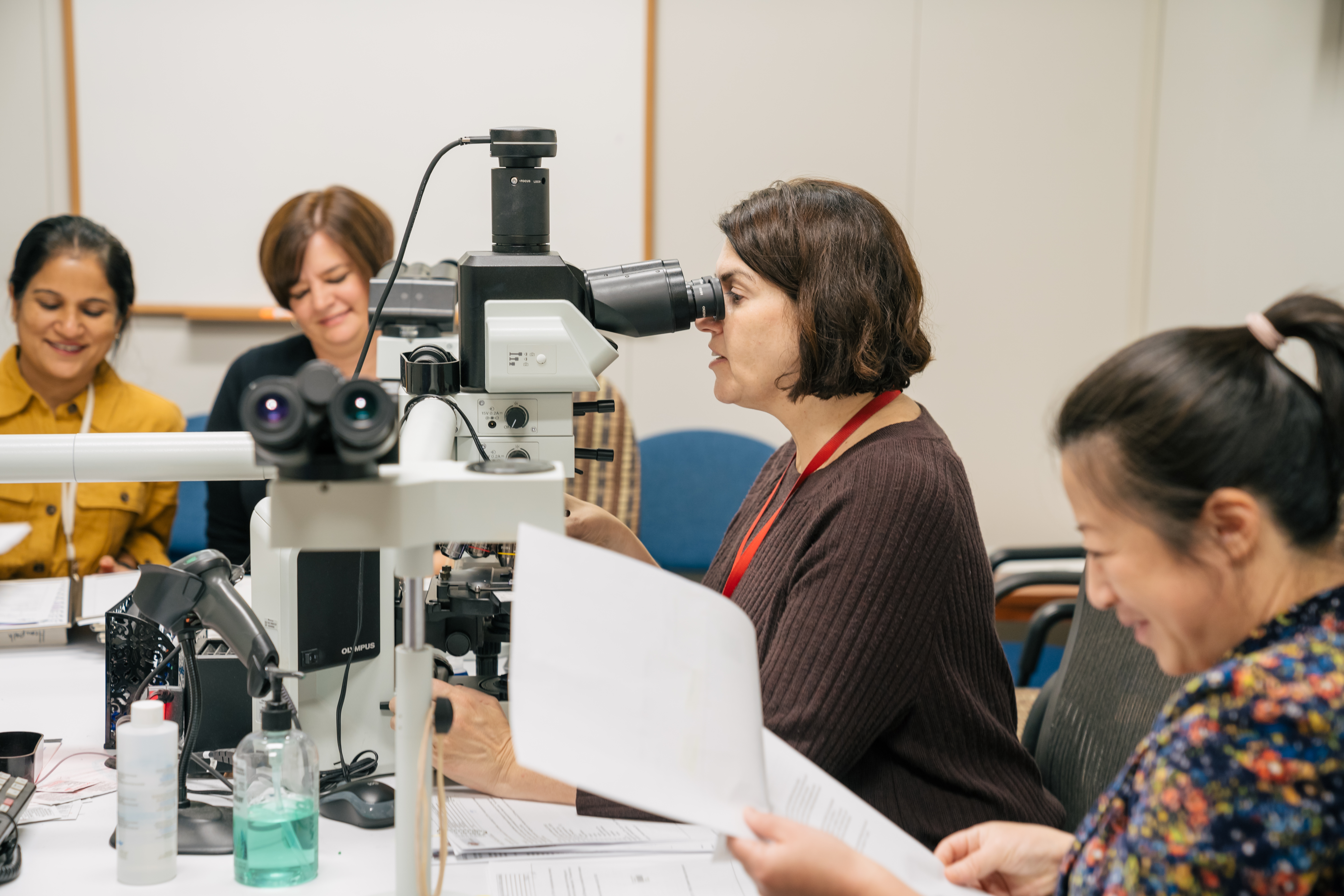 Left to right, Archana Agarwal, MD; Kristi Smock, MD; Tracy George, MD; and Peng Li, MD, PhD, are all hematopathologists and leaders at ARUP who are working to create a welcoming work environment for employees. Along with supportive policies and practices, professional development opportunities, and other benefits, these characteristics have earned ARUP a spot on the list of 100 Utah Companies Championing Women.
March 8, 2023
ARUP Laboratories has been honored as one of 100 Utah Companies Championing Women in recognition of the company's supportive policies and benefits, workplace inclusivity, and representation of women in leadership positions. The honor was bestowed on behalf of the Utah Governor's Office of Economic Opportunity and the Utah Women and Leadership Project at Utah State University by In Utah, a collaborative initiative supporting Utah's economy.
"To create a good working environment is central to ARUP's culture. We treat our employees with respect, create opportunities for professional development, empower one another, and enable work-life balance," said Tracy George, MD, ARUP president and chief scientific officer. "By doing these things and more to create a good working environment, we champion women and all of our employees."
Through its Inspire In Utah campaign, In Utah aims to motivate women to explore new opportunities in the workforce by sharing women's experiences in various industries. Throughout March, In Utah will highlight the 100 companies leading the way toward greater equity and inclusion for women in Utah. Other companies such as Goldman Sachs, Intermountain Health, Recursion Pharmaceuticals, and Known Medicine have also earned this recognition. Access a complete list of recognized companies here.
ARUP offers an array of benefits, including flexible work schedules, on-site childcare, and a Family Health Clinic that provides free primary care to employees and their dependents. Sonia La'ulu, ARUP Research and Development scientific manager and a member of ARUP's Diversity Council, nominated ARUP for this recognition after attending a Utah Women and Leadership Project series on sexism in the workplace. La'ulu said her participation in the nomination process helped her realize how empowering ARUP's benefits are for women who want to transition back to work after having children.
"ARUP has been a great place for me to work as a mom," La'ulu said. "I was able to take advantage of [on-site childcare], and it was a big reason why I could keep working. My husband works at ARUP, too, and working flexible shifts is great for our family."
ARUP employees also have the option of participating in various employee engagement groups (EEGs). EEGs provide an opportunity to build community around shared experiences. The Women at Work EEG, for example, includes subgroups for working parents, work-life balance, and career development.
"People want to feel a sense of belonging. They want to make a difference and be a part of something good," said La'ulu, who also leads ARUP's Asian and Pacific Islander Heritage EEG. "There are so many people at ARUP who want to help others, and we focus on that by supporting work-life balance and facilitating connections."
In Utah's recognition of ARUP as one of the 100 Companies Championing Women list adds to a number of similar honors ARUP has earned. In 2022, Forbes magazine included ARUP on its lists of Best Employers for Women, Best Employers for Diversity, Best Employers By State, and Best Midsize Employers. Utah Business magazine also honored ARUP with its Best Companies To Work For Award for a fifth consecutive year in 2022.
Camryn Fife, camryn.fife@aruplab.com