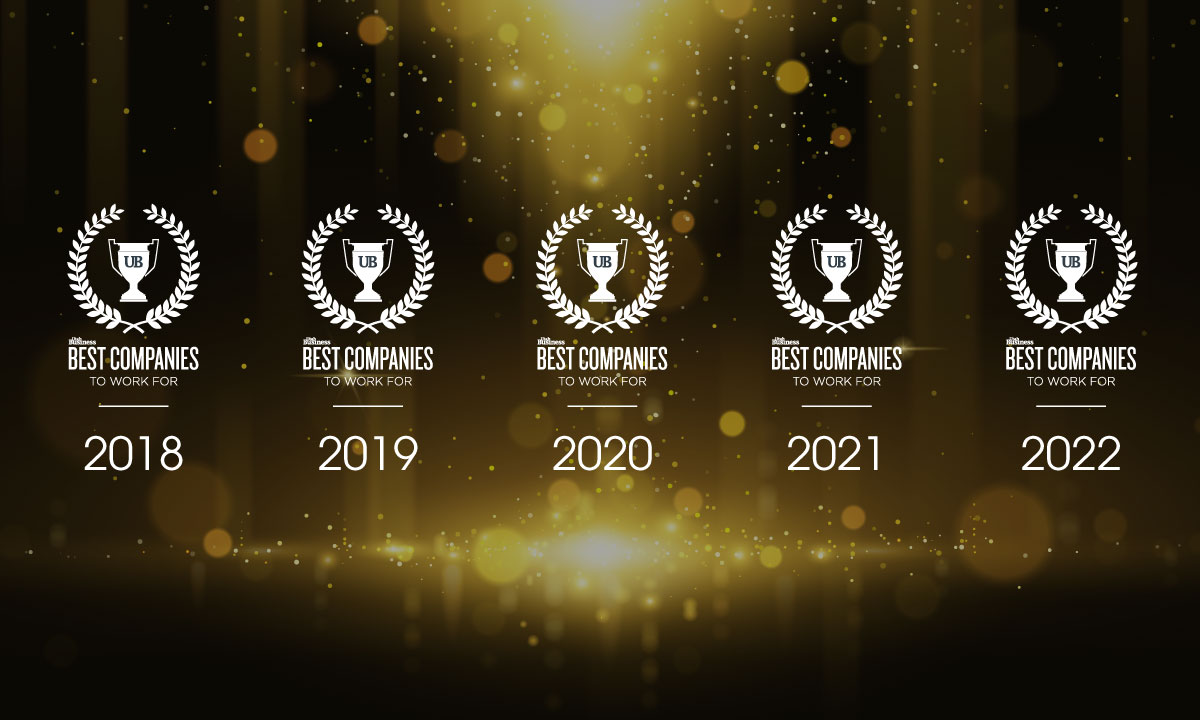 December 1, 2022
SALT LAKE CITY—ARUP Laboratories has earned Utah Business magazine's Best Companies To Work For Award for a fifth consecutive year in recognition of the company's culture of caring, supportive work environment, and comprehensive compensation and benefits package.
The award, announced on December 1, 2022, honors organizations identified as the "best places to work" in Utah by employees who responded to anonymous surveys that evaluated workplace characteristics. Utah-based companies with at least 25 employees are eligible for the award, and companies are categorized by size, spanning micro, small, medium, large, and extra-large categories. ARUP is categorized as an extra-large company and will be recognized at this year's award ceremony on December 8, 2022.
"At ARUP, we work hard to care for our workforce, understanding that our employees, in turn, will work hard to care for our clients and the patients they serve. Together, we do meaningful work that makes a difference in our world," CEO Andy Theurer said. "I'm pleased by this award because it celebrates who we are at ARUP thanks to our exceptional workforce."
ARUP is a national academic reference laboratory with 4,700 employees, the majority of whom work in facilities at University of Utah Research Park. ARUP's workforce is crucial to providing around-the-clock medical testing services that support patient care in hospitals and healthcare systems nationwide.
"People who work at ARUP are a part of something that goes beyond the workplace," said Tracy George, MD, president and chief scientific officer. "Our employees see every sample as a real patient. Their ability to come to work and feel good about what they do supports ARUP's mission to continually improve patient care and set a high standard of excellence in laboratory testing."
In survey responses, employees identified ARUP's mission, benefits, and commitment to health and wellness as top reasons ARUP is a great workplace. The benefits offered to employees include an on-site daycare, Wellness Center, and Family Health Clinic, as well as profit-sharing plans, quarterly incentive bonuses, retirement savings accounts, and tuition reimbursement.
"Employees are proud to tell others they work at ARUP Laboratories," one survey respondent said. "I feel safe at work. I generally feel surrounded by people who want to put out the best work and the most trusted, reliable results for our clients."
Earlier this year, Forbes magazine also included ARUP on its lists of America's Best Employers By State, Best Midsize Employers, Best Employers for Diversity, and Best Employers for Women.
About ARUP Laboratories
Founded in 1984, ARUP Laboratories is a leading national reference laboratory and a nonprofit enterprise of the University of Utah and its Department of Pathology. ARUP offers more than 3,000 tests and test combinations ranging from routine screening tests to esoteric molecular and genetic assays. ARUP serves clients across the United States, including many of the nation's top university teaching hospitals and children's hospitals, as well as multihospital groups, major commercial laboratories, group purchasing organizations, military and other government facilities, and major clinics. In addition, ARUP is a worldwide leader in innovative laboratory research and development, led by the efforts of the ARUP Institute for Clinical and Experimental Pathology®. ARUP is ISO 15189 CAP accredited.
Media Contact
Camryn Fife, camryn.fife@aruplab.com