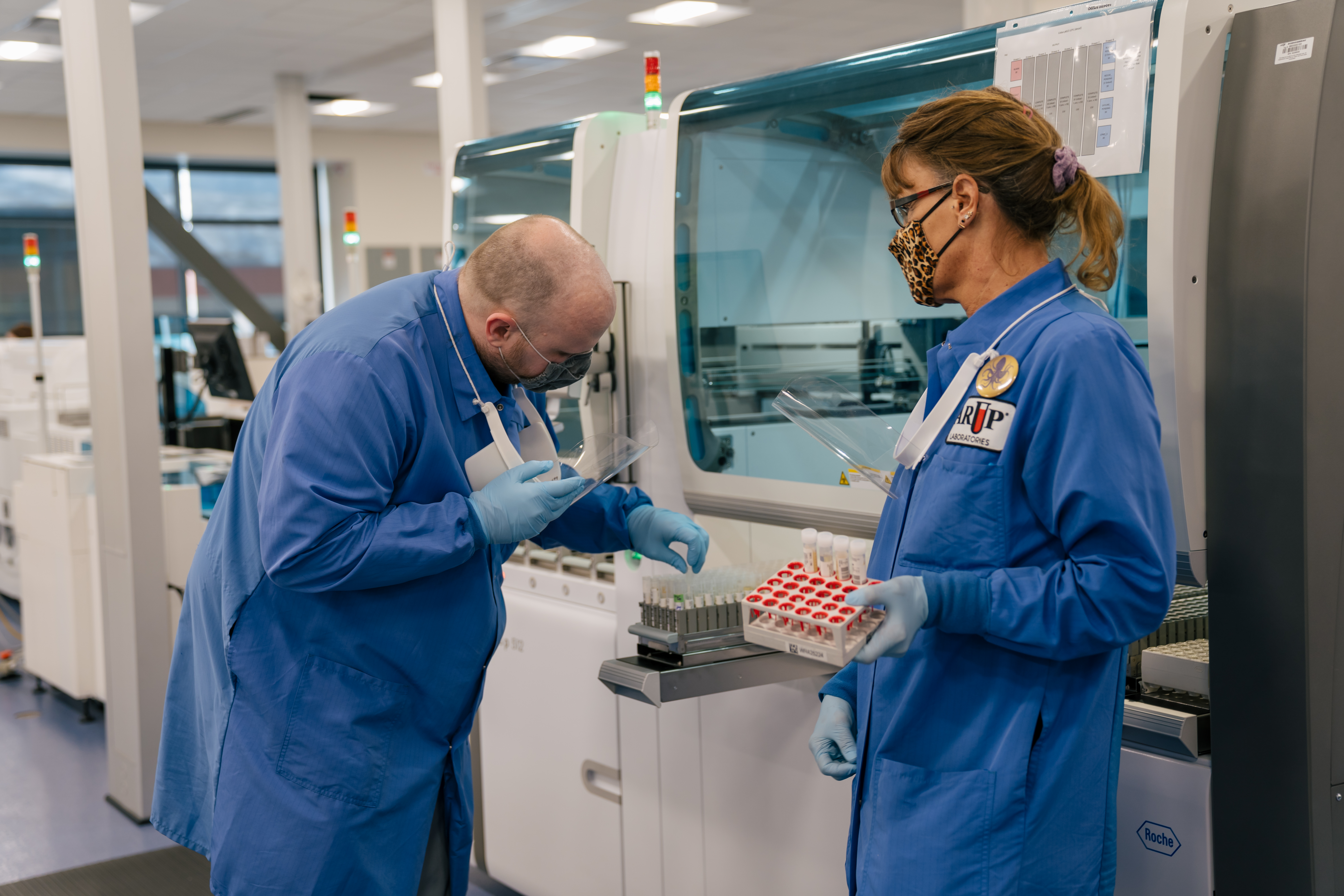 ARUP Laboratories is eighth in Utah on Forbes magazine's list of America's Best Employers By State, a testament to the good working environment ARUP maintains for all its employees, including for these specialists in the company's Automated Core Lab.
August 24, 2022
Recognizing it as "an organization that provides excellent employment opportunities at the local and national level," Forbes magazine has included ARUP Laboratories on its list of America's Best Employers By State for a second consecutive year.
ARUP is eighth among 40 ranked Utah employers with 500 or more employees. In all, Forbes recognized 1,382 companies in all 50 states and the District of Columbia, including them in their states' rankings based on survey responses from 70,000 employees. The independent research firm Statista asked survey respondents to rate their employers on a variety of criteria, including workplace safety, fair pay, opportunities for advancement, inclusive culture, and openness to remote work.
Statista also asked respondents how likely they'd be to recommend their employers to others and gave them an opportunity to nominate other companies in their industries for inclusion in the rankings.
"We're proud that ARUP consistently shows up in rankings of top workplaces at both the local and the national level," CEO Andy Theurer said. "We take our obligation to provide a great working environment very seriously because ARUP thrives on the strength of its dedicated workforce."
ARUP ranked second in Utah in Forbes' 2021 ranking of the Best Employers By State, behind only Costco, which was second on this year's list. University of Utah Health ranked first, and the University of Utah ranked third. Follow this link to see which other companies made the Forbes' list for Utah and other states.
Earlier this year, Forbes also recognized ARUP among the nation's Best Midsize Employers, Best Employers for Diversity, and Best Employers for Women. In addition, for each of the past four years, ARUP has been on Utah Business magazine's list of Utah's Best Companies to Work For.
Visit ARUP's Careers page to learn about the many employment opportunities available at ARUP.
Lisa Carricaburu, lisa.carricaburu@aruplab.com