Coronavirus Disease 2019 (COVID-19)
Frequently Asked Questions
---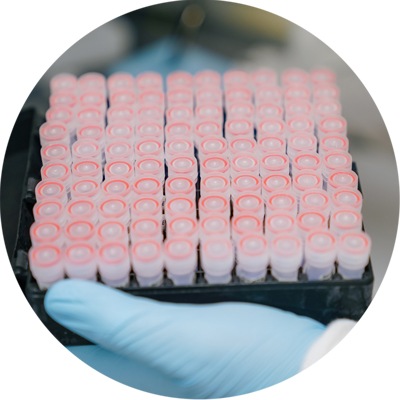 COVID-19 FAQs
As a trusted healthcare partner, ARUP is committed not only to providing timely, accurate test results that inform optimal patient care, but also to providing accurate, up-to-date information that allows patients and the general public to stay current on the changing COVID-19 testing environment.
Frequently Asked Questions
Does molecular viral detection testing detect the novel Alpha, Beta, Delta, Gamma, and Omicron variants, or other variants of SARS-CoV-2 with mutations in the spike protein (S gene)?
ARUP currently offers a COVID-19 nucleic acid amplification (NAA) standalone assay that can be performed using either of two methodologies, reverse transcription polymerase chain reaction (RT-PCR) or transcription-mediated amplification (TMA). The RT-PCR test offerings are manufactured by Hologic and Roche, and the TMA test is manufactured by Hologic. The Hologic tests are performed on the Panther system, and the Roche test is run on the Cobas 6800 system. The Hologic and Roche assays do not use the S gene as an amplification target, and thus their performance is unaffected by S gene mutations.
Genetic sequencing is required to fully characterize and identify a particular SARS-CoV-2 strain. ARUP's Hologic and Roche SARS-CoV-2 assays use several gene targets. These multiple targets allow the assays to detect genetic variants by adding redundancy.
ARUP SARS-CoV-2 Assay Gene Targets

Assay

Gene Targets

Roche RT-PCR

Orf1ab/O-methyltransferase (2 different sites) Env E-gene/pan-sarbecovirus

Hologic RT-PCR

Orf1ab/O-methyltransferase (2 different sites)

Hologic TMA

Orf1ab/O-methyltransferase (2 different sites)

RT-PCR, reverse transcription polymerase chain reaction; TMA, transcription-mediated amplification
The assays can detect the Alpha, Beta, Delta, Gamma, and Omicron variants of SARS-CoV-2. Currently, there is no difference in treatment based on the specific SARS-CoV-2 variant.
More information about COVID-19 variants can be found on the CDC's website.1 Additionally, you can refer to this U.S. Food and Drug Administration (FDA)2 resource for more information about SARS-CoV-2 variants and their possible impact on laboratory testing.
Does ARUP have a SARS-CoV-2 sequencing test available to order? What steps is ARUP taking to identify major variants and to determine how they impact laboratory testing?
ARUP does not currently offer a SARS-CoV-2 sequencing test to clients. ARUP is required to send a percentage of positive specimens to the state health department for sequencing and variant identification for public health management.
Hologic and Roche, the manufacturers of the platforms used by ARUP to perform NAA testing, are continuously monitoring available sequences of SARS-CoV-2 strains to ensure that their assays are detecting emerging variants and to understand any implications of these mutations. Currently, there have been no detected mutations or viral variants that will not be detected by the assay offered by ARUP Laboratories.
What is the difference between IgM, IgG, and IgA antibodies? Is it necessary to be tested for all of them?
Generally, immunoglobulin M (IgM) antibodies are the first antibodies the body produces in response to an infection, usually appear within a week of infection, and disappear within a month or two. IgG antibodies typically develop after IgM and may remain detectable for months or years, although the time period that IgG antibodies persist in those who have had COVID-19 is still being determined. However, in COVID-19, IgM and IgG develop almost simultaneously, generally 7–14 days after symptom onset, in response to SARS-CoV-2 infection. IgM antibodies persist for only a few weeks, whereas IgG levels are more durable and can sometimes be detected for months after natural infection. IgA and standalone IgM tests are not recommended for SARS-CoV-2 serology testing.3 Total antibody and IgG assays should be used instead. Several studies have reported detectable IgG response several months after infection or vaccination using IgG assays.
Can serology be used to determine vaccine response?
COVID-19 vaccination produces antibodies against the SARS-CoV-2 spike protein. These antibodies can be detected by several serology tests, including ARUP's COVID-19 IgG, Semi-Quantitative by CIA assay. However, it has not yet been established that the presence of SARS-CoV-2 IgG antibodies implies protective immunity. Data are insufficient to define a threshold for protective immunity, so we cannot properly interpret whether or not a patient is protected from symptomatic disease or reinfection. The American Association for Clinical Chemistry (AACC) does not currently recommend the use of serology to assess vaccination response.3 More information on the utility of serology in vaccinated individuals can be found in this article.
What do the results of my molecular diagnostic and/or serology test mean?
The table below details the potential results of molecular diagnostic or serology assays and their interpretations.

Test

Result

Interpretation

COVID-19 molecular diagnostic assays

Positive

The patient has an active COVID-19 infection and should follow the CDC's guidelines for self-isolation.
In the event of breathing trouble or other emergency warning signs (eg, persistent pain or pressure in the chest, new confusion, or bluish lips or face), emergency medical care should be sought.

Negative

The person tested most likely did not have an active COVID-19 infection at the time the specimen was collected. Infection may still occur at a later time.
False-negative results are possible, so retesting might be recommended if a clinician still suspects COVID-19.

Indeterminate

The test was neither clearly positive nor clearly negative. Retesting after a period of time may be appropriate.

Invalid

Test results could not be determined. This result could be due to the presence of interfering or inhibiting substances in the specimen. Retesting after a period of time may be appropriate.

COVID-19 serology assays

Positive

Antibodies to SARS-CoV-2 were detected. It is likely that the patient has been exposed to SARS-CoV-2. Serology assays that detect antibodies to the spike protein may also detect antibodies generated in response to COVID-19 vaccination.
A positive result does NOT guarantee either current or future immunity to the virus. Researchers do not know how long COVID-19 IgG antibodies persist, or the level and duration of protection that they may provide.

Negative

Antibodies to SARS-CoV-2 were not detected. This could suggest that exposure did not occur, that an exposure occurred too recently for an antibody response to develop, or that exposure did not result in the production of enough antibodies to be detected by the test.
Negative antibody test results do not rule out SARS-CoV-2 infection.

Indeterminate

The test was neither clearly positive nor clearly negative. Retesting after a period of time may be appropriate.

Source: CDC, 20214,5
Is there a chance that molecular test results could be inaccurate?
No test is perfect. Occasionally, tests can yield a false-positive or false-negative result. Molecular diagnostic testing is highly specific, meaning that the test is designed to detect the unique genetic sequence of SARS-CoV-2. If a test result is positive, you can be confident that the virus was detected.
False-negative results may occur depending on the specimen tested and the timing of the sample collection. If testing is performed early in the infectious process, before symptoms occur, test results may be falsely negative. A false-negative result is also possible if a person is tested late in the course of the infection, when symptoms have waned.
Is there a chance that antibody test results could be inaccurate?
No test is perfect. Occasionally, antibody tests can return false-positive or false-negative results. If a specimen is collected too early, antibody tests can yield false-negative results. False-positive results are possible in a small percentage of individuals. These may be due to past or present infection with non-SARS-CoV-2 coronavirus strains, such as coronavirus HKU1, NL63, OC43, or 229E.
References
Receive COVID-19 Email Updates
To receive email updates about COVID-19 from ARUP, enter your email address: