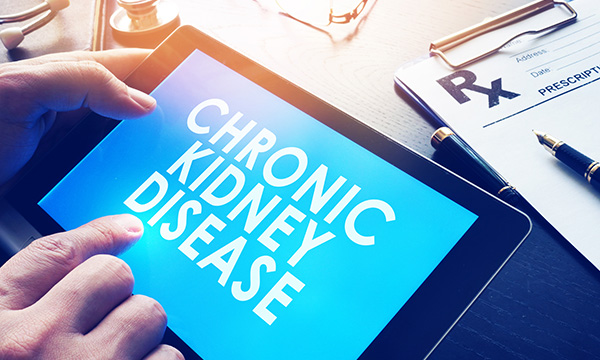 March 6, 2018
---
SALT LAKE CITY—For National Kidney Month and Trisomy Awareness Month in March, we have past stories from ARUP Laboratories, the national reference lab affiliated with University of Utah. Our expert list includes scientists with specialties in renal pathology and genetics.
Trisomy occurs when 47 chromosomes are present, causing developmental abnormalities. Those conditions include trisomy 21 (Down Syndrome), present in around 1 in 691 live births in the United States, with symptoms including delayed or slow learning, and delayed speech; trisomy 18 (Edwards Syndrome), occurring in around 1 in 5,000 live births in the United States, with possible heart abnormalities and death before the first year of life; and trisomy 13 (Patau Syndrome), occurring in 1 in 10,000–16,000 births in the U.S., presenting with severe intellectual disability and heart abnormalities, usually fatal within the first weeks or year of life.
The mother decided—against her earlier leaning—to have a non-invasive prenatal test (NIPT) for Down syndrome, trisomy 18, and trisomy 13. NIPT tests DNA in maternal blood to screen for those three anomalies. The test indicated that her fetus was at increased risk for trisomy 21, or Down syndrome. But that was hardly the end of the story. Clinicians advised performing diagnostic testing; the only way to be sure, one way or the other, was to do diagnostic testing. The parents chose to have further testing done.
Thirty million people have chronic kidney disease (CKD), but only 3.6 million know they've got the disease. With few early symptoms, people may not realize they have the disease until their kidney function is significantly depleted. That can be fatal without dialysis or a kidney transplant. This month a unique collaboration launched to remove barriers to testing for CKD. Who's participating? Learn more here.
A grandmother, her daughter, and her granddaughter all worked in histology, preparing tissue for study by cancer researchers. Here's that story: "Gina's final step in processing her slides ends at the microscope, where she slips one slide then another and another underneath the scope. 'That's kidney; this one is large intestine; this one, liver," she says, showing them off like a proud mother—or artist. The tissues are all paisleys and swirls and ruffles of pink and purple around islands of white.'"
Experts available to speak to media
Dr. Monica Patricia Revelo has research interests in antibody-mediated rejection in kidney, heart, and pancreas transplants, glomerular diseases, and prostate carcinoma development and progression.
Dr. Elaine Lyon is involved with research and development in human genetics—validating methods for mutation detection under Clinical Laboratory Improvement Amendments (CLIA) requirements and transferring them to the clinical laboratory.
Danielle LaGrave is a genetic counselor with ARUP's Maternal Serum Screening program and Cytogenetics Department. She received her MS in genetic counseling from California State University, Northridge, and has been a practicing genetic counselor since 1996.
Related news from University of Utah
Excellent Outcomes for Liver and Kidney Transplants at University of Utah Health Care
University of Utah Surgeons Perform World's Smallest Liver-Kidney Transplant to Save Toddler's Life