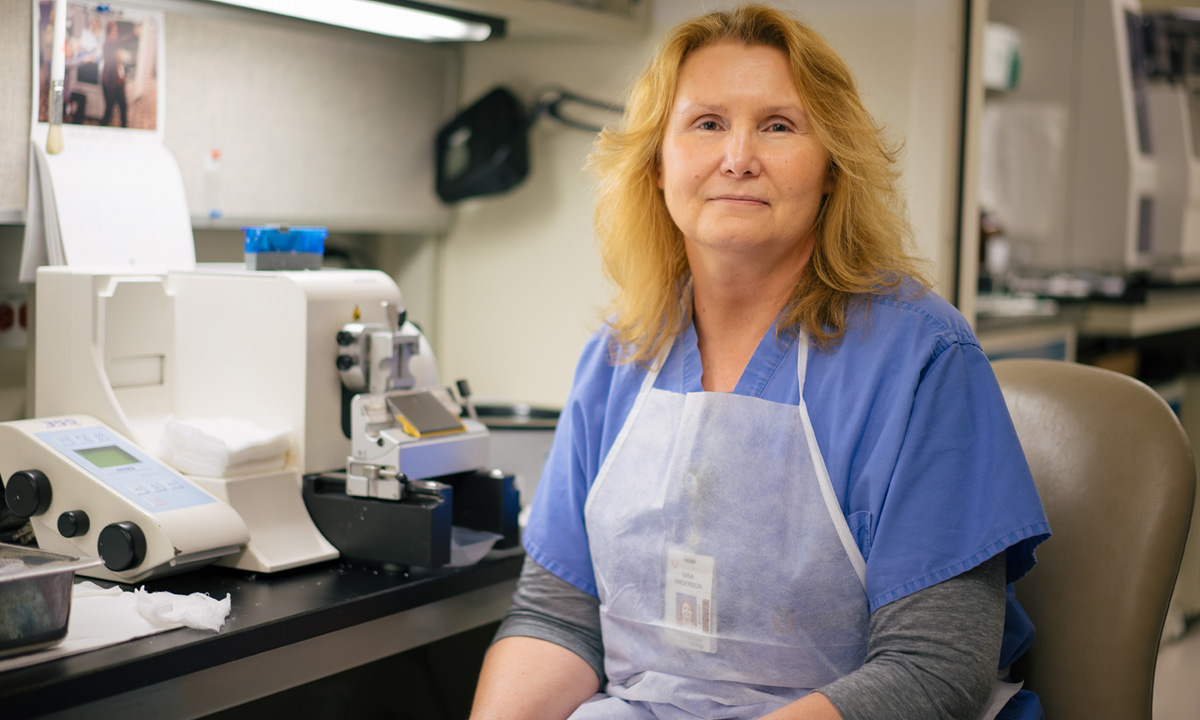 April 6, 2016
---
"She told God, "If you get me walking, I'll never lie down again,'" recalls Gina Anderson of her grandmother, Callie Cooling, whose battle with tuberculosis (TB) of the spine in the 1930s sparked a determination to make the most of her life.
It also ignited a fascination with the body and eventually led her to pursue a career in histology that would ultimately inspire three generations of women—her daughter and three granddaughters—to pursue careers in histology. Gina Anderson, an ARUP histotechnician who works in the Histology Research Core Lab, is one of Callie's granddaughters.
While in her twenties, Callie spent two years in a sanitorium in Michigan where doctors surgically removed a small bone in her leg and inserted it in her back for spine support. They told her that she would never walk again and not to have any more children. "At night when everyone was a sleep, she secretly did her own physical therapy," says Gina. Callie would practice slowly sitting up to build core strength—first lifting her neck, then her chest, then from the waist up. One day, she told her family she wanted a glass of orange juice; she stood up and slowly walked over to pour one for herself, astounding her whole family. She also went on to have twins.
Callie eventually took a train west to Salt Lake City, laying on a flat board the entire trip, where she took advantage of a government-run education program for those rehabilitating from TB and pursued histology. She was trained by pathologist Dr. William Carnes at the University of Utah Department of Pathology and spent most of her 30-year career at the VA and the University of Utah hospitals. "She was an artist and a scientist at heart; histotechnology was a great fit for her," says her daughter Margaret Carter (Gina's mother).
Callie would go on to train dozens of future histotechnicians, including her daughter Margaret, her oldest grand-daughter Callie (named after her), and Gina's first supervisor. "The people she trained were grabbed up quickly, because everyone knew they would be good," says Margaret, who became the fourth registered histotechnologist in the country in 1970 (at the time, this was a new certification and different from a histotechnician).
Callie would bring home unmarked and un-needed slides and tell her daughter Margaret about them, drawing her into the life of cells, talking about nucleus and cytoplasm and pathogens, and how they would appear beneath a microscope. Such conversations continued as Margaret's own daughters grew up listening to histology banter when their grandmother would stop by the house.
Gina recalls visiting both her mother's and grandmother's labs. "I remember looking out over the valley from my grandmother's lab at the university. It seems crazy now, but I also remember people eating, drinking, and smoking in the labs," she says with a laugh.
"I try to imagine that each biopsy belongs to one of my relatives, because I want it done so well that it will allow the pathologist to make an accurate diagnosis based on my work."
Gina Anderson
ARUP Histologist
Gina started at ARUP 19 years ago when she was in the midst of raising her daughters. "It was a good schedule for being a new mom and ARUP works well with families," she recalls. Gina started out in the Gross Room, which is the first stop for tissue after it is biopsied in surgery. It is measured, cut, and prepared for the histology process ahead where it will be transformed into slides. Within six weeks, she had started doing work in the histology side of the lab.
The Art and Science of Slide Prep
"No one cuts tissue like Gina. It's truly an art form," says Dr. Mary Bronner. "And every single patient who needs a tissue diagnosis goes through the hands of a histotechnician."
Gina would agree, noting that her job is about 60 to 40 percent, art to science. "The art is in the cutting and staining; the stains highlight clues that will tell us if a patient has a certain disease," explains Gina.
It is the tissue cutting she likes best. "When you first sit down in front of a microtome cutting machine, it looks easy, but it is not," Gina says, eyeing a tissue sample embedded in a wax cube while methodically turning the arm of the microtome machine. Crepe-paper ribbons of wax, which she lays in a "warm bath" to ease out the crinkles, slip off the machine in front of her. She divides each tissue slice onto a slide. On average, she will slice hundreds of sections of tissue a day.
"I'm always aware of connecting a tissue sample to a patient," says Gina. "I try to imagine that each biopsy belongs to one of my relatives, because I want it done so well that it will allow the pathologist to make an accurate diagnosis based on my work."
Gina flips through a dog-eared histology textbook that used to belong to her grandmother, Callie. She stops on several black and white photos of lab equipment. "It was all very manual then. It didn't allow us to move near as quickly or with as much accuracy as we can now." Gina recalls how her grandmother used to strop a knife on a swath of leather in her lab to keep it sharp for tissue cutting, noting just one seemingly archaic example of how technologies have advanced her field.
On a less technical note, Gina recalls the all bright whites her grandmother Callie and her mother Margaret used to wear to work each day. "They would polish and polish their shoes to an ultra-white sheen," reminisces Gina. "My mom practically gleamed when she left for work each morning."
ARUP has two laboratories located in the Huntsman Cancer Institute: the Histology Research Core Lab and the Division of Anatomic Pathology Lab, which includes surgical pathology, autopsy, and cytopathology. Gina works in the former where slides are made for clinical trials and research purposes. The other histology lab at ARUP is open 24/7 to expedite slide results to thousands of physicians countrywide intent on providing vital treatment for their patients. "Doctors usually want to start seeing slides first thing in the morning," says Gina. "These labs are always under the gun."
Traditionally, research labs are stuck trying to figure out how to provide histologic sections for their research. Here, we have a core facility of experts providing us with high quality tissues and stains," says Allie Grossmann, MD, PhD, an ARUP Medical Director, Anatomic Pathology and Molecular Oncology. "Histology is a skill—even an art—developed over time and having incredibly proficient people like Gina and her colleagues frees us up to focus on our research."
Gina's final step in processing her slides ends at the microscope, where she slips one slide then another and another underneath the scope. "That's kidney; this one is large intestine; this one, liver," she says, showing them off like a proud mother … or artist. The tissues are all paisleys and swirls and ruffles of pink and purple around islands of white. It feels as though you are viewing something from a great distance, like astronauts looking down at the topography of Earth, rather than the micro-close topography within the human body. "You see," says Gina. "There's never a dull moment in histotechnology."
What is Histology?


Histology is a science dealing with the structure of cells and their formation into tissues and organs. Histotechnology centers on the detection of tissue abnormalities and the treatment for the diseases causing the abnormalities. Members of a histology lab team are called histotechnicians and histotechnologists; the latter typically performs more complex techniques and can teach or supervise. Because of a histotechnologist's skillful application of sophisticated laboratory techniques, the seemingly invisible world of tissue structure becomes visible under a microscope.


Source: National Society for Histotechnology
By Peta Owens-Liston, ARUP Science Communications Writer