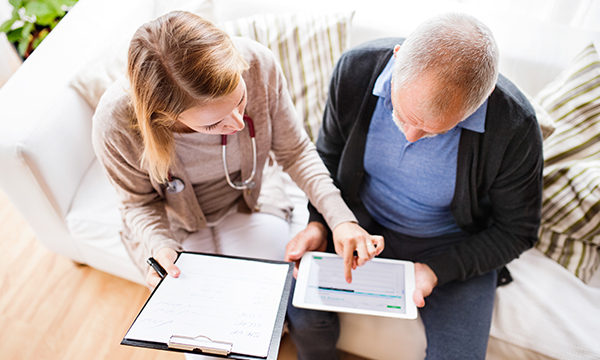 November 8, 2018
---
Bone-marrow biopsy reports. They reveal whether your marrow is producing normal blood-cell counts, making such reports a medical necessity in many cases.
Industrywide, the need for human explanation fits into an ongoing discussion of future roles for practitioners of diagnostic medicine.
Yet these and other pathology reports can be pages long and include plenty of words even clinicians see rarely. Often, the reports combine information on:
morphology, which distinguishes normal from cancerous cell development

flow cytometry, which is used to measure physical and chemical characteristics of certain cells or particles

fluorescence in situ hybridization (FISH) results that map genetic material in cells

next-generation sequencing (NGS), which determines the order of nucleotides in the chromosomes and genomes
But here's the thing: A human can explain it all. Patients may crave one on ones, and even practitioners may benefit from a chat or email with a pathologist to double-check that they're on the right track, notes Tracy George, MD, ARUP medical director, Hematology.
That's why pathologists at ARUP routinely help flesh out complex reports by phone or email. After all, while pathologists research disease and understand diagnostic tests, sometimes they are needed for their human selves—in the name of better healthcare.
Industrywide, the need for human explanation fits into an ongoing discussion of future roles for practitioners of diagnostic medicine. Will pathologists become active members of hospital teams or boards? Will they, like anesthesiologists and other practitioners, prep patients and explain cases in clinical visits once a week or so? In ARUP's podcast LabMind, host Brian Jackson, MD, ARUP medical director, Business Development, IT, and Support Services, interviewed Andrew Fletcher, MD, ARUP medical director, Consultative Services, about healthcare systems of the future, and which skills pathologists will need.
In the meantime, pathologists at ARUP actively engage with medical practitioners, and sometimes patients. They discuss topics that include:
Explaining Rare Diseases
When a report combines many factors, and especially when a report covers diagnosis of a rare disease, practitioners and patients benefit from talking with the managing pathologist, says George, who is a specialist in mastocytosis, which occurs when mast cells (types of white blood cells) accumulate in skin or internal organs. The rare disease affects fewer than 200,000 people in the United States at a given time.
When a disease such as mastocytosis shows up in a report, George can help explain the classification and finer points of the diagnosis, talk about treatment and available trials, and refer the patient to specialists. "For diseases that clinicians and many pathologists haven't seen, our expertise can help flesh out those reports. I joke that I'm the matchmaker, hooking up people doing related work or with questions on this disease I know."
George often talks with patients, too, explaining why specimen samples were inadequate for the test, how to make a diagnosis, or what next steps might be. "I could say, for instance, 'This diagnosis means you don't have mastocytosis; you should see an allergist to learn why bumps are forming on your skin.' I emailed with someone today, for instance, about something similar."
Clarifying Points
After receiving flow cytometry and hematology reports recently for one patient, a physician called ARUP Client Services to double-check a negative diagnosis. In particular, the clinician wondered about the level of a particular population of lymphocytes (white blood cells occurring especially in the lymphatic system) in the patient. [Many disorders can decrease lymphocytes in blood, but viral infections (AIDS, for one) and undernourishment are common causes.] K. David Li, MD, ARUP medical director, Hematopathology, responded to the call by pulling up the case on the computer in the flow lab. He filtered data to carefully examine columns of histograms for the lymphocyte the clinician was seeking, and confirmed that the original diagnosis of negative was correct.
Learning the Finer Points of Cancer Diagnoses
When patients arrive at University of Utah Health or the Huntsman Cancer Institute (HCI), it is standard to review and confirm prior biopsies and resections from outside institutions.
Sometimes, patients arrive at HCI with a diagnosis of metastatic carcinoma of unknown primary; this means there's a tumor, but its origin has not been determined. In such cases, Daniel Albertson, MD, ARUP medical director, Anatomic Pathology, may call the outside clinician to learn more about the patient's clinical history, imaging, and surgical findings in order to guide additional molecular and/or immunohistochemical testing.
Bladder cancer treatment is another example where communication with both outside institution clinicians and those at nearby University of Utah is essential. This cancer type involves a fairly distinct cutoff point which directs patients to receive either chemotherapy and surgery in advanced cases or intravesical therapy (Bacillus Calmette-Guérin Immunotherapy, or BCG) in lower stage high grade disease. In the latter procedure, a clinician places bacteria (BCG) into the bladder using a catheter, rather than medicating by mouth or injecting chemotherapy agent(s) into a vein. "It is absolutely essential that we appropriately classify depth of invasion and provide the patient with the most appropriate therapy for the individual," notes Albertson.
In bladder cancer, the stromal response and destructive nature of the tumor can obscure the tumor's depth. "If I talk directly with the urologist who looked in the bladder and did a biopsy, I can find out, along with looking at their report, how much of the bladder was involved and be guided in very difficult diagnostic situations, and if necessary, can request the urologist to obtain more tissue in unclear situations" says Albertson.
As patients arrive from outside medical institutions, ARUP pathologists help iron out any discrepancies. Those happen only occasionally, but recently Li called an outside pathologist because the ARUP diagnosis was quite different from the earlier one. In such cases, two to three ARUP pathologists gather to make a diagnosis, "so that all of us can agree that we have the correct diagnosis before we submit it," he says.
It's all part of ARUP's job in laboratory medicine, making things clearer, to improve healthcare.
Catherine Arnold, Science Communications Writer
Related blog
"Clinical Services Utilization: How Are Laboratories Leading the Way?"