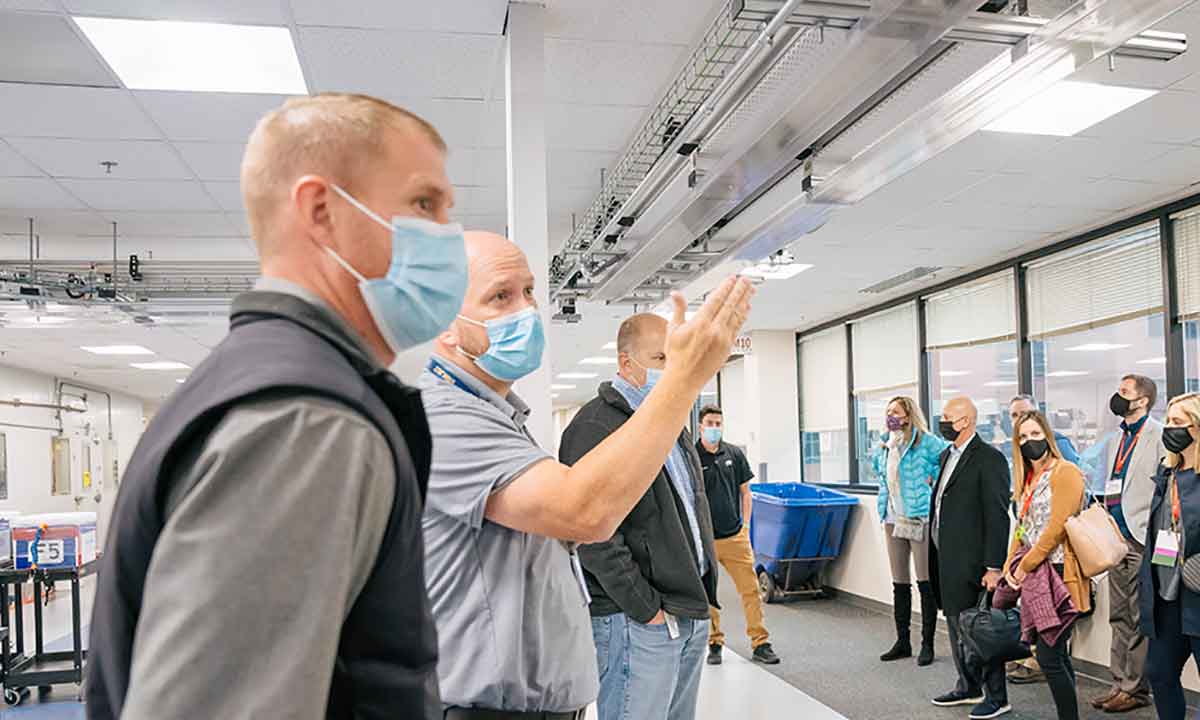 Zachary Wilkey (center), Operations Engineering group manager, explains features of ARUP's laboratory automation system to members of the Association of University Research Parks (AURP) during a tour that was part of AURP's annual convention in Salt Lake City.
October 20, 2021
About 200 research park and innovation district leaders from around the globe visited ARUP Laboratories on October 19, 2021, to hear how University of Utah Research Park's largest tenant has become a model for startups that are born in research institutions and grow into major economic drivers in their communities.
Chief Operations Officer Jonathan Genzen, MD, PhD, welcomed the visitors, all of whom were participants in the Association of University Research Parks' (AURP's) international conference being held through October 21, 2021, in Salt Lake City. They toured a portion of ARUP's new, highly automated laboratory facility and part of the company's legacy building, which is connected to the new facility by a skybridge. ARUP owns eight buildings with a total of about 750,000 square feet in U Research Park.
The company, which has 4,800 employees, moved into its first small facility on Wakara Way in Research Park shortly after the company's formation in 1984 as a nonprofit enterprise of the University of Utah and its Department of Pathology. In the 37 years since, ARUP's operations have consistently grown, both in volume of tests performed and revenue. The company's footprint in Research Park has expanded to accommodate its steady growth.
Earlier this year, ARUP's success led Jonathan Bates, executive director of real estate administration for U Research Park, to call ARUP "our poster child showing the purpose of Research Park."
Read this article for more information about ARUP's long history and presence in U Research Park. This article offers more detail about ARUP's new state-of-the-art laboratory facility.
Lisa Carricaburu, lisa.carricaburu@aruplab.com