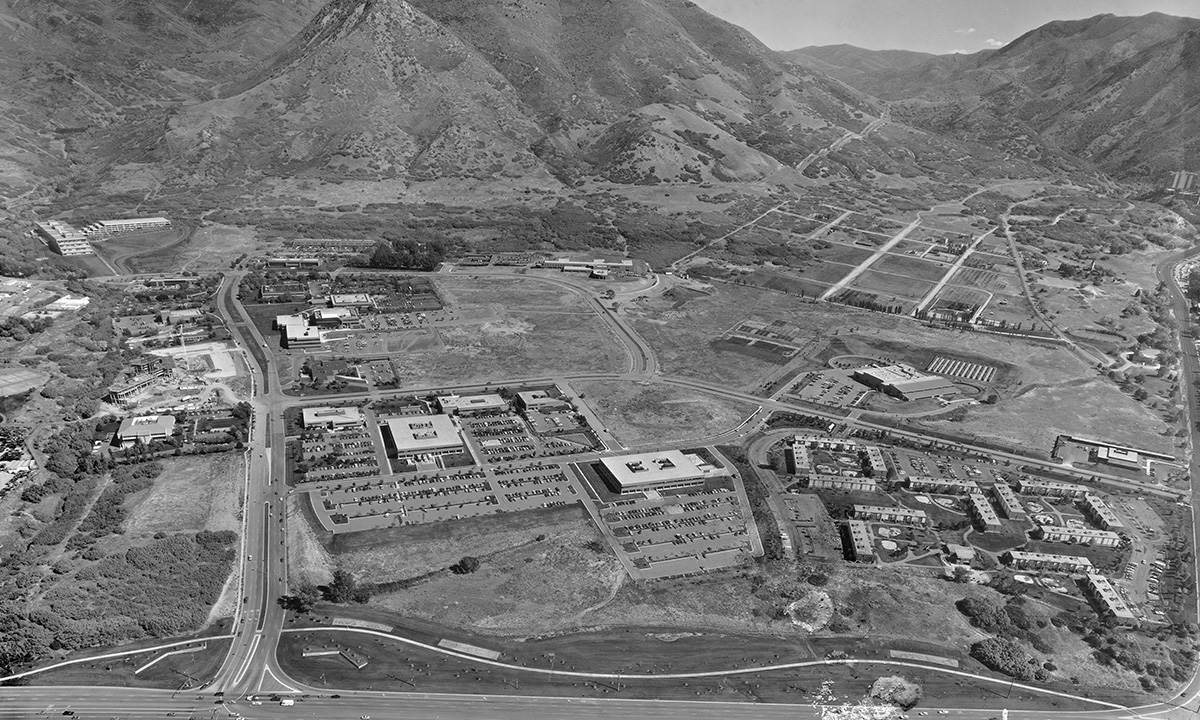 In 1985, ARUP was a small entrepreneurial startup that set up shop in the University of Utah Research Park—which, as seen here in this 1985 photograph, still had lots of room to grow. Today, ARUP is the park's largest resident, and the park was named Outstanding Research Park for 2020 by the Association of University Research Parks.
March 17, 2021
With the partial opening on February 1 of ARUP Laboratories' new 220,000-square-foot building, the company that began in 1984 as a small, entrepreneurial startup has grown to be the largest company in University of Utah (U of U) Research Park, as measured by both physical space and number of employees.
The U of U Department of Pathology spun off ARUP to generate revenue by providing testing services to regional hospitals, while continuing to operate the U of U Hospital lab. "There was a strong entrepreneurial spirit among the University and Department of Pathology," said ARUP President Andy Theurer, who has been with ARUP for more than 30 years.
ARUP needed more space to expand and began eyeing nearby Research Park, which was established in 1968 when a land grant transferred the open lands to the U of U. The park's 329 acres were intended to provide a place for startups to grow, with the aim of transferring academic knowledge to the commercial market and driving economic development.
"John Matsen* was the brains behind it; he was a real pusher and helped ARUP lease a 25,000-square-foot building in Research Park," recalled Charles Evans, former director of Research Park and Land Administration and unofficial historian of the park. The building, which is no longer used by ARUP, is at 390 Wakara Way. Before ARUP moved in, the Occupational Safety and Health Administration used it for their labs.
Today, ARUP owns five buildings in Research Park that together include more than 65 labs and encompass 750,000 square feet of physical space. ARUP's new building increased the company's square footage by 45% this year. Unlike many national reference laboratories, ARUP has intentionally kept most of its 4,500 employees and labs centralized in Research Park.
"As we've grown, a guiding principle has always been how to remain centralized. We have seen how other reference laboratories that are spread out across the country are fraught with problems involving lost specimens," Theurer said. "It is a competitive advantage to have testing in one place, and it also allows for in-person collaboration among our experts."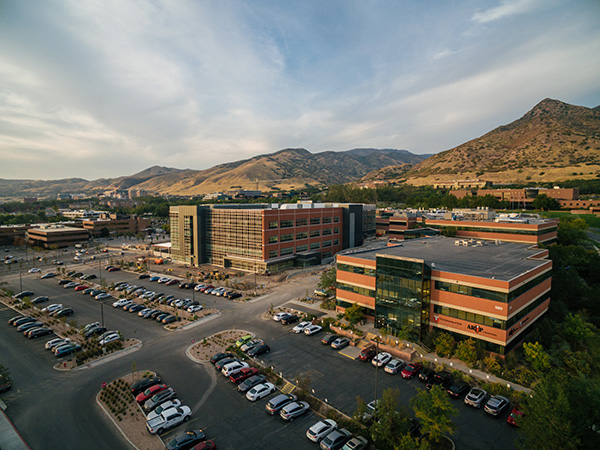 ARUP's Growth Spurt
In 1989, ARUP built a new 90,000-square-foot building in Research Park; at that time, it housed the entire company. All the labs were on the lower level, offices were on the upper level, and some space was leased to the U of U.
By the mid-1990s, nearly two-thirds of the nation's leading academic medical centers were sending samples to ARUP, and the company's labs began operating 24/7. In response to the growing demand for testing, ARUP expanded its presence in Research Park as follows:
In 1994, 136,000 square feet of lab and office space was added to the original building (this became known as Building 2).
In 2000, another 72,000 square feet of space was added to Building 2 (this is referred to as Building 3).
In 2003, a 42,000-square-foot extension was added on to the original building (this addition is known as Building 1.5). This additional space allowed for a larger specimen processing area, an enormous, robotic-operated freezer that could hold 2.2 million specimens, and a cafeteria for employees.
ARUP was sprinting to keep up with the demand for testing. The company had been averaging double-digit volume growth for 20 years, with no signs of slowing. Leadership knew that even more space would be needed.
With this in mind, during the construction of Building 1.5, a tunnel was built with the expectation that it could be used to extend heating and cooling systems to a future building. The tunnel would save ARUP money and provide redundancy by allowing these systems to be linked between buildings.
Expansion of Workspace Beyond the Lab
"As we expanded, the philosophy has always been that those closest to the specimen should remain in the central buildings," Theurer said. So began more expansion into Research Park. Departments not directly connected to the labs (i.e., Information Technology, Marketing, Purchasing, Client Services) were moved into two newly purchased buildings in Research Park, Buildings 560 and 606, in 2008 and 2009, respectively.
Those two buildings added another 100,000 square feet of space. ARUP also bought Building 420, which was used briefly and then swapped with the U of U for land that could provide more parking space for ARUP employees.
In 2017, ARUP bought Building 585 and added another 60,000 square feet. Meanwhile, plans were already in motion to break ground for ARUP's newest building in 2018, which houses a new café, specimen processing and receiving, mass spectrometry labs and the chemistry core lab, among other labs, and an entirely new track automation system.
"At that time, we had known for about eight years that we were going to need this new building, based on an analysis we conduct each year of our operational capacity," Theurer said. He added that ARUP has spent most of its 37-year history growing and will continue to do so.
The small startup that sprouted 37 years ago in Research Park has grown to become one of the largest and most well-respected academic-medical reference laboratories in the country.
"Research institutions are truly our economic engines; they play a key role in company and job creation," said Jonathon Bates, executive director of Real Estate Administration for Research Park. "ARUP is a perfect example of that—ARUP is our poster child showing the purpose of Research Park."
Peta Owens-Liston, Senior Science Communications Writer
*John Matsen, MD, was former chair of the University of Utah's Department of Pathology (1981–1983). He then become the vice president for Health Sciences (1993–1998) and later, the dean of the School of Medicine. He is recognized as one of the cofounders of ARUP Laboratories.