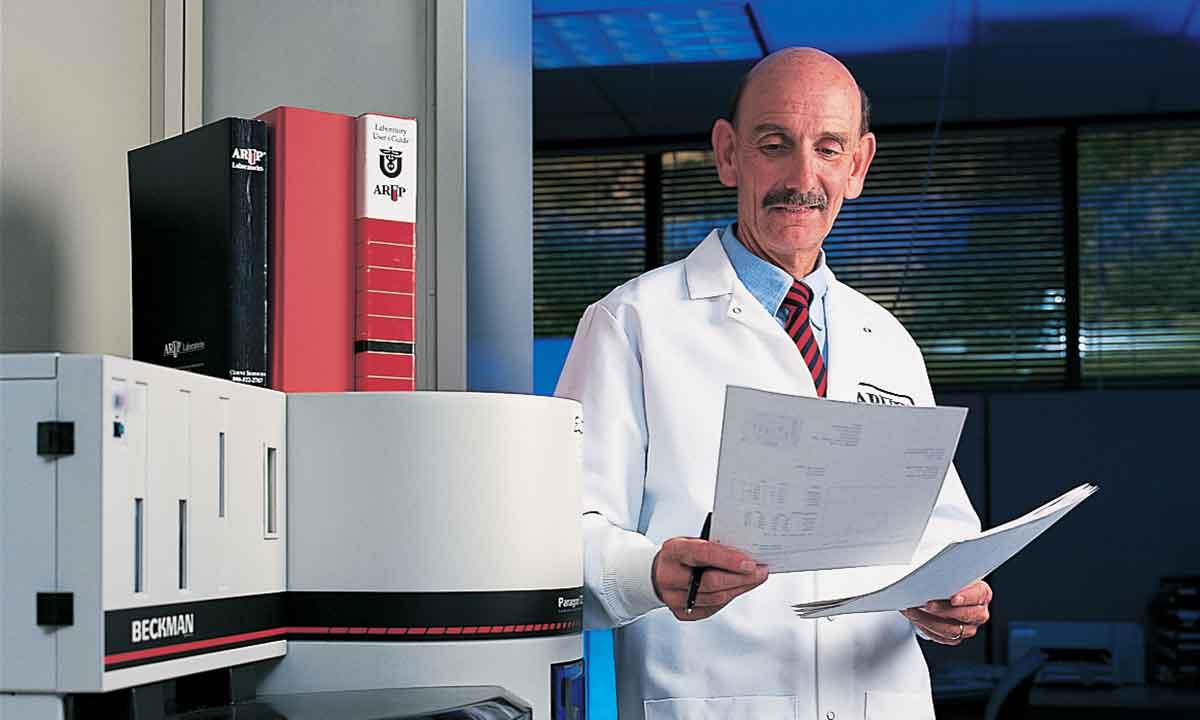 Harry R. Hill, MD, is retiring after 47 years at the University of Utah and ARUP, where he created both the first immunology clinic and the first immunology lab.
September 30, 2021
Harry R. Hill, MD, has been the force behind many firsts at ARUP Laboratories and the University of Utah.
As an internationally known authority on topics that include group A and B streptococcal disease (strep) and rheumatic fever, the role of neutrophils in disease processes, and the diagnosis and treatment of primary immunodeficiency disease, he established ARUP's first immunology lab as well as the first immunology clinic at the U.
Hill was a member of the close-knit group of innovators whose faith in a good idea and in one another led to ARUP's founding in 1984. Just more than a decade later, he initiated the formation of the ARUP Institute for Clinical and Experimental Pathology®, a move that solidified ARUP's reputation as a provider of the highest-quality esoteric testing that also continuously advances laboratory medicine.
On a lighter note, Hill is also the subject of many of ARUP's best-known stories.
He is credited, for example, with jokingly suggesting that ARUP should be named Clinical Reference Associated Pathologists Labs (aka "CRAP" Labs). He is cited as the organizer of the 5:01 Club, which served up martinis every Friday evening as a remedy to the stress of ARUP's early days. ("That can't be true," Hill said. "I only drink red wine.")
He is quick to remind anyone who asks that he never shares his supersecret mobile phone number, yet hundreds of colleagues, students, and patients have it (and he answers their calls).
"I don't think any of those stories are true," Hill said with a laugh. "People remember things I never even said."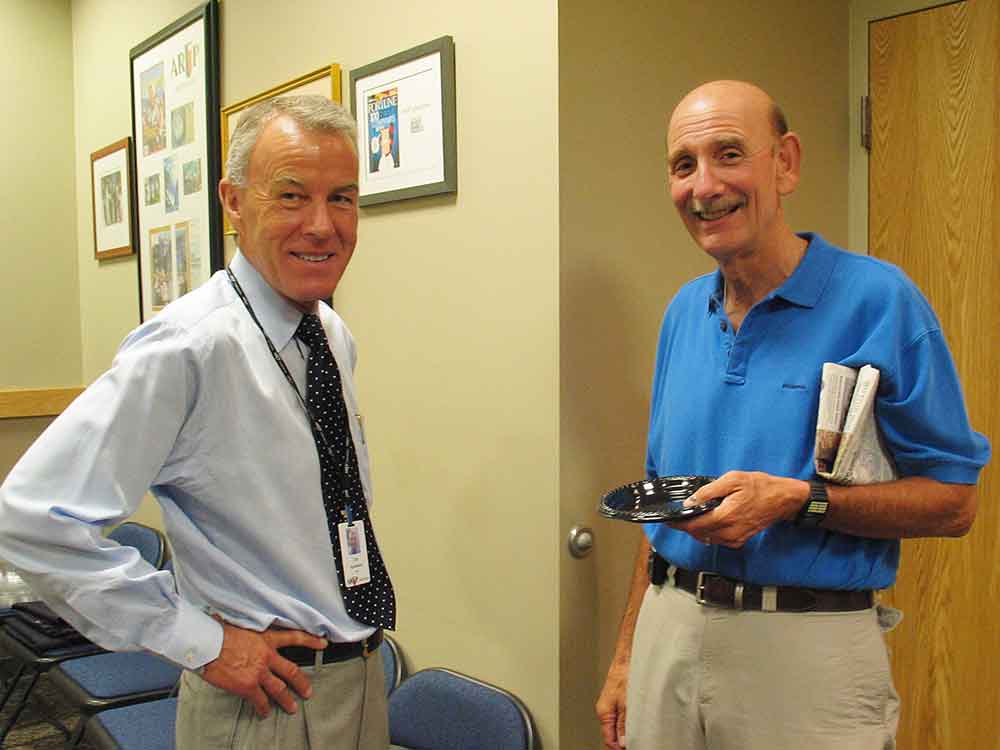 His colleagues insist they're all true, and they can share many more stories about the man who has been a fixture at the U and ARUP for an unrivaled 47 years. When Hill, currently a medical director of the Cellular and Innate Immunology Lab, retires on October 1, his wit will be missed nearly as much as his brilliance and genuine interest in and concern for his patients and students, CEO Andy Theurer said.
"Harry is a soft-spoken and gentle man, but don't ever mistake this disposition to mean he is easy going or complacent. Harry has always been one of the most persistent, driving forces at ARUP," Theurer said. "In his soft-spoken voice, he has demanded excellence and driven progress. He has initiated change and has seen it through to completion. Harry has made a profound and lasting impact."
"In my mind, Harry is special," added Carl Kjeldsberg, MD, ARUP's CEO until 2008 and a cofounder of the company along with Hill. "Although he's very ambitious and works very hard, he doesn't take himself too seriously. He likes to laugh at himself, and he has the most caring, sweet, and humble qualities. Harry has tremendous empathy for those in need, whether it's a family member, a patient, or a student."
Choosing a Career in Medicine
It wasn't always a given that Hill would end up a renowned immunologist. As a young man, he made a choice that led him to medicine when he might have taken a completely different course. Hill, a Louisiana native, was a standout high school quarterback in the South whose all-conference honors earned him the opportunity to spend a summer working out with members of the Louisiana State University 1958 National Championship team, which included Billy Cannon, who earned the Heisman Trophy in 1959. Hill was invited to walk on to the team but passed up the chance when he realized that afternoon practices would conflict with labs required as part of his academic scholarship-supported studies.
"Some days I've regretted that choice, but then a professional football player only made $15,000 a year at that time," he said.
After spending two years studying chemistry and biology at LSU, Hill went on to medical school, graduating from Baylor College of Medicine in Houston in 1966 during the height of the Vietnam War. He fully expected to end up in Vietnam. "I thought I better get ready to do blood and guts, so I chose a residency at Grady Hospital at Emory University in Atlanta, where I did rotations that included surgery, orthopedics, and plenty of stuff I had never seen before—plenty of blood and guts. Oh, my gosh," he said.
As fate would have it, Hill never went to Vietnam. Instead, at the urging of a Baylor classmate who knew he was interested in infectious disease, Hill applied for a position with the CDC's Epidemic Intelligence Service, which sent him to Fort Collins, Colorado. While in Colorado, he found himself on the front lines of a terrible outbreak that flattened some 1,800 U.S. Air Force Academy cadets.
"We got a call and they said, 'You've got to get down here immediately,'" Hill said. "The whole gymnasium was filled with desperately ill young men on stretchers, vomiting, with high fevers, and in need of IV [intravenous] fluids."
All had been at a luncheon held at the Academy that was attended by a U.S. congressman who also fell ill. The culprit turned out to be strep, which Hill and his colleagues traced to an infected worker in the kitchen who spread the bacteria via an enormous batch of egg salad he had prepared.
They treated their patients with bicillin injections, preventing them from developing rheumatic fever or nephritis. Their three-month investigation of the outbreak fed Hill's decades-long fascination with and groundbreaking research into strep. It also solidified his commitment to specialize in infectious disease and immunology.
From Infectious Disease to Immunology
Hill's next stop was at the University of Washington, where he worked with Ralph Wedgwood, MD, studying Job syndrome, a rare immunodeficiency disorder characterized by skin abscesses, among other serious symptoms.
After two years in Seattle, he went to the University of Minnesota to work with Lewis Wannamaker, MD, whom Hill had met while working for the Epidemic Intelligence Service. Wannamaker is credited with proving that rheumatic fever could be prevented by treating strep with antibiotics.
At U of M, Hill also worked with Paul Quie, MD, who discovered the cause of chronic granulomatous disease, an inherited disorder that occurs when white blood cells don't function properly, leading to severe infections. Robert Good, MD, after whom Good syndrome, another serious immunodeficiency disorder, is named, was the third well-known researcher with whom Hill worked in Minneapolis. Hill said he and Quie inherited many of Good's immunodeficient patients when Good took a position at the Sloan-Kettering Institute for Cancer Research in New York. "That's how I kind of shifted from infectious disease to immunology."
The Road to Utah: 'This Is the Place'
Hill's growing reputation as an expert clinician and a trailblazing researcher led to his recruitment by Lowell Glasgow, MD, Ernst Eichwald, MD, Kjeldsberg, and others to join them in Utah at the U School of Medicine. In 1974, Hill and John Matsen, MD, a U of M colleague and close friend, came to the U together. Matsen would later become ARUP's first CEO and the U vice president for health sciences.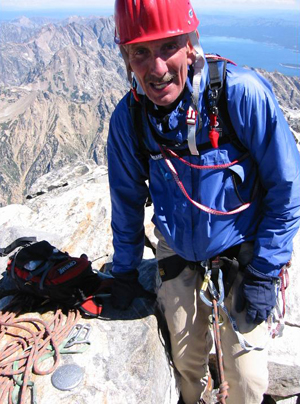 Hill said it didn't take much to convince him to come to Utah. The job opportunity was attractive, but he also had been enamored by the mountains since the first time he saw the Wasatch Range on a trip out West years earlier.
"I came down the canyon in a little Ford Mustang and pulled off on Foothill Boulevard, and I said, 'Oh, my God. This is the place,'" he said. "Little did I know that some other guy had done that many years before. I swear to you."
Hill continued to break new ground in infectious disease and immunology. He also spent time managing the microbiology lab at the Veteran's Administration Hospital in Salt Lake City. It wasn't long, however, before he set about establishing the U's first immunology lab "in a cubby in the corner of the fourth-floor laboratory in the old medical school."
He recruited a person who was doing serum protein electrophoresis, one doing venereal disease research laboratory (VDRL) testing, and one doing complement-fixation testing, and they got to work. "Needless to say, we filled a need and the lab flourished," he said.
ARUP Is Born
In 1984, Hill was among the group of pathologists representing different areas of specialization who risked everything to form ARUP as a nonprofit enterprise of the U. "[U Department of Pathology business manager] Lloyd Martin was the one who pushed us. He kept telling us, 'We can do this. We can start a lab,'" Hill said. "So, we went for it. We bought some equipment and moved into a little building on Wakara Way [in the U Research Park]. All the employees were traumatized, afraid that they wouldn't have any health insurance, but we just started making everything better and better."
ARUP lost money and weathered a myriad of challenges at first, but the business grew on the strength of the quality referral testing it offered to a growing number of clients nationwide. Hill, however, was among the first to recognize that the company needed something more. "I was convinced we couldn't thrive as an esoteric reference lab just by doing routine things," he said.
His research had continued, as had that of other medical directors, but "every time we got really busy, it was hard to get the research done," he said. To remedy this problem, Hill championed the formation of the ARUP Institute for Clinical and Experimental Pathology in 1996 to dedicate staff and resources to creating new tests, critiquing and improving existing tests, and encouraging experts to publish and present at conferences. Kjeldsberg, who was CEO at the time, strongly supported the move.
Hill was the institute's first director and an enduring role model for other researchers.
"Harry is the person who has always defended ARUP's commitment to put science and the patient first and to practice innovative medicine so that we're always advancing in a way that distinguishes us," said Julio Delgado, MD, ARUP's executive vice president. "ARUP became the company it is because of him, and many of us became who we are because of him."
Hill's own research carries the distinction of having been funded by the National Institutes of Health for essentially his entire career. "That's almost unheard of," Kjeldsberg said. "It gives you an idea of how much people value his outstanding contribution to science."
Over decades of research, Hill has authored nearly 300 peer-reviewed papers that have advanced knowledge about a broad range of infectious and immunodeficiency diseases. That number climbs to nearly 500 when you count all articles he has authored or coauthored.
To cite one of the more recent examples, he collaborated with Karl Voelkerding, MD, and Attila Kumanovics, MD, in the discovery of additional genetic causes of common variable immune deficiency syndromes (CVIDs). They learned in part from a patient of Hill's who had the disorder. The 78-year-old woman whom Hill had treated for more than 20 years had two nephews with CVID, and she shared a family tree that led to the realization that 20 other relatives had it, too.
Genetic testing of the family members and others led the researchers to discover that a mutation in IKZF1, the gene encoding the transcription factor IKAROS, was a cause of CVID. "These are the kinds of things I'm really interested in," Hill said.
Kjeldsberg said that it's important to note that Hill has been able to apply his research directly to help the hundreds of patients he has treated. He is a caring and determined physician who has never hesitated to return a patient's call after hours or while on vacation with his family.
"It's no wonder his patients love him," Kjeldsberg said. "At ARUP, we talk about our Five Pillars, one of which is, 'Do the right thing for the patient.' That's Harry. He has always walked the talk."
Championing Work-Life Balance
It may not be apparent, given Hill's many professional accomplishments, but colleagues say he has also been a role model in another area: work-life balance.
Despite choosing medicine over football early on, Hill never abandoned athletic pursuits. He is an avid outdoorsman who hikes, climbs, and cycles in the Wasatch and beyond. He has completed 21 marathons, 10-plus Snowbird Bicycle Hill Climbs (joining Kjeldsberg for the grueling, 10-mile race during which competitors climb 3,500 feet in Little Cottonwood Canyon to the base of the resort), and several 100-mile bike races.
Hill has summited Wyoming's Grand Teton, elevation 13,775 feet, along with most of the other major peaks in Grand Teton National Park. He summited Mount Rainier in Washington at age 59. At age 75, he accompanied the well-known Exum Mountain Guides principal Rick Wyatt and Wyatt's wife Evelyn on an 18-day trek in Nepal, during which they climbed to an elevation of 17,000 feet on Mount Everest.
Delgado, whom Hill recruited from Harvard University, said he remembers Hill telling him, "You can be excellent and still have a life," and Delgado said he has valued that about him ever since.
"Harry has always had a balanced lifestyle," Kjeldsberg added. "He works hard but he takes time to enjoy his passions."
'I'll Be Back'
As he transitions into retirement, Hill said he looks forward to more free time to spend outdoors and with his wife, Sandra, their daughters, Angela, Wendy, and Keely, and their five grandchildren.
He will become a professor emeritus and will retain an office at ARUP. "I love this place and I'll be back."
Hill is the final ARUP founder to retire from the company, and he said he's proud of what he and his cofounders built. "ARUP is all that we imagined it could be and more."
Lisa Carricaburu, lisa.carricaburu@aruplab.com