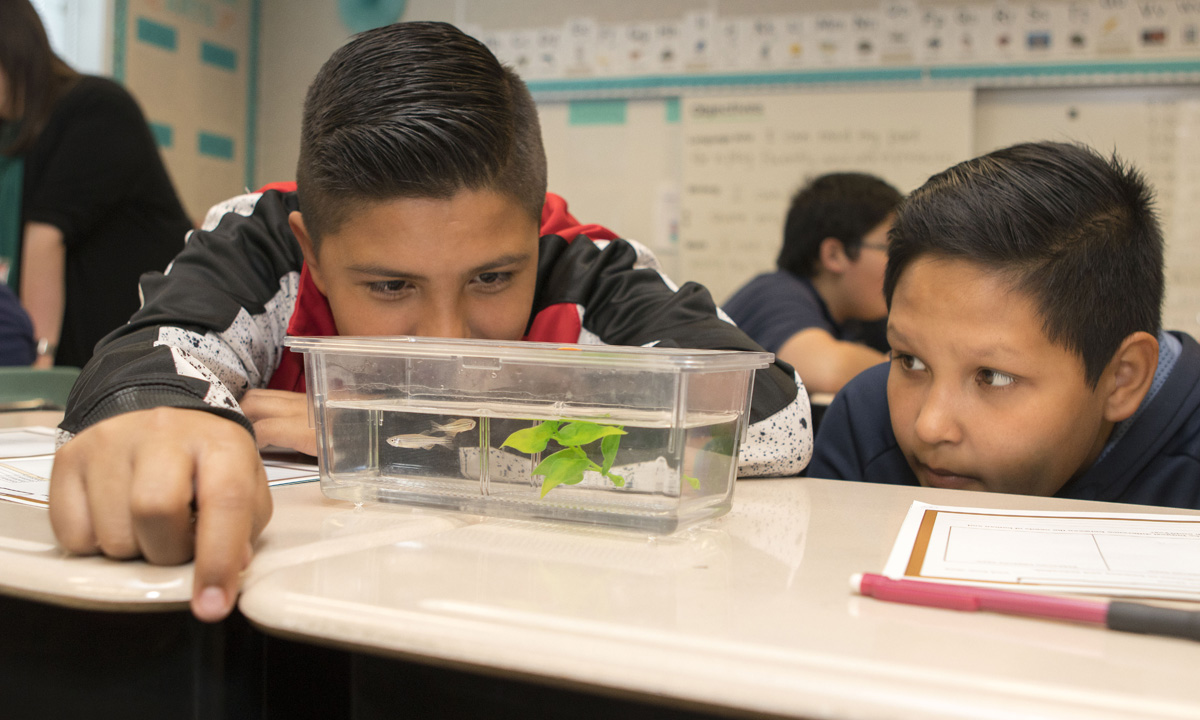 August 21, 2018
Last school year, BioEYES Utah reached more than 5,000 students in their classrooms. Jen Carver, a 5th grade teacher from Mountain View Elementary said: "This is exactly the kind of science I want in my classroom…it is hands-on and highly engaging while giving my students a taste of what it is like to be a scientist."
What better way to teach children about science than to let them watch life develop right before their eyes?
Some Utah schoolchildren are getting that opportunity with the help of volunteers from ARUP Laboratories through BioEYES, a national science education program offered through University of Utah (U of U) Health. Their reaction as they look through a microscope and see living cells evolve within zebrafish eggs is memorable, says Sue Reese, an ARUP medical technologist who spent a week last April with fifth-graders as a BioEYES volunteer.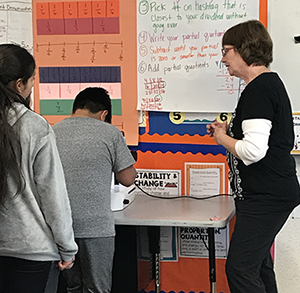 Susan Reese, an ARUP Medical Technologist, volunteered with BioEYES for a week at a local school. BioEYES has recently partnered with ARUP to bring science-minded employees into the classrooms. The program offers a quarterly training for all new employees of ARUP.
"It's so fun working with the kids and seeing their awe and excitement as new life developed in the fish eggs before their eyes," says Reese.
"My favorite part was when the female was chasing the male to see if the male was strong," one second-grader said. Students in kindergarten through 12th grade who participate in BioEYES learn about biology, genetics and the scientific method using zebrafish. The tiny fish are seemingly an unlikely representation of human development; yet 84 percent of genes known to be associated with human disease have a zebrafish counterpart.
The short timespan under which zebrafish develop from single cells to free-swimming larvae makes it possible for students to witness all of their important developmental processes in just one week.
BioEYES has reached more than 5,200 students since its inception in Utah in 2015. Participants have included students in 13 Title 1 schools, which receive federal funds to help children at risk of dropping out.
John Anderson, the academic program coordinator, sees how the hands-on involvement gets kids excited and motivates them to take ownership of the science they are learning.
"Using the microscopes we provide, students are seeing ear, heart, and brain development, and you see their faces light up when they can connect how these fish are being used to solve real-world health issues such as muscular dystrophy or diabetes."
While the program turns kids' minds on to science and exposes them to science-related careers, Anderson says it also shows teachers a model for teaching science. In addition to the weeklong school program, BioEYES provides professional development for interested teachers as well.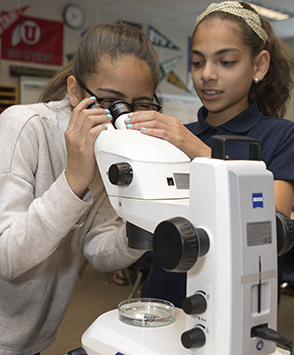 BioEYES brings in microscopes, allowing the students to see the developmental process of the organs and circulatory system. Zebrafish are surprisingly more like us than we realize; 84 percent of genes known to be associated with human disease have a zebrafish counterpart.
"BioEYES is exactly the kind of science they [teachers] want in their rooms because it's hands-on, highly engaging and shows what it is actually like to be a scientist," says Anderson.
BioEYES Utah started three years ago when Judith Neugebauer, PhD, was looking for a way to get more involved in her son's classroom. Her doctoral research involved studying heart development using zebrafish. Eventually, she helped establish the program through the U of U Health's Department of Pediatrics, and has since become a seventh-grade science teacher at Northwest Middle School in Salt Lake City.
In the summer, BioEYES is offered through the Utah Museum of Natural History and the U of U's Youth Education Office. Nationwide, BioEYES has partnered with four other universities.
ARUP's Monique Morrison volunteered with a variety of age groups at three different schools last spring. She recalls how quickly the elementary school students were able to identify the similarities and differences between zebrafish and themselves. Middle school students' eyes lit up when they saw the heart beating or blood circulating through the microscope. The hands-on learning drew in the high school students.
"Getting the next generation of minority students excited about science is really rewarding," says Morrison, who is a research-and-development scientist. "This is really one of my personal goals, especially for girls and underrepresented communities." Morrison adds, "I want these students to see what a scientist is and to know that anybody can become one if they work hard."
To learn more, visit the BioEYES Program or the Utah-based BioEYES. To support BioEYES in a Utah Title 1 school please email Catherine.raney@hsc.utah.edu.
ARUP offers eight hours of pay annually to employees who attend the one-hour orientation and volunteer (with supervisor approval). For more info for ARUP employees, contact: misty.smith@aruplab.com.
Peta Owens-Liston, Sr. Science Communications Writer
Related Blogs:
ARUP Utah Promise Scholarship is Changing Lives
Bioinformatics Learning: ARUP's Program Opens BYU Students' Eyes to New Possibilities