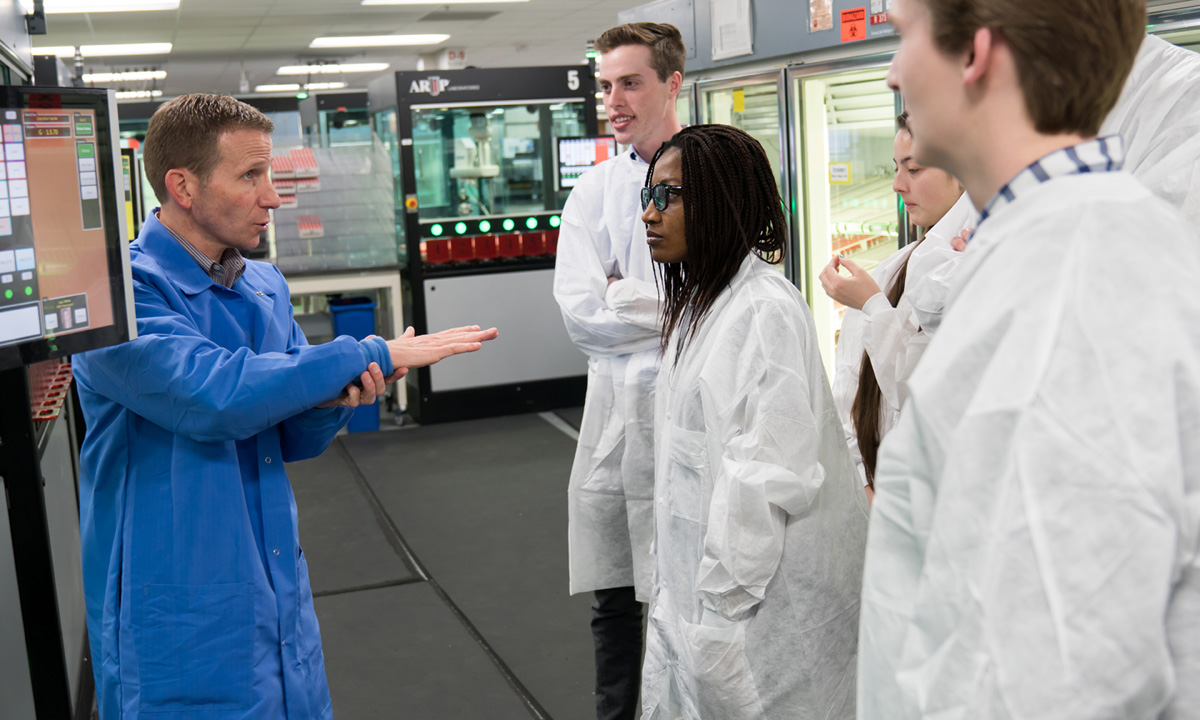 March 1, 2018
ARUP's Dave Rogers shows students the Specimen Receiving and Processing area, where some 50,000 specimens arrive daily and begin their journey into specified labs for analysis.
---
"I didn't realize there were opportunities like this in the bioinformatics field here in Salt Lake City," said Ashton Omdahl, a senior at Brigham Young University (BYU). With 14 of his peers on February 20, Omdahl toured the Specimen Receiving and Automation areas and learned about the robust role of bioinformatics at ARUP. "It was fantastic. Everything from the cool automated analysis system down to the bioinformatics work happening there," added Omdahl, who will be pursuing a PhD in bioinformatics.
"I got a much better understanding of what bioinformatics entails in the real world, and way beyond just gathering data. It plays a big role in healthcare, helping make things more efficient and improving on what we know about medicine—I think it's going to be a game changer. I'm excited to see what is next."
Erica Suh
A junior and a bioinformatics major at BYU.
"We wanted the students to get an inside look at what clinical bioinformatics looks like at ARUP and the applications of their skills in action with current projects," said Dr. Elaine Gee, PhD, director of Bioinformatics. Gee and Biocomputing manager Erica Cuttitta hosted the students and helped them understand how bioinformatics fits in with the genomic testing pipeline. Cuttitta pointed out that some 40 technicians help keep the Genomics Lab running almost 24/7 and that those in Bioinformatics handle the data behind the scenes. Students asked questions; some wanted to know more about next generation sequencing and if there is bioinformatics research happening at ARUP.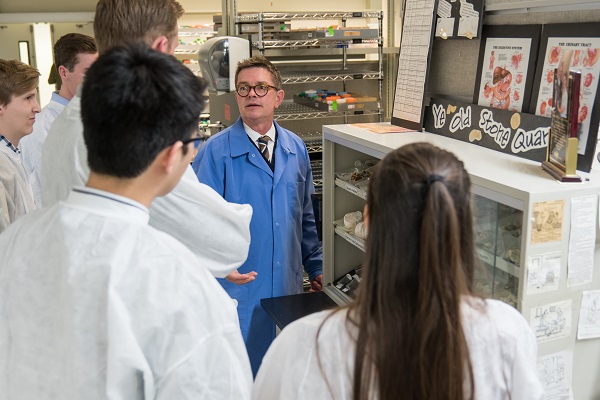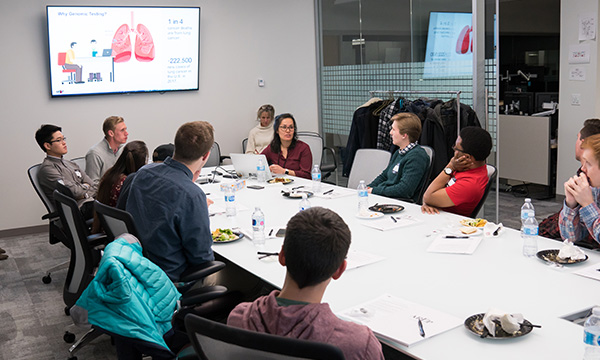 "We hope this experience inspired them to learn more about the genomics industry and gain an appreciation for the differences between clinical bioinformatics and academic bioinformatics—and to perhaps consider a job at ARUP once they are in the field," added Gee. Academic bioinformatics focuses on general research questions that can span a large range of applications. Clinical bioinformatics focuses on specific questions relevant to the patient in the clinic who is relying on upstream analytics to guide their care.
"I got a much better understanding of what bioinformatics entails in the real world, and way beyond just gathering data," said Erica Suh, a junior and a bioinformatics major. "It plays a big role in healthcare; helping make things more efficient and improving on what we know about medicine—I think it's going to be a game changer. I'm excited to see what is next."
A look inside ARUP was a reminder of the science and technology located in these students' own backyard. "It was a great experience to really see the different scientific movements happening in Utah. I had no idea that ARUP is as big as it is and all the technologies involved in the bioinformatics at ARUP," said BYU junior Rex Sumsion, who is earning a bioinformatics and statistics degree. "It helped me realize where I want to focus more in what I want to do."
Peta Owens-Liston, ARUP Science Communications Writer
Related blog:
"Stronger, Faster, Smarter: ARUP's New NGS Pipeline and Analytical Platform"