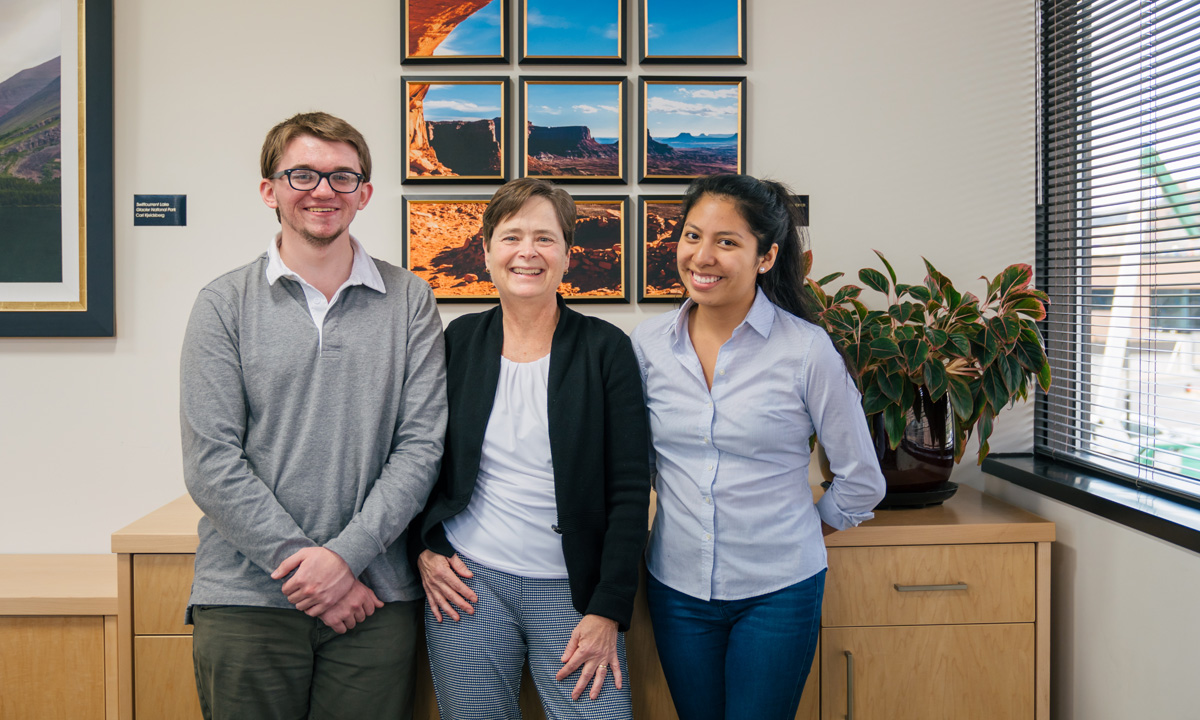 April 11, 2018
ARUP's CEO Sherrie Perkins meets with John Eggleston and Diana Martinez, who both received the Utah Promise Scholarship to help them pursue a college education. They are the first in their families to attend college.
---
For Diana Martinez, hardship became a motivator. Despite coming from a family that has wrestled with homelessness, domestic abuse and drug addiction, she has become the first in her family to attend college.
Martinez is one of 650 University of Utah freshmen since 2014 who have received an ARUP Utah Promise Scholarship, allowing them access to a college education that might otherwise be out of reach financially.
"I don't want anyone I love to have to ever go through what I did," says Martinez, who is in the Honors College and studying pre-law. She plans to break the chain of poverty, which has always shackled her family.
While admission to the U is in itself an accomplishment, paying for college is an equally significant challenge for those from vulnerable, socioeconomically disadvantaged backgrounds. "Offering students the opportunity to reach their highest educational potential is invaluable," says Mary Parker, associate vice president for enrollment management at the U.
"Education and helping others is a big part of what drives our culture here at ARUP Laboratories...It's an absolute honor to help these students, and it's both humbling and inspiring to see the challenges they've overcome."
Sherrie Perkins
CEO
The scholarship is valued at $2000 annually ($1,000 per semester) and is renewable for up to four semesters. It is awarded to students whose family income does not exceed 200 percent of the federal poverty level. The U combines the money from Utah Promise with federal and state aid to develop an award package to support the student. The U's Office of Scholarship and Financial Aid manage the scholarship.
"Education and helping others is a big part of what drives our culture here at ARUP Laboratories," says CEO Sherrie Perkins, who has been with ARUP for more than 20 years. "It's an absolute honor to help these students, and it's both humbling and inspiring to see the challenges they've overcome."
Promise Scholarship recipient John Eggleston recalls being 10 years old and living on the streets with his mother and siblings. "We moved into a shelter for abused women and children and for the next three years, I wondered what direction my life would take," says Eggleston, who is the first in his family to attend college. He is majoring in international studies and minoring in business, aiming to work with global organizations involving economics. "If it wasn't for these types of scholarships, I wouldn't be here—it's like a lifeline for me."
"We are deeply grateful for ARUP's support through the Utah Promise scholarships to assist many talented students who otherwise would not be able to attend the U," said Ruth V. Watkins, senior vice president for academic affairs and president-designate. "This is a terrific contribution to improving lives and strengthening our university and our community."
Peta Owens-Liston, ARUP Science Communications Writer
Related blogs