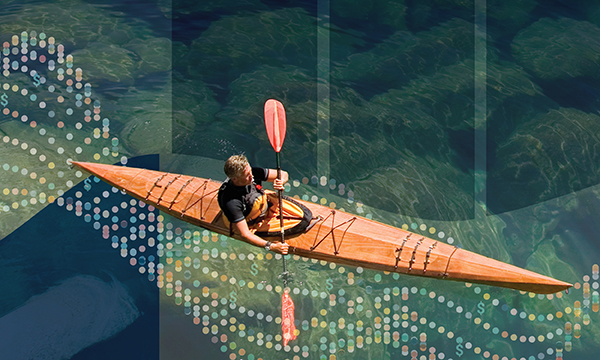 May 6, 2019
What's the Big Deal?
The ARUP Smart Ribbon*
Suggests alternatives to higher-priced drugs
Recommends when a test should be repeated, so a second test is not ordered earlier—or later— than necessary
Shows the spend of each provider relative to peers
Shows test turnaround times
Shows whether a test is performed in-house or is a reference test
Shows patient's risk of developing anemia
Clues in administrators about possible opportunities for improvement
See video below
Mukul Mehra, MD, was on a 20-hour flight returning from Bali when he started jotting down numbers. He had been thinking about a patient who had come to him recently with Crohn's disease. In the past three years, the woman had received 18 CT scans of her chest and abdominal area. Mehra calculated her radiation exposure and how it translated to cancer risk: It was the same as if she had been standing one mile from where the atomic bomb landed in Hiroshima during World War II.
Mehra considered other cases involving good physicians with good intentions that went awry because they lacked sufficient testing information, such as costs and the risks of repeat testing. "It is only when we translate it into human terms that people really begin to understand the impact," says Mehra, a gastroenterologist.
"We needed a way to show physicians the financial cost of what they are doing [in a way that is both] sequential and aggregated, and then put it in human terms for patients—the human cost and the financial costs."
By the time he stepped off his flight in Birmingham, Ala., Mehra was determined to find a way to get this vital information to physicians. He knew technology could make that possible. "We needed a way to show physicians the financial cost of what they are doing [in a way that is both] sequential and aggregated, and then put it in human terms for patients—the human cost and the financial costs," Mehra says.
A year later the company Mehra cofounded, IllumiCare, introduced the first prototype of the Smart Ribbon®. Further refinement resulted in an interactive tool now available to hospitals and health systems nationwide.
A True-Picture Cost
Since 2017, ARUP Laboratories and IllumiCare have been collaborating to improve the Smart Ribbon, especially with regard to laboratory testing. The ribbon hovers over or is embedded in the electronic medical record (EMR) system to provide real-time information about the cumulative risk and financial impact of tests and medications ordered for a patient. Each ribbon is customized to the healthcare organization's preferences. A hospital can pick and choose which features it wants on its ribbon, not unlike how a user chooses apps on an iPhone.
"This is an understated way to educate clinicians on an ongoing basis without taking up their valuable time. In addition, the long-term benefits are significant—cost avoidance, improved quality of care, and patient safety. These factors play a key role in determining whether a hospital will be successful."
Andrew Fletcher, MD
Director of Consultative Services
To avoid the nuisance of pop-up alerts, the Smart Ribbon disappears within seconds if clinicians choose not to interact with it. If they do engage with the information the Smart Ribbon offers, they can often use it to improve patient care by ordering fewer and less expensive tests and medications.
"The goal is to provide clinicians with a true-picture cost, allowing them to be better stewards of hospital resources," says David Stricklin, IllumiCare's executive vice president. "We're presenting them with information that doesn't exist in the EMR and helps them be more efficient in how they go about treating their patients, in both care and cost."
Stricklin points out that existing clients report an average decrease in cost per discharge in medications (12 percent), lab tests (12 percent), and radiology tests (7 percent). IllumiCare uses a financial model built around diagnosis-related groups to calculate cost savings.
What Does This Partnership Mean for ARUP Clients and Others?
Through its partnership with IllumiCare, ARUP has made ARUP Consult, the company's rich source of test selection and interpretation information that covers nearly 300 disease-related topics, available to all Smart Ribbon clients. "This tool helps clinicians choose the appropriate tests to order and serves as a knowledge resource for suspected diseases," Stricklin says.
ARUP is also able to offer its own clients a version of the Smart Ribbon with additional features they can use to improve test utilization. The ARUP Smart Ribbon includes turnaround time (TAT) information for tests and clearly identifies which tests are reference or sendout tests. Armed with those facts, a clinician planning to discharge a patient in two days might think twice about ordering a test with a TAT of four days—rethinking whether the test is necessary or suggesting it be performed after discharge.
The ARUP Smart Ribbon also displays recommended retest intervals to help educate clinicians about whether a repeat test is appropriate during an inpatient stay. When a clinician orders a repeat test, the Smart Ribbon displays information about the initial test, along with a recommendation for when it should be repeated. Exceptions to the recommendation are also noted.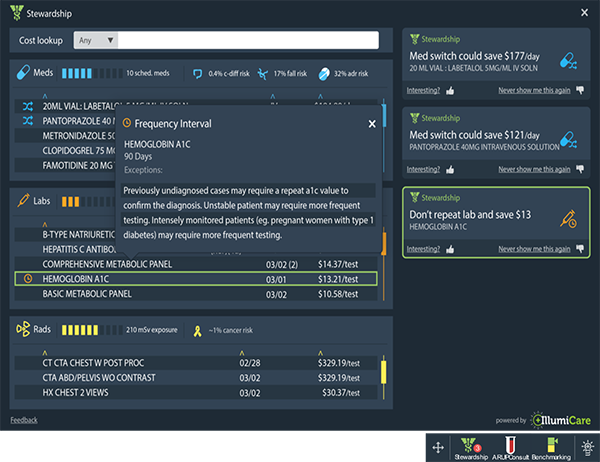 Cutting back on unnecessary tests can improve the patient experience and reduce the risk of anemia. Nobody likes to be repeatedly poked with a needle, and too many blood draws can lead to anemia or even a blood transfusion. A unique feature of the Smart Ribbon for all users is that it informs clinicians of the patient's anemia risk based on blood loss associated with previously performed tests.
The ribbon also provides a direct link to state opioid databases, which allow physicians to view a patient's history of opioid prescriptions.
"This is an understated way to educate clinicians on an ongoing basis without taking up their valuable time," points out Andrew Fletcher, MD, director of Consultative Services at ARUP. "In addition, the long-term benefits are significant—cost avoidance, improved quality of care, and patient safety. These factors play a key role in determining whether a hospital will be successful."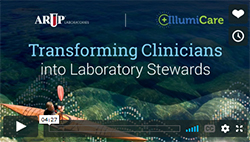 *Check out what the Illumicare Smart Ribbon looks like
Related blogs:
ARUP's Next Generation UM Dashboard Shows How Hospitals Can Improve Lab Costs
https://www.aruplab.com/news/04-5-2018/next-generation-um-dashboard
Lab Stewardship Guidelines: New Article in JALM
https://www.aruplab.com/news/10-16-2017
Other Reads:
Magnify, Tracing Downstream Costs Back to the Lab
https://www.aruplab.com/magnify