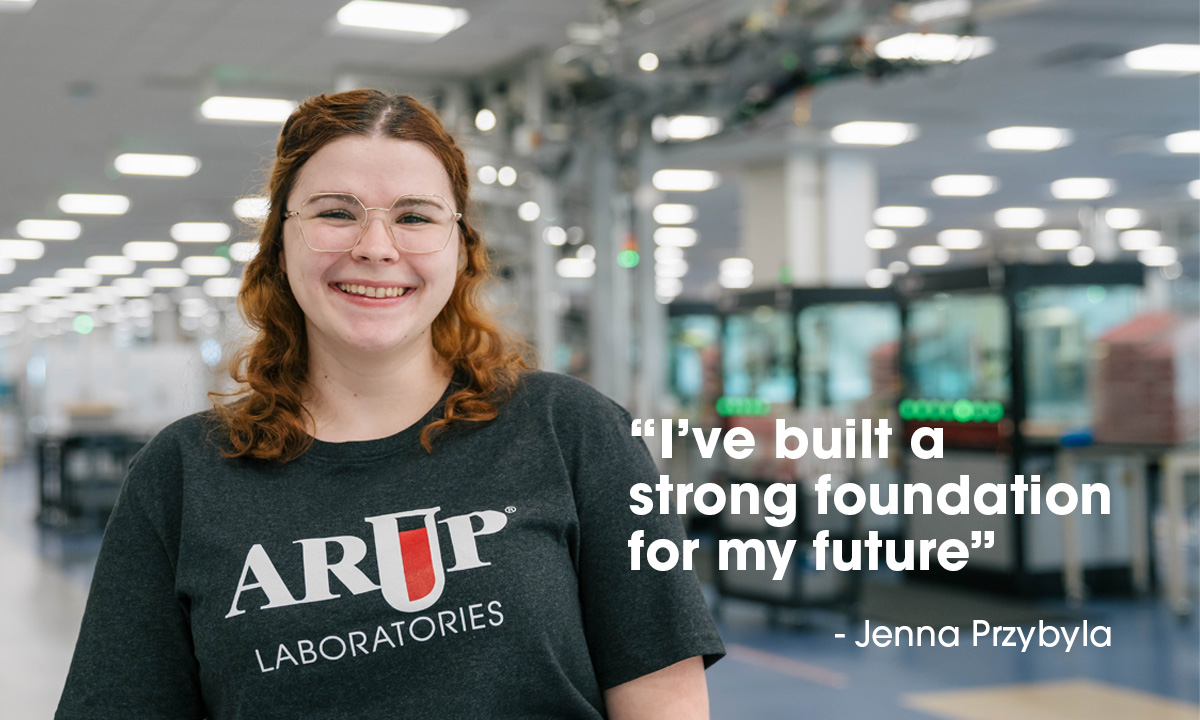 Jenna Przybyla came to ARUP without a degree in 2020 to work as a lab tech in Chemistry Processing. Two years later, she's set to finish school and make a career in laboratory science.
May 5, 2022
A phone call brought Jenna Przybyla to ARUP Laboratories in 2020.
A friend in Utah knew of a laboratory technician job that would be perfect for the chemistry student who was attending college in California at the time. Przybyla applied, and two weeks later, she packed her bags and moved to Utah.
"I had never worked in a lab before," the 25-year-old said. "I didn't even know I could get a job in a lab without a degree."
Two years later, now a Laboratory Technician II in Chemistry Processing, Przybyla ensures patient samples are correctly labeled and routed for testing. She's also on track to finish her degree and has her sights set on a future in research and development.
"I've built a strong foundation for my future," Przybyla said.
Opportunities that lead to careers in the lab abound at ARUP and are currently available in spades.
On Friday, May 13, ARUP will host a Career Fair to introduce job seekers to the array of available positions that provide not just a paycheck, but also the chance to serve the public by providing the diagnostic test results that are critical to patient care.
The fair runs from 8 a.m. to 5 p.m. in ARUP's main building at 500 Chipeta Way, Salt Lake City, UT 84108. Career counselors will be on site to help job seekers match their skills, interests, and educational backgrounds with the right positions and can assist with the application process.
Wages for entry-level positions start at $15 per hour, and in many cases, no experience is necessary—only a high school diploma or GED is required. Raises come with each progressive step on the career ladder, and many jobs have flexible schedules, such as the coveted seven-on/seven-off schedule.
Opportunities are available for a variety of roles, including:
Laboratory: Scientists, technicians, technologists, support technicians, and technologist trainees
Information Technology: Tech support personnel, software programmers, systems engineers, and analysts
Call center: Service agents and support staff for our hospital clients
Professional: Data analysts, quality and compliance specialists, and proposal writers
Trade and miscellaneous: Mechanics, engineers, couriers, and custodians
ARUP also offers its employees a generous benefits package that includes affordable medical, dental, and vision insurance, tuition reimbursement, quarterly bonuses, and a free on-site Family Health Clinic and Wellness Center. In addition, ARUP offers company profit-sharing and pension plans (403b and 457b).
In 2021, Utah Business magazine honored ARUP Laboratories with its Best Companies to Work For award—for the fourth year in a row. Forbes listed ARUP as one of America's Best Midsize Employers and ranked ARUP among America's Best Employers for Diversity for 2022.
For Przybyla, in addition to great benefits, ARUP has given her the chance to develop a well-rounded understanding of lab testing and learn in a collaborative environment from supportive colleagues who have become good friends. She encourages others interested in lab science to come to ARUP.
"I've had a really, really good experience," she said.
Register now to tour ARUP's labs and attend the Career Fair: www.aruplab.com/career-fair.
Jennifer Dobner, jennifer.dobner@aruplab.com