FibroMeter (Chronic Viral Hepatitis)



ARUP Test Code 2005661
Specifically designed for patients with chronic viral hepatitis (B, C) with or without HIV co-infection.

FibroMeter (NAFLD)




ARUP Test Code 2012521
FibroMeter NAFLD (non-alcoholic fatty liver disease)
assesses the stage of liver fibrosis in patients with metabolic steatosis.
FibroMeter utilizes an expert system to detect anomalous profiles and maximize diagnostic reliability. While liver biopsy remains the reference method for managing patients with chronic liver disease, FibroMeter may be used for patients who may be at risk of complications, and to support biopsy results.
Features and benefits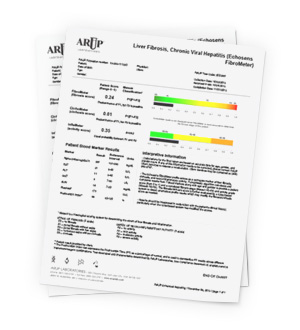 Non-invasive diagnostic test that evaluates the level of fibrosis in the liver from blood biomarkers and patient demographic information
High diagnostic accuracy confirmed by a rules-based system
No interference from patients with Gilbert disease or hemolysis
(e.g., induced by ribavirin)
An economic alternative to FibroSURE
Enhanced graphical reports available