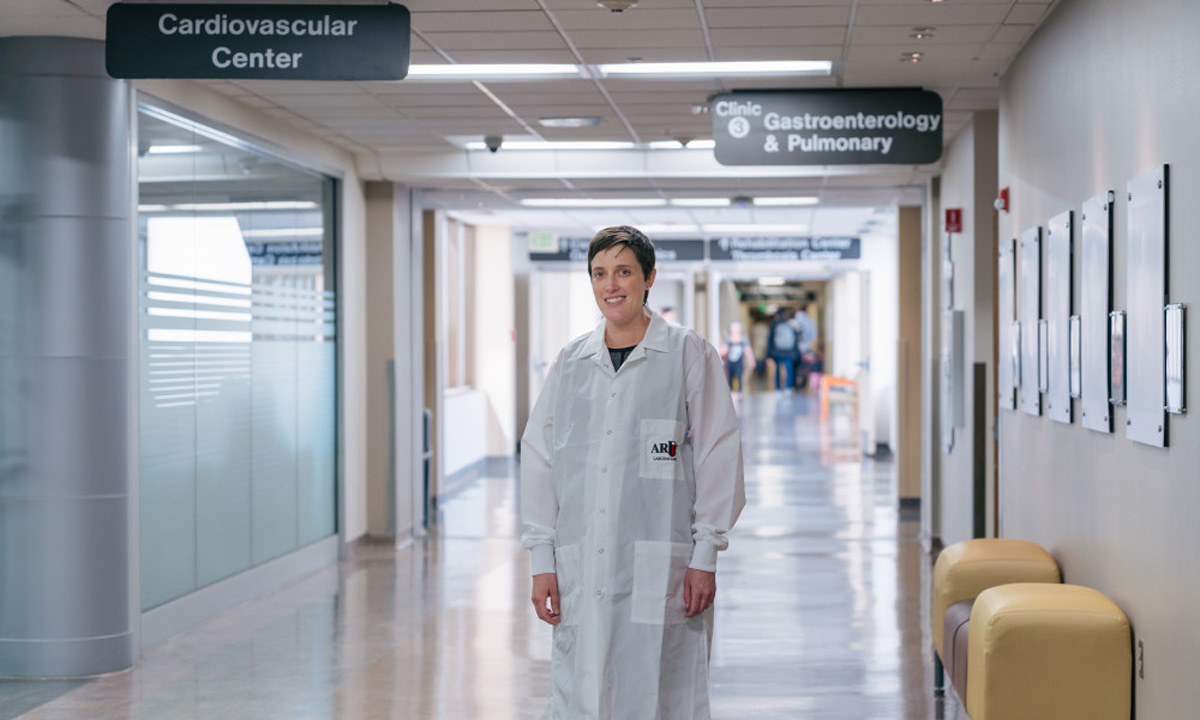 June 24, 2020
Lauren Pearson, DO, MPH, is the new CLIA laboratory director for ARUP at University of Utah Health and at the Huntsman Cancer Institute.
---
SALT LAKE CITY — ARUP Laboratories has named Lauren Pearson, DO, MPH, as the new CLIA* laboratory director for ARUP at University of Utah (U of U) Health and the Huntsman Cancer Institute. She will continue her role as laboratory director of U of U South Jordan and Sugarhouse health centers. Pearson is also an assistant professor at the U of U School of Medicine.
"Dr. Pearson is an accomplished and extraordinary leader in our organization. She has transformed and strengthened the relationship between ARUP and our hospital system," said Julio Delgado, MD, MS, ARUP chief medical officer. "Her performance exemplifies the five pillars of our organization."
Pearson will start in her new position on July 1. She received her medical degree and her master's degree in public health from Touro University California and served her residency in anatomic and clinical pathology at the University of Vermont Medical Center. Her interests include community health and quality management and control.
Pearson is looking forward to opportunities to build new relationships, particularly with pathology faculty and managers and quality specialists, in her new role. "I want to learn how I can best support the excellent teams we have that are already doing great work," Pearson said. She is also looking forward to reestablishing a connection with anatomic pathology after a long stint during which she focused primarily on clinical pathology. "This new position allows me to get back to my roots, to when I trained as a resident."
She attributes her professional success to the many individuals, from a variety of backgrounds, who have mentored her along the way. "It is the relationships with the people I work with every day that have enriched my professional life and this has guided me in how I can best contribute," said Pearson, who has been with ARUP for three years. She also credits ARUP's culture, which encourages change, learning, and growing. "My accomplishments are a reflection of the community around me that has nurtured my skill set."
In her new role, Pearson wants to determine how she can best support the many medical directors, faculty, and team members who are already doing excellent work in their areas. "The question I have for them is, 'How can I bring value and contribute to the fantastic work they are already doing?' "
*The Centers for Medicare & Medicaid Services (CMS) regulates all laboratory testing (except research) performed on humans in the United States through the Clinical Laboratory Improvement Amendments (CLIA).
About ARUP Laboratories
Founded in 1984, ARUP Laboratories is a leading national reference laboratory and a nonprofit enterprise of the University of Utah and its Department of Pathology. ARUP offers more than 3,000 tests and test combinations, ranging from routine screening tests to esoteric molecular and genetic assays. ARUP serves clients across the United States, including many of the nation's top university teaching hospitals and children's hospitals, as well as multihospital groups, major commercial laboratories, group purchasing organizations, military and other government facilities, and major clinics. In addition, ARUP is a worldwide leader in innovative laboratory research and development, led by the efforts of the ARUP Institute for Clinical and Experimental Pathology®. ARUP is ISO 15189 CAP accredited.