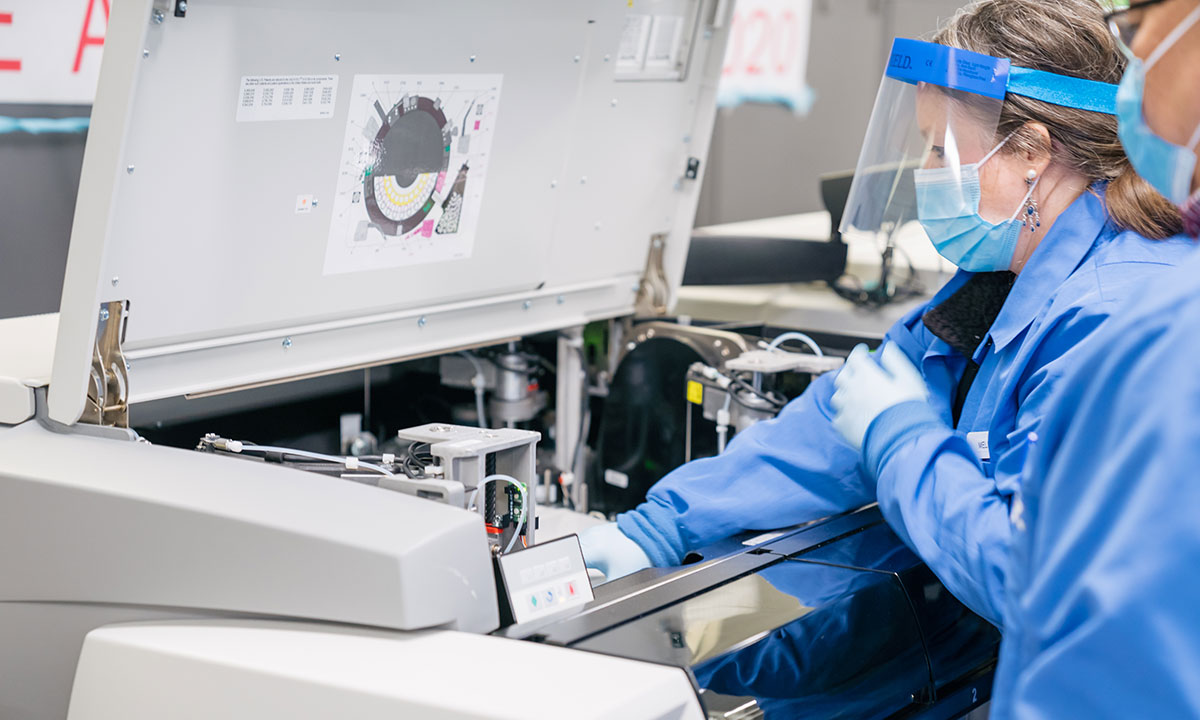 May 6, 2020
Employees in ARUP's Automated Core Lab will perform COVID-19 IgG antibody tests for participants in the Utah HERO project.
---
ARUP's Role in Utah HERO

As one of the nation's leading providers of COVID-19 testing, ARUP will perform both the molecular diagnostic test and the IgG antibody test for participants in the Utah Health & Economic Recovery Outreach (HERO) project.

Julio Delgado, MD, ARUP chief medical officer and director of labs, met with epidemiologists to help plan the study design and to provide information about ARUP's high-quality tests.

"ARUP is proud to be part of this study, which will be very important to helping us understand the true prevalence of COVID-19 disease in the state of Utah," Delgado said.

Visit ARUP's COVID-19 page or ARUP Consult's COVID-19 topic for more information about COVID-19 testing at ARUP.
SALT LAKE CITY—The David Eccles School of Business at the University of Utah and University of Utah Health announce the start of Utah HERO (Health & Economic Recovery Outreach), a massive undertaking that will begin with the testing of 10,000 Utahns across four counties. The data gathered will inform decision-makers in the state as they work to help keep residents safe and get people back to work.
As part of Utah HERO, households in Utah, Davis, Salt Lake, and Summit counties will be randomly selected for participation in the study. Random sampling is a way to accurately determine how much COVID-19 has spread in Utah without testing every person in the state.
Utah HERO team members will tag these households with a flyer or door hanger explaining the project. Field teams will then follow up with an in-person visit to gather information about those living in the residence and provide instructions on how to get tested. All those living in the residence who are 12 years and older will be asked to visit a testing site where they will receive two tests: PCR (swab test to detect the presence of coronavirus) and serology (blood draw to detect antibodies). Antibodies to the coronavirus indicate probable past infection.
"A survey of this magnitude would normally take months to organize, but we've been able to move things forward in a couple of weeks, thanks to all of our collaborators," said Stephen Alder, Ph.D., director of field operations for Utah HERO and professor in the U of U Department of Family and Preventative Medicine. "The University of Utah is committed to serving the state during this difficult time and we hope this information will help our leaders make informed public health and business decisions."
High levels of voluntary participation will enhance the accuracy of the study and will improve the ability to interpret results of COVID-19 testing. Testing is completely confidential and no information on immigration status will be collected.
"It's safe, participant privacy will be protected, they will gain valuable knowledge for the household, and they will be playing an important part in helping our entire community battle COVID-19," Alder said.
U of U Health's Wellness Bus and Huntsman Cancer Institute's Cancer Screening bus—both of which have been redeployed to perform COVID-19 testing—will be set up in designated neighborhoods to serve as Utah HERO test sites. Testing will also take place at existing U of U Health evaluation tents, as well as pop-up locations at various church parking lots. Testing will be performed at ARUP Laboratories, which does all COVID-19 testing for U of U Health along with other clients in Utah and nationwide.
Utah HERO data will be used to more accurately establish the rate of infection in Utah and rates of infection in various age groups and job categories. The data are important because they will indicate where COVID-19 has spread, which occupations and other groups are most impacted, and how many undetected infections are occurring. Undetected infections can occur because people have mild symptoms or no symptoms, or because of differences in testing. This can inform the safest way to relax public health restrictions and get Utah back to work.
"Utah HERO represents the critical balance between protecting public health and moving the economy forward," said Taylor Randall, dean of the David Eccles School of Business. "This information will help us better understand how COVID-19 has spread through our community and inform business leaders on the best, data-driven ways to get people back into the workforce safely."
The Governor's Office of Management and Budget contracted with the U of U to design and implement Utah HERO.
"This study is important because it is the first initiative to gain an understanding of statewide COVID-19 prevalence in Utah," said Angela Dunn, M.D., state epidemiologist for the Utah Department of Health. "This random sampling allows us to see a representative picture of the extent to which COVID-19 has spread in our community. This will enable us to make informed decisions about how to best move forward," she said.
Other Utah HERO collaborators include:
ARUP Laboratories
Utah Department of Health
Salt Lake County Health Department
Summit County Health Department
Davis County Health Department
Utah County Health Department
Staffing for Utah HERO field teams is made possible by Hope Corps, a nonprofit organization that connects students to opportunities to serve in the state of Utah and help support the economy.
Here are a few additional details about Utah HERO:
The project will begin sampling small numbers of households and then scale up over a period of weeks.
Survey participants do not pay for testing and do not need to show proof of insurance.
Survey participants do not need to show ID or proof of residency.
Those reporting symptoms will be instructed on safe practices to prevent the spread of COVID-19.
Those with positive test results will be notified and given instructions on how to quarantine and prevent spread of the disease within households.
The Church of Jesus Christ of Latter-day Saints has generously provided parking lot space for additional testing sites.
"We are not aware of an undertaking like Utah HERO anywhere else in the United States. We believe this information could impact COVID-19 responses not only in our state, but in communities around the nation and even worldwide," said Alder.
For more information, visit Eccles.link/UtahHero
About the David Eccles School of Business
The Eccles School is synonymous with 'doing.' The Eccles experience provides a world-class business education with a unique, entrepreneurial focus on real-world scenarios where students put what they learn into practice long before graduation. Founded in 1917 and educating more than 6,000 students annually, the University of Utah David Eccles School of Business offers nine undergraduate majors, four MBAs, nine other graduate programs, a Ph.D. in seven areas, and executive education curricula. The Eccles School is also home to 12 institutes, centers, and initiatives that deliver academic research and support an ecosystem of entrepreneurship and innovation. For more information, visit Eccles.Utah.edu or call 801-581-7676.
About University of Utah Health
University of Utah Health is the state's only academic health care system, providing leading-edge and compassionate medicine for a referral area that encompasses 10% of the U.S., including Idaho, Wyoming, Montana and much of Nevada. A hub for health sciences research and education in the region, U of U Health touts a $373 million research enterprise and trains the majority of Utah's physicians and more than 1,250 health care providers each year at its Schools of Medicine and Dentistry and Colleges of Nursing, Pharmacy, and Health. With more than 20,000 employees, the system includes 12 community clinics and four hospitals — University Hospital; University Neuropsychiatric Institute; Huntsman Cancer Hospital; and the University Orthopaedic Center. For ten straight years, U of U Health has ranked among the top 10 U.S. academic medical centers in the rigorous Vizient Quality and Accountability Study, including reaching No. 1 in 2010 and 2016.
About ARUP Laboratories
Founded in 1984, ARUP Laboratories is a leading national reference laboratory and a nonprofit enterprise of the University of Utah and its Department of Pathology. ARUP offers more than 3,000 tests and test combinations, ranging from routine screening tests to esoteric molecular and genetic assays. ARUP serves clients across the U.S., including many of the nation's top university teaching hospitals and children's hospitals, as well as multihospital groups, major commercial laboratories, group purchasing organizations, military and other government facilities, and major clinics. In addition, ARUP is a worldwide leader in innovative laboratory research and development, led by the efforts of the ARUP Institute for Clinical and Experimental Pathology®. ARUP is ISO 15189 CAP accredited.
About Hope Corps
The mission of the Hope Corps, in partnership with Utah Community Builders, is to assist and lift the businesses and people of Utah. The Hope Corps fulfills this mission by bringing together students from across the state to identify innovative solutions that will ensure the viability of Utah's community. The Corps came together due to the COVID-19 pandemic when, despite major efforts by the federal and state governments, they noticed that some businesses and individuals were "falling through the cracks." Whether due to lack of awareness of the support offered, lack of eligibility to apply, or simply shortage in capacity, it was the Corps' belief that there was more to be done—and that students have the passion and the ingenuity to make a difference.
Media Contacts
Kathy Wilets
Kathy.wilets@hsc.utah.edu
801-541-5093
Brian Jackson
brian.jackson@aruplab.com
801-583-2787 ext. 3191