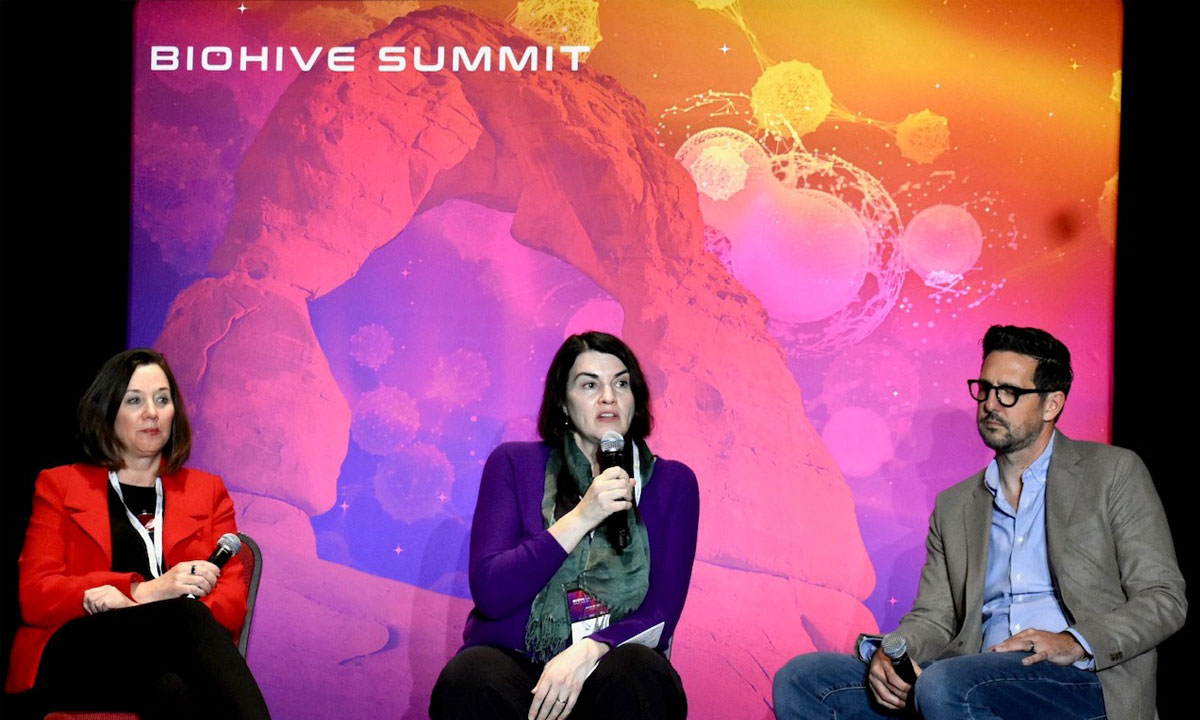 ARUP President and Chief Scientific Officer Tracy George, MD (center), joins Kate Benedict, worldwide vice president/general manager of vascular access devices at BD, and Jared Bauer, CEO of Seek Labs, on a Workplace Innovation panel at the 2022 BioHive Summit to discuss workforce retention.
November 11, 2022
Tracy George, MD, ARUP Laboratories president and chief scientific officer, joined life sciences industry leaders at the 13th annual BioHive Summit on November 10 to share how ARUP maintains its focus on employees. The BioHive Summit, formerly the Utah Life Sciences Summit, provides an opportunity for participants to discuss innovation, growth, and community engagement in the industry, among other topics.
George was joined by fellow panelists Kate Benedict, worldwide vice president/general manager of vascular access devices at BD, and Jared Bauer, CEO of Seek Labs, on BioHive's Workplace Innovations panel. The discussion covered topics such as employee retention, company culture, and the cultivation of supportive workplaces.
"We stay employee focused by creating an environment where employees and their families can be recognized and supported," George said. "The thing that brings employees back is culture and opportunity. Help them be their best selves."
The panelists represented a diversity of company sizes, with employee numbers ranging from thousands to just fewer than 50. Even for an employer as large ARUP, George said it was possible, and important, to make employees feel seen.
"We do a lot of communication. I'm in my third big role within five years, and in all these roles, I'm talking to people, because I need to meet them, and I need to hear their ideas," George said. "Am I the expert on everything? Absolutely not, but I am a good listener, and I have the power to implement solutions and get different groups working together. The only way you do that is by talking to people."
Given the significant staffing challenges laboratories faced throughout the COVID-19 pandemic, flexibility was key to maintaining ARUP's employee focus, George said.
"When COVID hit and there was a drop in [routine] testing, we didn't lay anybody off. We all took pay cuts so we could keep our staff whole. We thought that was the right thing to do," George said. "We looked at everything that happened, and we looked at the lessons learned. We spent many hours thinking about what we could have done better, because we didn't do everything right."
In 2022, ARUP Laboratories was named one of Forbes magazine's Best Employers for Women and Best Employers for Diversity and was included on Forbes' list of America's Best Employers By State for a second consecutive year.
Camryn Fife, camryn.fife@aruplab.com