Improving Diagnostic Medicine in Africa; Ghana Scholars Visit ARUP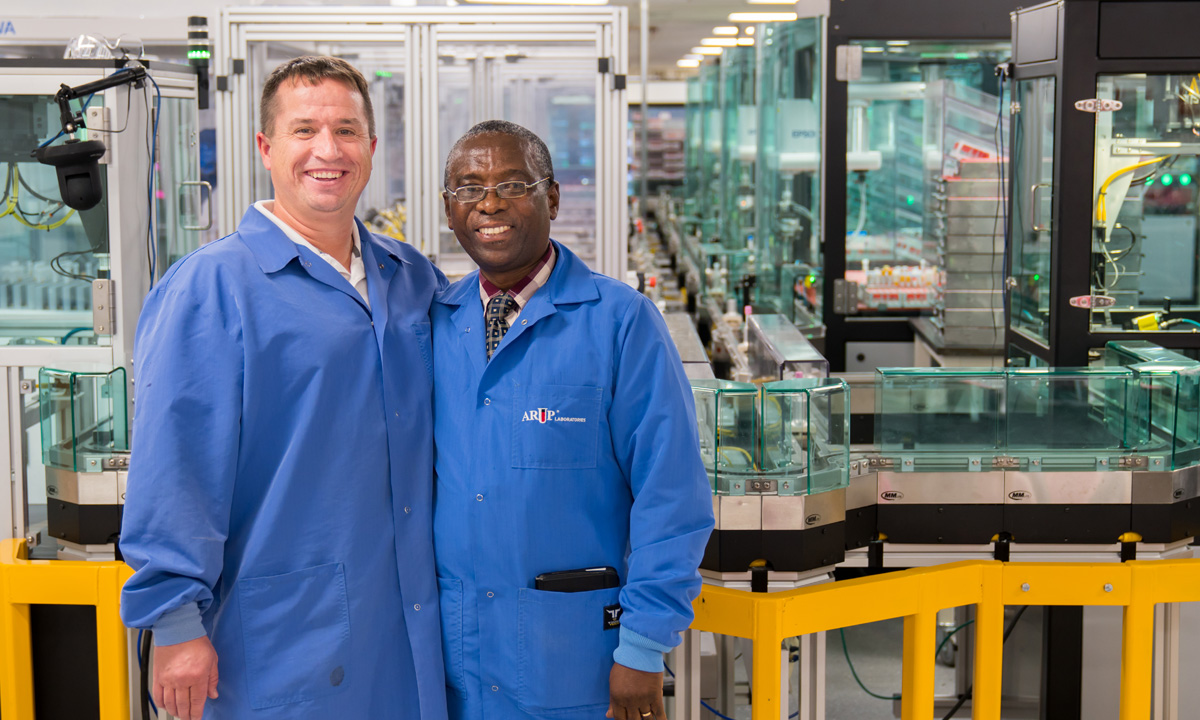 Ghana scholar Osei Asibey visited ARUP to learn more about toxicology to improve testing back home. With Peter Middleton, ARUP technical supervisor, Automated Endocrinology, he discussed automation and HbA1C testing, which is used to measure how well diabetes is controlled.
---
"Everything here is wonderful, but the weather, it's so cold," said David Sackey, DMLS, with a grin and a mock shiver on a sunny October morning. "But the people, they are so warm and welcoming."
Sackey is one of two visiting scholars from Ghana rotating through ARUP's laboratories to gain knowledge to improve laboratory testing in Ghana, specifically at Komfo Anokye Teaching Hospital where they work. They split their time between ARUP and Intermountain Healthcare laboratories. "Our goal is to learn what we can here; then, go back and improve Ghana," adds Sackey, whose expertise is in hematology.
Sackey is one of seven Ghana scholars so far to visit ARUP as part of the Global Improvement of Medical Laboratory Services. A lot of programs provide exchanges for medical students, residents, and physicians, but not many bring mid-level practitioners like laboratorians, explained Becky Buxton, MS, MT, who was instrumental in starting this program in 2013. She is a professor of Medical Laboratory Science at the University of Utah. The scholars express their areas of interest and are matched to labs accordingly.
"Their educational level is far above their ability to practice," adds Buxton, pointing out that these professionals have to do the best with the infrastructure (e.g., electricity, water) and instrumentation that they have.
On return to Ghana, the scholars impress upon their hospital management the need for better technology and instrumentation. They share what they've witnessed here and how that could vastly improve efficiency and impact patient care. "Little by little, they are getting more instrumentation," adds Buxton, who has visited the Ghana hospital numerous times. "Overall, I believe the results are good and their work commendable, but they don't have what they need to effectively practice."
Visiting scholar Osei Asibey, MS, whose expertise is biochemistry, plans to help his hospital set up a toxicology lab and therapeutic drug monitoring lab. "I'm focused on learning the processes and procedures involved in toxicology here, as well as seeing how quality is controlled and the organizational systems in place here," says Asibey.
Both scholars agree that technology innovation is needed in Ghana's medical laboratories to improve turnaround times and other inefficiencies. For example, Sackey points out that the lab results (computer printouts) are manually delivered, and then doctors must flip through stacks of papers to find the patient's results and sometimes not find them at all. An electronic medical record system doesn't exist there, yet.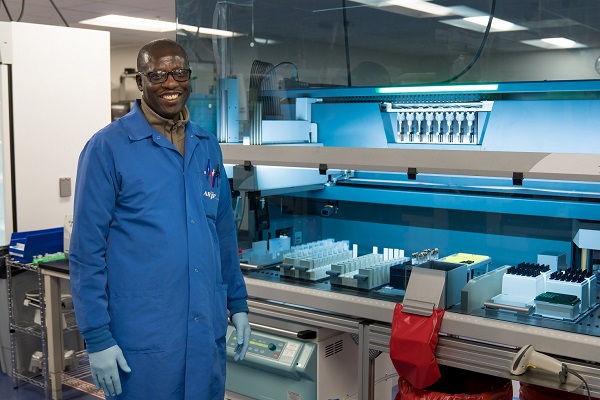 Visiting Ghana scholar David Sackey specializes in hematology.
"A huge amount of what doctors do in Ghana is empiric because they don't get results back fast enough, and then this leads them to question the entire capabilities of the lab," says Buxton. "These scholars return and help raise awareness of the importance of the laboratory and impress on them that in order to do contemporary medicine, you need to support and use the lab."
Why Ghana?
This exchange program is funded by the Medical Laboratory Science International Visitor's Fund, overseen by the University of Utah's Office of Global Health Education and Division of Medical Laboratory Science. While the Komfo Anokye Teaching Hospital has agreed to pay for airfare for a total of 10 students over five years (so far six scholars have come, and the initial liaison paid his own way), the program relies on donations and host families to accommodate the scholars.
The next step in the program is to use the relationships developed with the visiting scholars to provide students in the U of U's Medical Laboratory Science program an opportunity to go to Ghana and work in the labs there. Three MLS students are planning on visiting Ghana this spring. Eventually, MLS students from Ghana will visit here. "Sharing these experiences benefits everybody, and certainly patients," adds Buxton.
Buxton points out that in Ghana, our students will be able to see on a daily basis a variety of infectious diseases like malaria and other parasites that we don't often see, as well as some of the inherited diseases that are prominent in African populations, such as sickle cell anemia, and diseases you see in an underserved population. They will also see pathology resulting from malnutrition. "All these factors will make their chemistry look different," says Buxton.
"We are preparing for students from your MLS program to visit us, and we're very excited to have them," says Sackey.
Because Ghanaians speak English, have a relatively stable government, and are a group of people in need, Buxton says it makes Ghana a good place to pilot such a project. "Investing in Ghana is investing in the future of much of Africa because others will look to Ghana to see how good laboratory medicine is done. The hope is that other parts of Africa will follow suit," says Buxton.
What will Asibey tell his four children when he travels the 6,000+ miles back to his home? "Utah people are very good people. Very composed and educated people and ready to offer help to any kind of person they meet, whether on the street, in a hospital, or any environment."
Sackey adds: "I meet someone in the lab today, and by the end of the day, it feels like they've known me for ages."
To learn more about how to support this program visit the Medical Laboratory Science International Visitors Fund.
Peta Owens-Liston, ARUP Science Communications Writer
Related blog: