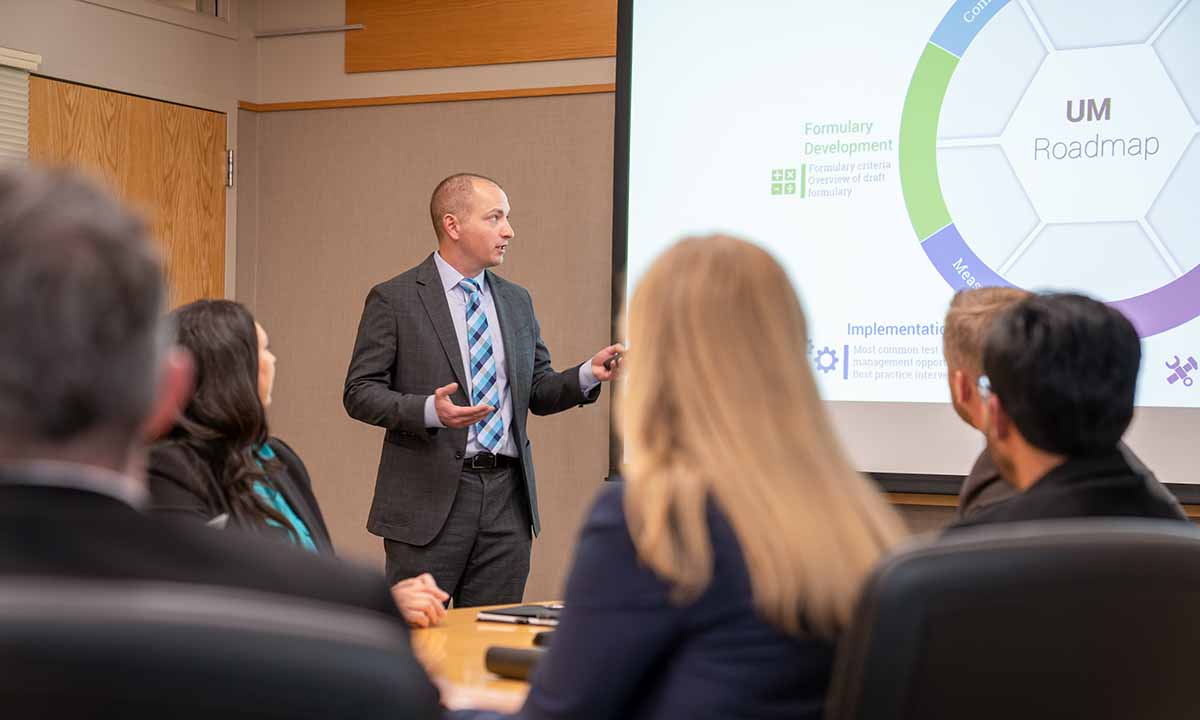 Dave Shiembob, manager of ARUP Healthcare Advisory Services, guides clients with utilization best practices and real-time opportunities.
October 10, 2023
SALT LAKE CITY—ARUP Healthcare Advisory Services and its innovative AnalyticsDx™ Comprehensive platform have been honored with a Choosing Wisely Champion Award from the American Society for Clinical Pathology (ASCP).
The Healthcare Advisory Services team is being recognized for its continued commitment to collaborate with health systems nationwide to better implement Choosing Wisely guidelines to optimize the use of both reference and in-house laboratory testing. Using ARUP's AnalyticsDx™ Comprehensive platform, healthcare consultants help hospital clients identify opportunities to better align with industry best practices, reducing the use of inappropriate tests to cut costs and improve patient safety.
AnalyticsDx™ Comprehensive dashboard and utilization analysis reports use prebuilt topics to help guide clinical decision support, including troponin retest intervals, clinical utility of CK-MB and procalcitonin testing, and misutilization of Clostridium difficile testing, among other topics. Use of the platform enables clients to maintain an optimized test menu using the real-time insights it provides to reduce waste, lower the cost per test, and avoid the potential risk of denial of payment.
Healthcare Advisory Services has deployed more than a dozen AnalyticsDx™ Comprehensive platforms in health systems nationwide and is scaling the tool to meet growing customer demand.
Members of Healthcare Advisory Services singled out in the Choosing Wisely Award are:
Madeline Green, BS, MB(ASCP), product manager

Sandy Richman, MBA, C(ASCP), director

Dave Shiembob, MBA, C(ASCP)CM, manager

Jennifer Tincher, MBA, RRT, senior healthcare consultant
"It's an honor to be recognized again as a Choosing Wisely Champion," Shiembob said. "We're continuously looking for ways to help our clients provide the best test menu for their clinicians and their patients."
Launched in 2016 by ASCP, the Choosing Wisely Champions Program recognizes pathologists and laboratory professionals whose efforts drive effective lab testing utilization to reduce overuse or waste in medicine, cut healthcare costs, and improve patient care. Choosing Wisely is an initiative of the American Board of Internal Medicine (ABIM) and promotes a set of guidelines to assist clinicians and patients in decision-making.
"Identifying champions and sharing their successes allows all of us to learn from their efforts to improve healthcare delivery," said Lee H. Hillborne, MD, MPH, FASCP, DLM(ASCP), chair of the ASCP Effective Test Utilization Steering Committee.
The Choosing Wisely Champion Awards were presented online October 10, 2023, during ASCP's 2023 virtual annual premeeting series. A question-and-answer session with attendees of the virtual meeting followed.
Also recognized with Choosing Wisely awards this year are Hackensack Meridian Health Laboratory Stewardship Committee; Grace Mahowald, MD, PhD, of Massachusetts General Hospital and Harvard University; and Parkview Health System Laboratory Stewardship Committee.
ARUP won two Choosing Wisely Awards in 2021. Healthcare Advisory Services was recognized for its collaborations with health systems using data to better align with Choosing Wisely guidelines. Andrew Fletcher, MD, a former ARUP medical director, was honored for his continuing education work around Choosing Wisely guidelines.
About ARUP Laboratories
Founded in 1984, ARUP Laboratories is a leading national reference laboratory and a nonprofit enterprise of the University of Utah and its Department of Pathology. ARUP offers more than 3,000 tests and test combinations, ranging from routine screening tests to esoteric molecular and genetic assays. ARUP serves clients across the United States, including many of the nation's top university teaching hospitals and children's hospitals, as well as multihospital groups, major commercial laboratories, group purchasing organizations, military and other government facilities, and major clinics. In addition, ARUP is a worldwide leader in innovative laboratory research and development, led by the efforts of the ARUP Institute for Clinical and Experimental Pathology®. ARUP is ISO 15189 CAP accredited.
About ASCP
The American Society for Clinical Pathology (ASCP) is the world's largest professional membership organization for pathologists and laboratory professionals. With more than 100,000 members, the society's influence has guided the application and evolution of the pathology and laboratory medicine specialty since 1922. The mission of the ASCP is to provide excellence in education, certification, and advocacy on behalf of patients, pathologists, and laboratory professionals.
ARUP Media Contact
Lisa Carricaburu, lisa.carricaburu@aruplab.com, 801-583-2787 ext. 3842