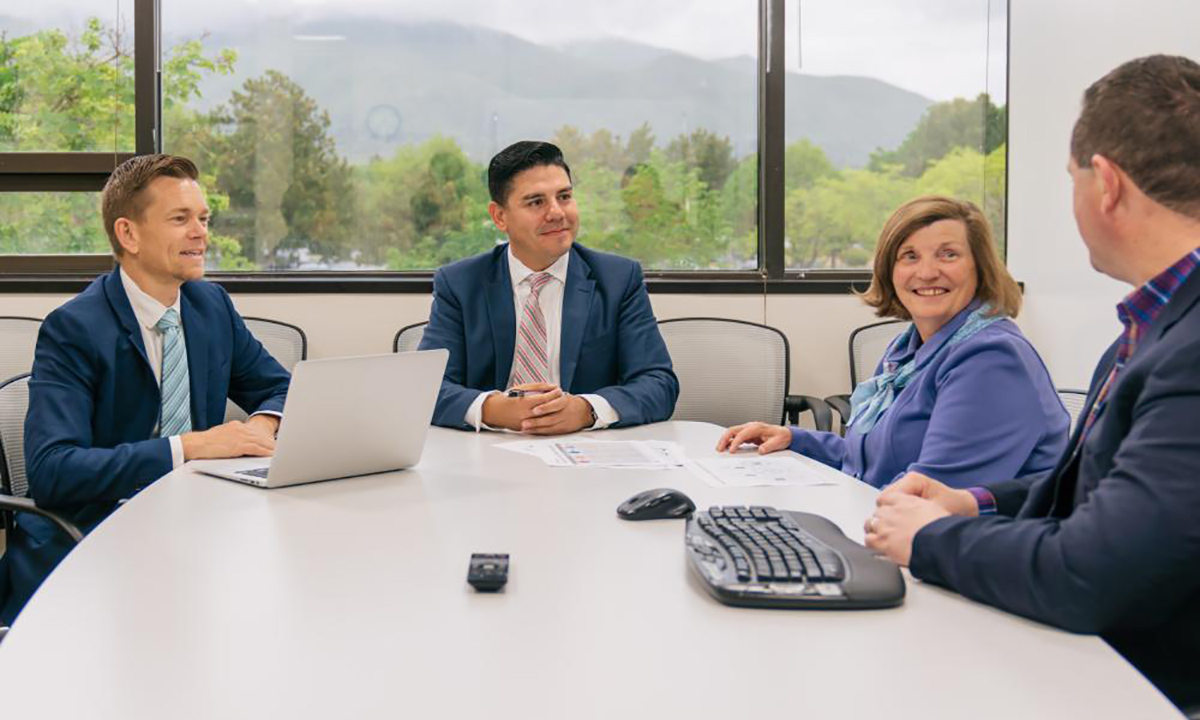 ARUP Consultative Services helps clients make sound testing decisions to ensure they can control health system costs without sacrificing or delaying critical patient diagnostic testing results. From left are Director of Consultative Services Sandy Richman, Senior Healthcare Consultant Ben Chacon, former Technical Operations Director Martha Bale, and Andrew Fletcher, MD, medical director of Consultative Services.
September 21, 2021
SALT LAKE CITY—Andrew Fletcher, MD, medical director of Consultative Services at ARUP Laboratories, and ARUP's Consultative Services team, led by Sandy Richman, are among six healthcare leaders and systems honored with 2021 Choosing Wisely Champion Awards from the American Society for Clinical Pathology (ASCP).
Launched in 2016, the Choosing Wisely Champions Program recognizes pathologists and laboratory professionals whose efforts drive effective lab testing utilization to reduce overuse or waste in medicine, cut healthcare costs, and improve patient care. The program is an initiative of the American Board of Internal Medicine (ABIM) and promotes a set of Choosing Wisely guidelines to assist clinicians and patients in decision-making.
Announced today, the Choosing Wisely Champion Awards will be presented online on October 20 during the ASCP's 2021 annual meeting. A question-and-answer session with attendees of the virtual meeting will follow, and both Fletcher and Richman are slated to make presentations at the conference.
"We are grateful for this recognition from ASCP," Fletcher said. "Central to ARUP's mission is our commitment to cost-effective and efficient testing decisions that enhance patient care. By extension, our Consultative Services team is similarly dedicated to assisting clients with selecting the right tests at the right time so they can quickly make critical diagnostic decisions for patients and lower costs."
Fletcher is being honored for continuing education work around Choosing Wisely guidelines and for his collaborative initiatives with hospital systems that promote quality healthcare improvement. Working with ARUP's Consultative Services team, Fletcher has developed real-time analytics tools to identify misused tests and has led laboratory stewardship analyses of reference and in-house testing. ARUP's analytics dashboards are accessed by nearly 1,600 users in hospitals and labs across the United States.
ARUP's Consultative Services team is being recognized for its collaborations with health systems nationwide as they better implement Choosing Wisely guidelines to optimize both reference and in-house laboratory testing. Using the same analytics tools for which Fletcher is being recognized, Richman's team has helped clients identify opportunities to better align with Choosing Wisely test-related guidelines, reducing the use of inappropriate tests to cut costs and improve patient safety. Under Richman's leadership, the team has completed more than a dozen consulting projects aimed at improving test utilization in the past three years and has identified opportunities to save individual hospitals and health systems more than $700,000 annually.
Also recognized with Choosing Wisely awards this year are Mather Hospital Northwell's Choosing Wisely Committee; Gaurav Sharma, MD, of the Henry Ford Health System; University of California, San Diego, and the Veterans' Affairs VISN 22 Area team; and PeaceHealth.
About ARUP Laboratories
Founded in 1984, ARUP Laboratories is a leading national reference laboratory and a nonprofit enterprise of the University of Utah and its Department of Pathology. ARUP offers more than 3,000 tests and test combinations, ranging from routine screening tests to esoteric molecular and genetic assays. ARUP serves clients across the United States, including many of the nation's top university teaching hospitals and children's hospitals, as well as multihospital groups, major commercial laboratories, group purchasing organizations, military and other government facilities, and major clinics. In addition, ARUP is a worldwide leader in innovative laboratory research and development, led by the efforts of the ARUP Institute for Clinical and Experimental Pathology®. ARUP is ISO 15189 CAP accredited.
About the ABIM Foundation
The mission of the ABIM Foundation is to advance medical professionalism to improve the health care system. We achieve this by collaborating with physicians and physician leaders, medical trainees, health care delivery systems, payers, policy makers, consumer organizations, and patients to foster a shared understanding of professionalism and how they can adopt the tenets of professionalism in practice. To learn more about the ABIM Foundation, visit www.abimfoundation.org, connect with us on Facebook, or follow us on Twitter.
About Choosing Wisely®
First announced in December 2011, Choosing Wisely® is part of a multi-year effort led by the ABIM Foundation to support and engage physicians in being better stewards of finite health care resources. Participating specialty societies are working with the ABIM Foundation to share the lists widely with their members and convene discussions about the physician's role in helping patients make wise choices. Learn more at www.ChoosingWisely.org.
ARUP Media Contact
Jennifer Dobner, jennifer.dobner@aruplab.com, 801-718-2123