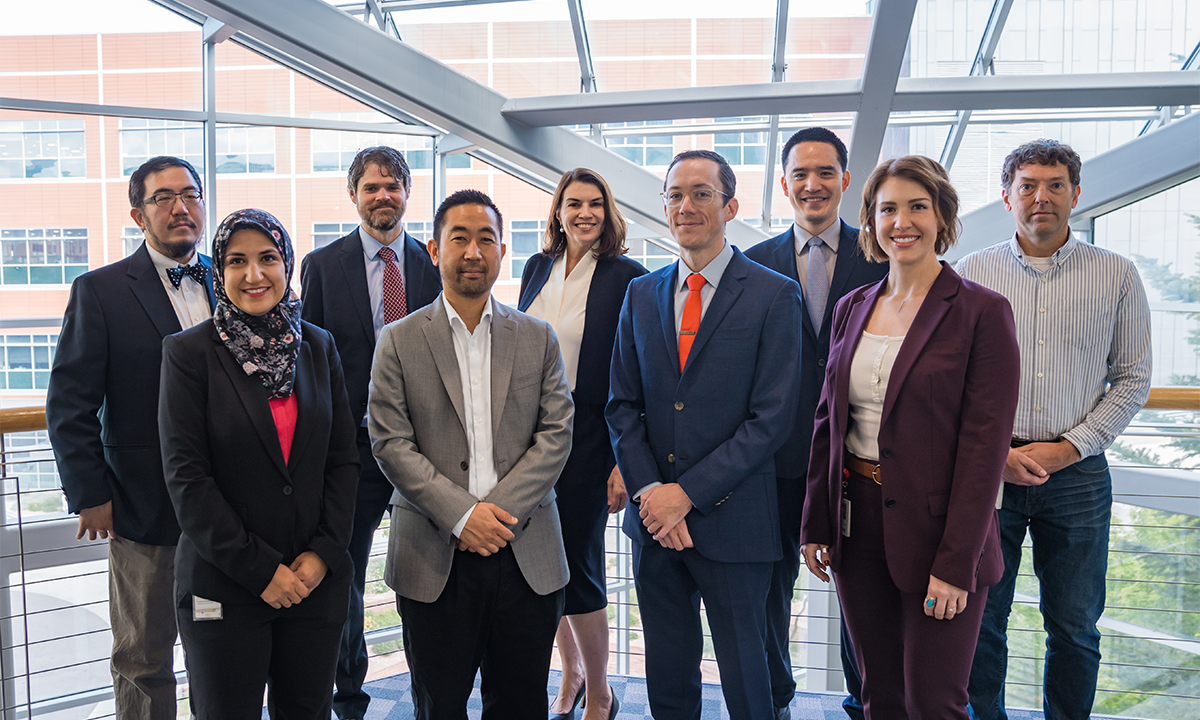 Founding members of the new Institute for Research and Innovation in Diagnostic and Precision MedicineTM gather. In the back row, from left to right, are David P. Ng, MD; Hunter Best, PhD, FACMG; Tracy George, MD; Leo Lin, MD, PhD; and Brendan O'Fallon. In the front row, from left to right, are Salika M. Shakir, PhD, D(ABMM); Robert S. Ohgami, MD, PhD, FCAP; Benjamin Bradley, MD, PhD; and Erica Clyde. Not pictured: Tatiana Yuzyuk, PhD, ABMGG; Evan Raps, MD; Peng Li, MD, PhD; and Valarie McMurtry, MD, PhD.
September 29, 2023
SALT LAKE CITY—ARUP Laboratories today announced the formation of the new ARUP Institute for Research and Innovation in Diagnostic and Precision Medicine™ (R&I Institute). The institute will improve the lives of patients by advancing groundbreaking diagnostic and prognostic technologies and innovative tests.
"This institute will enable us to unite the exceptional expertise and operational capabilities at ARUP with industry partners to push the boundaries of diagnostic medicine," said Tracy George, MD, ARUP chief scientific officer (CSO) and president of ARUP's newly formed Innovation Business Unit, of which the R&I Institute is part. "We are at the cusp of remarkable, landscape-altering technologies, and by creating this institute, we are in a position to grasp that future and bring it to the present."
George, who has been instrumental in the advancement of innovation at ARUP since joining the company in 2018, will steer the new institute's efforts with the goal of maximizing patient impact. During her time as the executive director of PharmaDx, George brought her expertise in research, pathology, and clinical trials work to that division, developing novel companion diagnostic tests such as AAV5 DetectCDx™ via industry partnerships. Now, with a broad vision as CSO and president of the Innovation Business Unit, her attention has turned to the R&I Institute.
As one of the largest single-site reference laboratories in the nation, with a close affiliation with the University of Utah, ARUP has long engaged in research and innovation. Many ARUP-developed technologies and assays have revolutionized the diagnostic industry. Notable successes include the LightCycler, developed early in ARUP's history and the predecessor of the now-standard polymerase chain reaction technology; the world's first artificial intelligence (AI)-augmented ova and parasite assay, deployed in 2019; and AAV5 DetectCDx™, the first FDA-approved companion diagnostic immunoassay. The establishment of an institute dedicated to innovation signals a new era as ARUP moves to intensify its efforts to accelerate invention and discovery.
"ARUP is known for its excellence in quality, across the board and across the entire range of diagnostics. Now, we're witnessing the conglomeration of the right experts, the right community, and the right operational capabilities to translate that excellence into groundbreaking innovation," said Robert S. Ohgami, MD, PhD, FCAP. "We've seen the need and the opportunity, and now we're here to fearlessly seek out the future of laboratory medicine."
Ohgami, who has spent his career dedicated to translational research, will oversee the institute as vice president and chief medical director. He received his medical degree from Harvard Medical School before completing his residency in anatomic pathology, a clinical fellowship in hematopathology, and a postdoctoral fellowship in immunology and oncology research at Stanford University School of Medicine. While at Stanford, Ohgami made significant contributions to the development of next generation sequencing technologies, particularly targeted sequencing for myeloid neoplasms. At the University of California, San Francisco, Ohgami was central to operationalizing digital pathology in hematopathology and expanded novel applications of next generation sequencing to the diagnosis of lymphomas and leukemias. Ohgami joined ARUP in 2022 and has continued his work in research and new assay development.
Joining the institute as its director is Erica Clyde, who started in laboratory medicine as a bench technologist more than 15 years ago and whose career has since expanded to include critical positions at ARUP. Recently, Clyde served as group manager in ARUP's Clinical Trials department, which experienced rapid growth to become a multimillion dollar client portfolio under her leadership. Clyde also played an instrumental role in ARUP's research efforts during the COVID-19 pandemic, notably in the Utah Health and Economic Recovery Outreach (HERO) project that monitored the spread and impact of COVID-19 and mitigation efforts, and she helped to significantly increase ARUP's operating margin for COVID-19-related testing.
"This will not be cookie-cutter research; instead, we are providing highly customized solutions to our industry partners," Clyde said. "The institute will serve as a channel not only to the expertise of our 100-plus medical directors, but also to our extensive experience in scaling and optimizing laboratory operations and translating discoveries from research environments into production."
Clyde's in-depth understanding of the technical, regulatory, and operational aspects of laboratory research will be instrumental in driving the R&I Institute forward.
Institute leadership will also include experts such as David P. Ng, MD, a hematopathologist who has developed transformational technology in flow cytometry and who will lead efforts in new applications of applied artificial intelligence (AI), machine learning, and digital pathology. Salika M. Shakir, PhD, D(ABMM), another institute leader, is medical director of diagnostic technology evaluations and has conducted more than 20 in vitro diagnostic studies on the implementation of novel molecular assays for pathogen detection. Shakir will continue to collaborate with industry partners to develop and validate new testing technology.
"Innovation is essential to create the high-quality tests that physicians and patients rely on and to continue to support delivery of the best quality of care. Ultimately, our goal is to improve outcomes for the millions of patients we already serve each year," Ohgami said.
For more information and to submit an inquiry, visit the R&I Institute website at www.aruplab.com/arup-institute-for-research-and-innovation.
About ARUP Laboratories
Founded in 1984, ARUP Laboratories is a leading national reference laboratory and a nonprofit enterprise of the University of Utah and its Department of Pathology. ARUP offers more than 3,000 tests and test combinations, ranging from routine screening tests to esoteric molecular and genetic assays. ARUP serves clients across the United States, including many of the nation's top university teaching hospitals and children's hospitals, as well as multihospital groups, major commercial laboratories, group purchasing organizations, military and other government facilities, and major clinics. In addition, ARUP is a worldwide leader in innovative laboratory research and development, led by the efforts of the ARUP Institute for Clinical and Experimental Pathology® and the ARUP Institute for Research and Innovation in Diagnostic and Precision Medicine™. ARUP is ISO 15189 CAP accredited.
ARUP Media Contact
Lisa Carricaburu, lisa.carricaburu@aruplab.com, 801-583-2787 ext. 3842