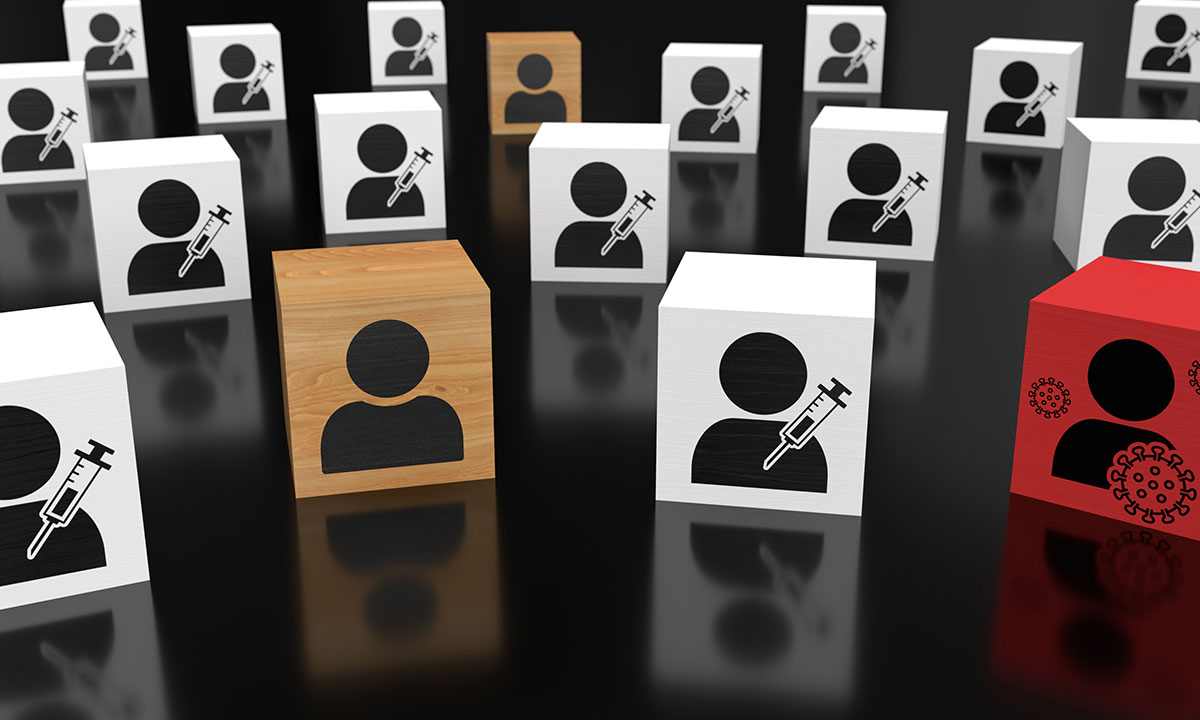 March 1, 2021
By the end of January, approximately 22%–28% of Salt Lake County residents either had been infected with SARS-CoV-2 or had been vaccinated against the virus, according to newly released results of the Utah Health & Economic Recovery Outreach (HERO) Project.
This percentage of individuals who have some immunity to COVID-19 continues to grow. Combined with continued adherence to safety protocols and aggressive diagnostic testing that leads to isolation of COVID-19-positive individuals, it likely explains decreasing infection rates in Salt Lake County and statewide, said Matthew Samore, MD, chief of the University of Utah Division of Epidemiology, during a webinar covering updated Utah HERO Project findings. Since mid-February, Utah has reported fewer than 1,000 new COVID-19 cases per day.
However, Samore and his fellow Utah HERO Project researchers cautioned that a continued decrease in the infection rate is not a given. Nearly a year into the COVID-19 pandemic, it remains difficult to predict when Utahns can expect life, school, and work to normalize.
"Recently, the rate of decrease has not been as steep as it was," said Andrew Pavia, MD, chief of the U of U Division of Pediatric Infectious Diseases, during the February 25 webinar. "It's something we need to keep an eye on because we have a number of possible storms on the horizon that could disrupt the progress we're making."
The Utah HERO project is a massive undertaking funded by the state and overseen by the U of U. Since early May 2020, it has relied on diagnostic and antibody testing of adults and schoolchildren performed by ARUP to collect data on the spread of COVID-19 in Utah. The information gathered helps inform decision-makers as they work to expand in-person schooling and rebuild the parts of Utah's economy most affected by the pandemic.
Since the project began, ARUP has performed tens of thousands of COVID-19 nucleic acid amplification (NAA) tests to assess active SARS-CoV-2 infection rates in Utah and COVID-19 IgG antibody tests to measure seroprevalence in the state's population.
Much of the diagnostic testing is now focused on schoolchildren. The project has begun to use an antibody test that detects and quantifies specific IgG antibodies associated with the neutralization function triggered by the two messenger ribonucleic acid (mRNA) vaccines that vaccinated Utahns have received so far, said Julio Delgado, MD, ARUP executive vice president and chief of the Clinical Pathology Division. Delgado oversees ARUP's role in the HERO project, advising his fellow researchers on which tests best meet their surveillance needs at each stage in the pandemic.
"The information this testing provides is helping to guide the state of Utah to make the right decisions at the right time," Delgado said, adding that ARUP is pleased to be able to continue to play a key role in the HERO Project.
In coming weeks, researchers will closely monitor the emergence of SARS-CoV-2 variants at the same time more Utahns are vaccinated.
The worldwide surge in SARS-CoV-2 infection from November to January accelerated the emergence of variants, Pavia said. One of those variants already identified in Utah, B.1.1.7, or the so-called UK variant, has a higher rate of transmission and therefore threatens to increase the number of positive COVID-19 cases even as vaccination lessens the risk of contracting the virus.
He said this makes it even more critical that widespread vaccination occur as quickly as possible. For Utah's population to attain herd immunity, or the state in which the virus can no longer be easily transmitted, 75%–90% need to have some immunity.
At most, 600,000 Utahns, or approximately 18% of Utahns, have had COVID-19, Pavia said. As of February 25, about 460,000, or 14% of the population, had received one dose of the SARS-CoV-2 vaccine, and 240,000, or 6%, had received a second dose. To reach herd immunity, he estimated that 1.6–2.5 million more people still need to be vaccinated.
"Because 28% of Utah's population is younger than 18, we are really going to be at a disadvantage until we are able to vaccinate those who are age 12–18," Pavia said. "Hopefully, we will be able to do that in the range of June to August."
He emphasized that "speed is of the essence in our vaccination efforts" because of the threat emerging variants pose. "We are moving faster than we thought we would and there's a really good chance that the speed of vaccination will improve in the very near future, but we need to continue to practice physical distancing and reduce gathering size. We need to mask up."