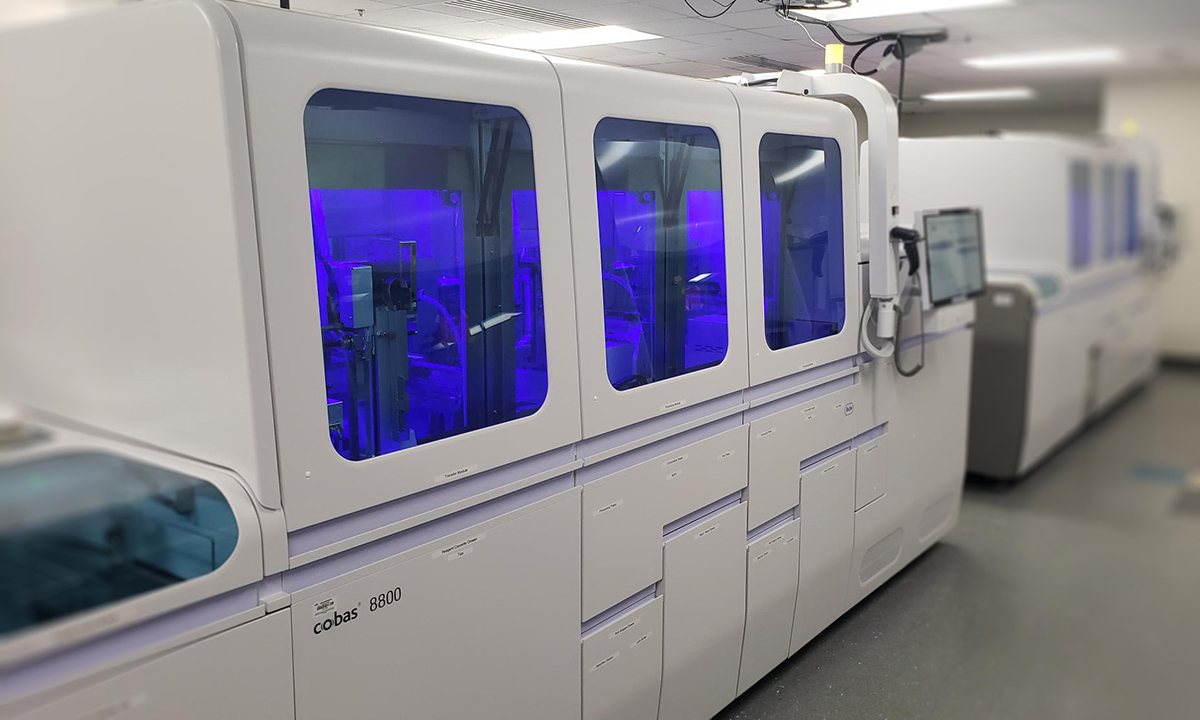 The additional COVID-19 Lab that ARUP has reconstructed to help meet renewed demand performs automated COVID-19 testing by nucleic acid amplification on Roche instrumentation.
September 10, 2021
Honoring its ongoing commitment to help stop the spread of COVID-19 in Utah and nationwide, ARUP Laboratories has reconstructed an additional lab dedicated solely to high-throughput COVID-19 molecular diagnostic testing to meet renewed demand for testing.
ARUP's new COVID-19 Lab is designed to perform automated COVID-19 testing by nucleic acid amplification on Roche instrumentation. ARUP is adding instruments and staff to further increase testing capacity as needed as the highly contagious Delta strain of SARS-CoV-2, the virus that causes COVID-19, continues to spread, said Tracy George, MD, ARUP president and chief medical officer.
"Throughout the pandemic, ARUP has worked hard to be flexible and nimble in addressing the testing needs of both our clients and our community," George said. "Patients need test results, and they need them quickly. We are committed to meeting those needs."
In addition to ramping up testing, ARUP also will provide drive-through specimen collection to employees of University of Utah Health on weekends starting September 11.
The service, which will be offered from 7:30 a.m. to 12:30 p.m. on Saturdays and Sundays, will make it easier for clinicians and others who provide critical patient care to get tested early in the day as Utah weathers the pandemic's fourth wave. It also will help free up COVID-19 testing appointment slots at U of U Health clinics for the broader community. Previously, drive-through testing at ARUP was available only to ARUP employees and their dependents on weekdays and Saturdays.
"We're pleased to be able to offer a solution that will help make life just a little easier for those on the pandemic's front line," George said.
ARUP is a nonprofit enterprise of the University of Utah and its Department of Pathology and provides all testing—not just COVID-19 tests—for U of U Health. Beyond U of U Health, ARUP has other hospital and health system clients in Utah and every other state.
Since the pandemic began, ARUP has been among the nation's top providers of COVID-19 diagnostic testing, SARS-CoV-2 antibody testing, and a number of tests essential in the treatment of COVID-19. ARUP medical directors, all of whom are on the faculty of the U School of Medicine, also have been and will remain actively engaged in research related to the virus.
Visit ARUP's COVID-19 page for updates, news, and educational materials related to COVID-19 testing and research.
Lisa Carricaburu, lisa.carricaburu@aruplab.com