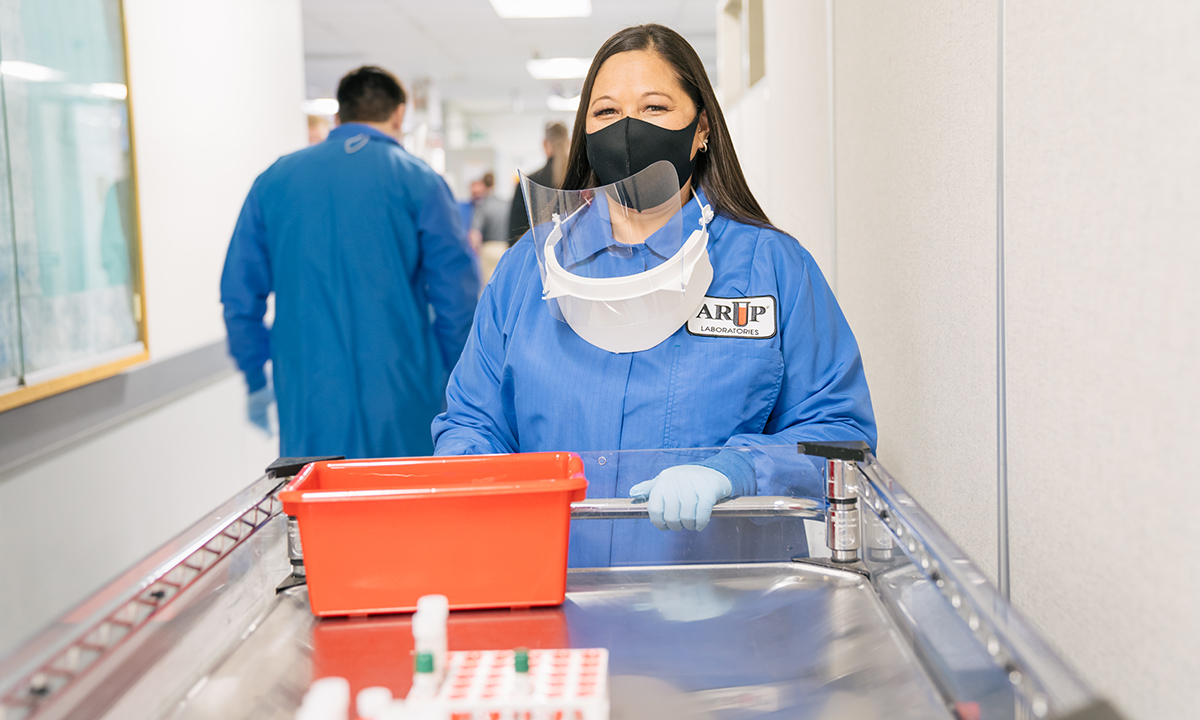 ARUP's dedicated employees, including Brook Berger, a lab supervisor, make a difference in the lives of patients every day. A workplace culture that prioritizes patient care is among the strengths that landed ARUP on Forbes' list of America's Best Employers by State for 2021.
September 2, 2021
ARUP's commitment to providing the best in patient care while also caring for the needs of its workforce has earned it a spot on the Forbes list of America's Best Employers by State for 2021.
ARUP is second on the list of 40 ranked Utah employers, behind only Costco Wholesale. It is one of a total of 1,328 companies to make the third annual list, which lauds companies for navigating an unprecedented year of COVID-19-related challenges while keeping their businesses moving and supporting their employees. Survey responses from 80,000 employees at companies in all 50 states and the District of Columbia drove the selection of honorees. See the list here.
In Utah, ARUP has consistently been ranked as a top spot to work. In each of the past three years, Utah Business magazine has honored ARUP with its Best Companies to Work for Award, which recognizes workplaces that offer a supportive culture, good benefits and pay, strong internal communications, and opportunities for professional growth. Read more about the Utah Business award here.
In the Forbes survey, employees at companies with 500 employees or more were also judged on workplace culture, competitiveness of compensation, employee safety, and the likelihood of employee job referrals. The anonymous survey was conducted on a rolling basis between October 2020 and June 2021 by the market research company Statista.
Visit ARUP's Careers page to learn more about myriad job opportunities available at ARUP.
About ARUP Laboratories
Founded in 1984, ARUP Laboratories is a leading national reference laboratory and a nonprofit enterprise of the University of Utah and its Department of Pathology. ARUP offers more than 3,000 tests and test combinations, ranging from routine screening tests to esoteric molecular and genetic assays. ARUP serves clients across the United States, including many of the nation's top university teaching hospitals and children's hospitals, as well as multihospital groups, major commercial laboratories, group purchasing organizations, military and other government facilities, and major clinics. In addition, ARUP is a worldwide leader in innovative laboratory research and development, led by the efforts of the ARUP Institute for Clinical and Experimental Pathology®. ARUP is ISO 15189 CAP accredited.
ARUP Media Contact
Jennifer Dobner, jennifer.dobner@aruplab.com