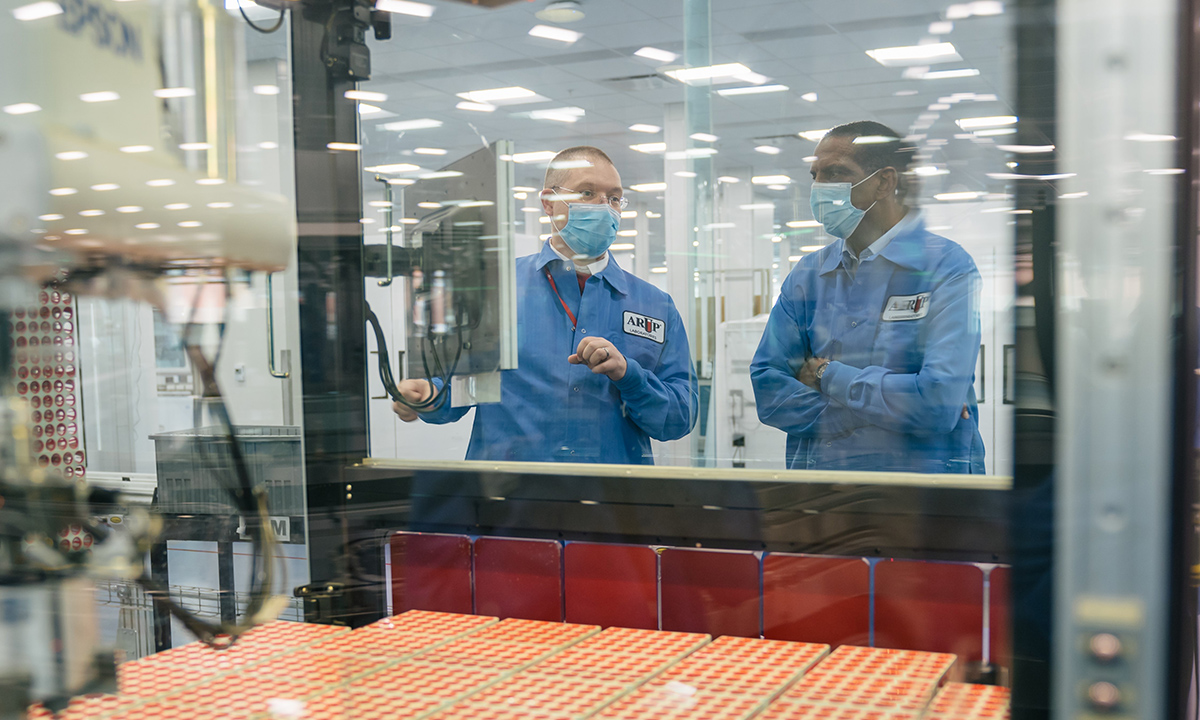 On a tour of ARUP's state-of-the-art laboratory facility, Chief Operations Officer Jonathan Genzen, MD, PhD, explains to Rep. Burgess Owens, R-Utah, the role that automated sorters play in getting specimens through the laboratory to specific testing locations.
August 31, 2021
Utah Rep. Burgess Owens visited ARUP Laboratories on Monday as part of a BioUtah BioHive tour of homegrown companies that have put Utah on the map as the center of innovation in the life sciences industry, an industry responsible for medical device, pharmaceutical, diagnostic, and biotechnology advances.
ARUP CEO Andy Theurer led the tour through ARUP's new 220,000-square-foot laboratory facility and other facilities. The tour included a look at the expanded Specimen Processing and Receiving areas, Mass Spectrometry Lab, Chemistry Core Lab, Automated Endocrinology Lab, Immunology Core Lab, and Serologic Hepatitis-Retrovirus Lab.
The new facility, which formally opened in June, expands ARUP's laboratory capacity by 45% and includes process efficiencies and innovations that support the goal of providing exceptional patient-centered care.
At each stop on the tour, ARUP's Tracy George, MD, president and chief medical officer; Jonathan Genzen, MD, PhD, chief operations officer; and David Rogers and Dan Anderson, both senior operations directors, explained the customized design features that enhance workflow and cut turnaround times to deliver faster results to ARUP clients and their patients.
The tour also highlighted ARUP's important contribution in combatting the COVID-19 pandemic as a provider of molecular diagnostic and SARS-CoV-2 testing to hospital and healthcare systems in Utah and nationwide. In addition to its involvement in COVID-19 testing and research, ARUP at one point during the pandemic was manufacturing 35,000 specimen collection kits a day for use by clients.
"I'm very impressed," said Owens, who represents Utah's fourth congressional district. "It's the kind of entrepreneurial spirit and innovation our state is known for."
Read more about ARUP's new laboratory facility here: https://www.aruplab.com/magnify21/faster-stronger-and-bigger-ever.

Jennifer Dobner, jennifer.dobner@aruplab.com