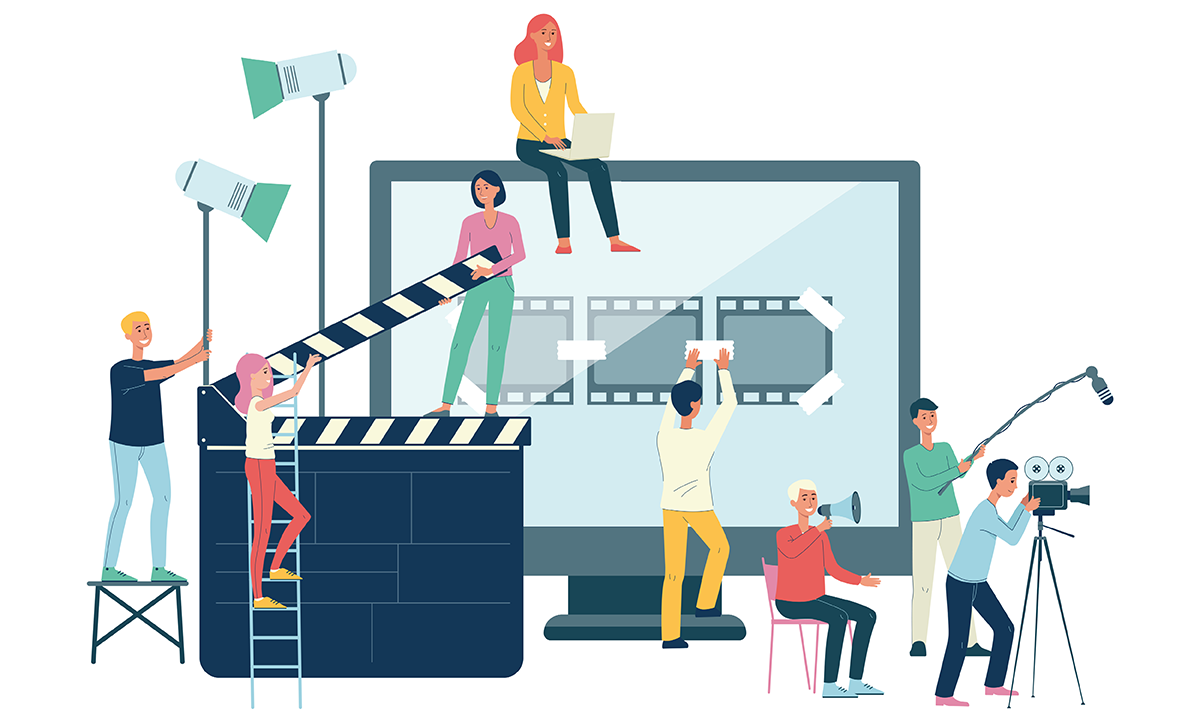 August 22, 2022
Bukola Jackson took an unconventional path to her position as an analyst in the Information Technology Clinical Systems department at ARUP Laboratories. Despite starting college as an aspiring comic book artist, she found herself gravitating toward science classes and eventually pursued a career in the sciences.
Jackson always felt a strong connection between her interests in art and science, but that connection came into focus more sharply when she volunteered to share her passion for science, technology, engineering, and math (STEM) careers with a group of student filmmakers and future STEM innovators.
"You don't have to be a math whiz" to work in STEM, said Jackson, who hopes that her message will resonate with students. "This field requires you to be creative, too. It's good for people who are artistically inclined."
The unique partnership that formed to produce a short film to inspire the next generation of STEM innovators is a win-win for all involved: the Spy Hop students, the Utah STEM Action Center, and ARUP employees.
Sarah Kyle, an events coordinator who assists the STEM Action Center, said that the center will use the video filmed earlier this year to promote this year's STEM Fest, which will be held September 27 and 28 in Sandy, Utah. The annual event provides an opportunity for kids to engage in fun, interactive demonstrations of STEM in action.
The collaboration between ARUP and the STEM Action Center grew out of ARUP's Ambassador Charities Program, said Cheryl Vincent, ARUP's talent development manager. This program provides an opportunity for ARUP employees to donate and provide assistance to select charities. The STEM Action Center is one of four organizations that employees have chosen to support. ARUP's Employee Advisory Council helps to select the charities and chooses new charities every two years.
This isn't the first time ARUP has collaborated with the STEM Action Center. In July 2021, a cohort of Native American students from the American Indian Services PREP Program toured the labs and learned about ARUP's innovations. Then, as part of Lab Week 2022, ARUP employees built and donated more than 100 kits with puzzles and projects to engage and educate elementary school students about STEM.
Spy Hop has also worked extensively with the STEM Action Center as part of its film apprenticeship class. Jose Manzo, a Spy Hop film mentor, said the apprenticeship helps connect students with potential clients and allows students to practice working in a professional setting.
At ARUP, the film students learned to work in settings with heightened security, gained more experience with the filming process, and caught a glimpse of the world of laboratory science during a lab tour.
Jackson was astounded by the efficiency and cooperation of the group. "I was amazed to watch it all," she said. "The crew was phenomenal. I was so impressed with each and every one of them."
Jackson's message about the importance of creativity in a laboratory environment resonated with 17-year-old Grey Jensen, a student at Skyline High School in Millcreek, Utah, and a film apprentice at Spy Hop. As an avid environmentalist and outdoor enthusiast, Jensen aspires to bring life to environmental activism through visual media.
Jensen enjoyed meeting the ARUP team and found Jackson's message inspiring. "You can bring anything to the table if you want to make a difference. You can come from the STEM side, or you can come from art," he said. "There's a crossover between art and science. They work together to make it better."
Jensen and his team gained valuable skills while working with Spy Hop clients, including ARUP. Along with the practical experience of setting up the equipment and filming, they learned more about the world of STEM through their interviews and lab tours.
Vincent said that ARUP hopes to continue working with the STEM Action Center and other Ambassador Charities for years to come. Experiences like these strengthen communities by connecting apprentices and mentors from unique fields to accomplish a common goal.