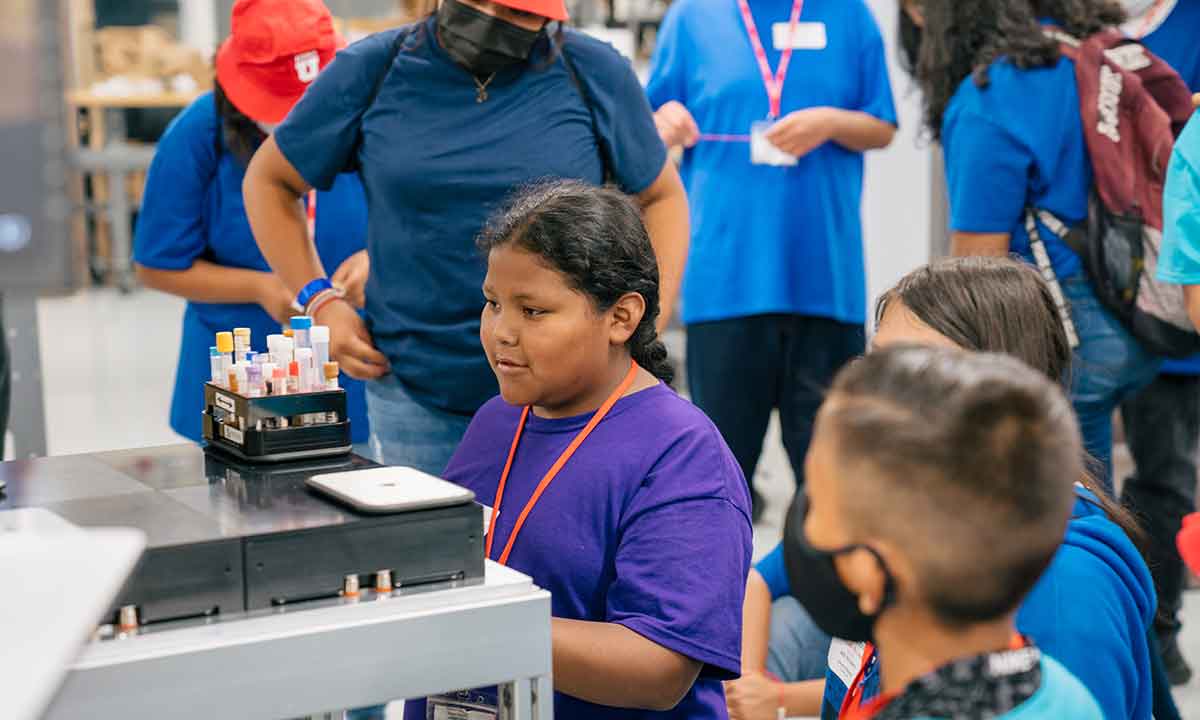 Students listen as automation engineer Darby Nelson (not pictured) shows how electricity and magnets can work together to levitate samples on these rectangular movers in order to avoid any friction, which decreases wear and tear on machinery.
July 26, 2021
Nearly 150 Native American middle-school children recently visited ARUP as part of an American Indian Services PREP Program (AIS PREP) that focuses on science, technology, engineering, and math (STEM) education. The children traveled from reservations in South Dakota, Idaho, New Mexico, and Utah.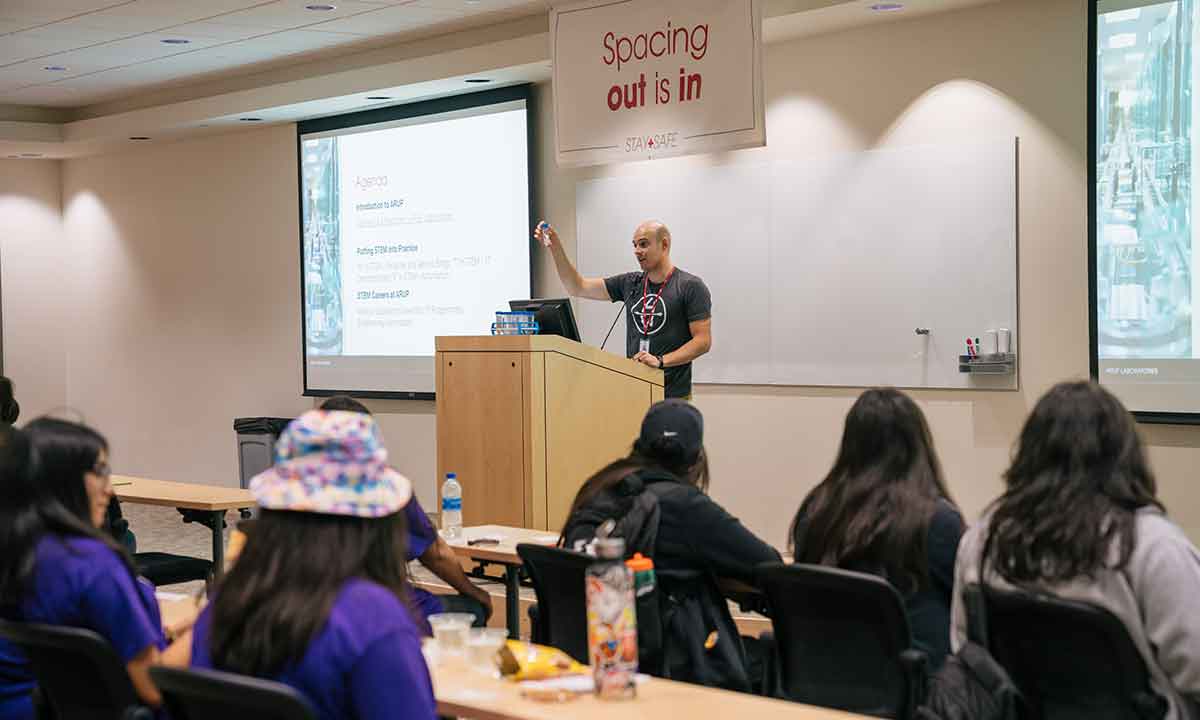 While at ARUP, the students listened to a variety of STEM-related presentations to learn about topics that included robotics and automation, augmented reality, and parasites. They also learned about inherited genetic traits while playing "Genetic Bingo." The presentations gave them an opportunity to explore careers in the medical laboratory sciences. They also learned about the full-tuition reimbursement available to those who pursue a medical laboratory scientist degree while working at ARUP.
"This is fantastic exposure for these children so they can learn about all the different types of jobs available [in laboratory medicine]. There is a real push forward on our reservation to encourage our children to pursue STEM education and jobs," said Sincere Martin-Tetons, who is a site coordinator for the children from Fort Hall Reservation in southeastern Idaho.
"Ideally, we want them to bring their experience back home to their reservation and strengthen that community," Martin-Teton said. She added that exposure to presenters is also an opportunity to network. "Many presenters encourage our students to reach out to them when they are looking for jobs after high school or college."
AIS PREP is a free educational preparatory program for Native American youth provided by American Indian Services (AIS). Students, ages 11 through 14, experience three summers of rigorous STEM instruction designed to prepare students for higher education. Each child graduates with scholarship money to apply to higher education.
"The aim is to get these kids into higher education and help them see themselves on a college campus. Much of their PREP time is spent on campuses each summer," said Sylvia McMillan, PhD, executive director of AIS. "They learn to persevere through academic rigor and come to believe that they can work hard and succeed academically before they hit high school."
AIS PREP provides tutors and support for the students throughout their STEM classes.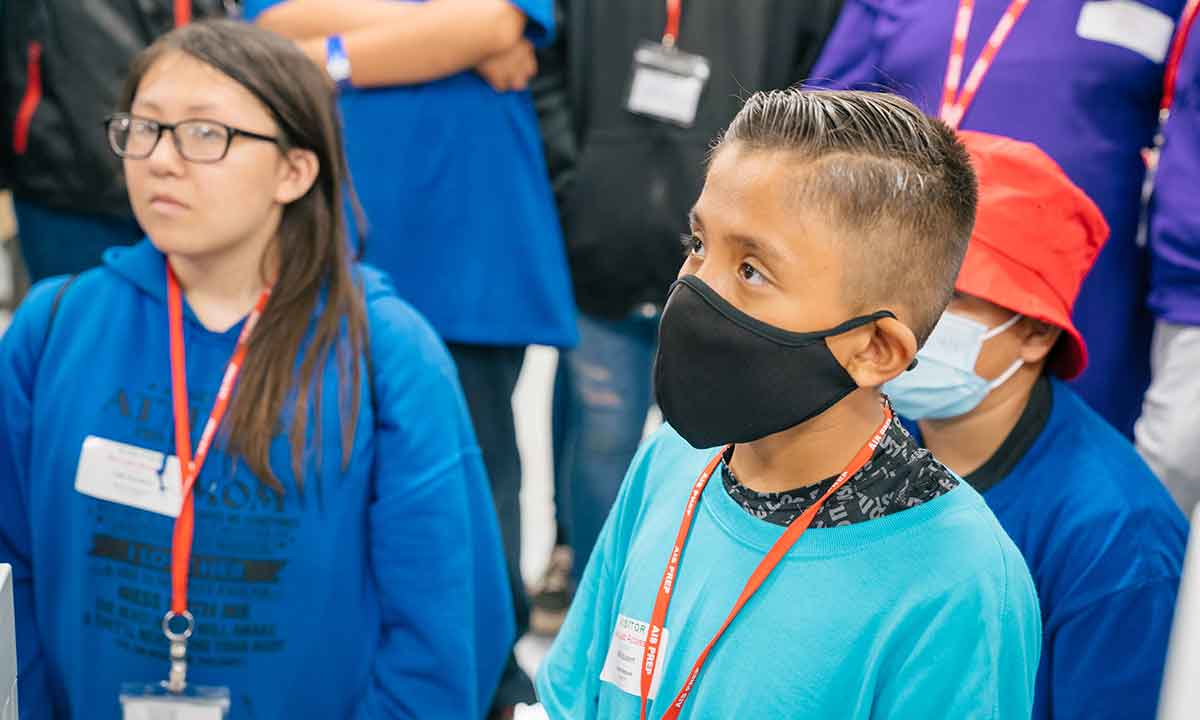 Jason Jensen is a first-year participant in the AIS PREP program. "I get to explore lots of new subjects. It's fun," said Jensen, who is 13 and wants to be a marine biologist. "Today I learned about augmented reality here and biology at the University of Utah."
Fourteen-year-old Brandy Marshall, who is from Oglala, South Dakota, also is participating for the first time. "I like the robot that can go through [ARUP's] buildings. That was very cool," Marshall said.
The STEM Action Center Foundation helped connect the AIS PREP program with ARUP Laboratories and the University of Utah. The STEM Foundation is one of ARUP's ambassador charity programs.
"It is inspiring for us to share with these students all the exciting STEM opportunities that exist in a large national reference laboratory like ARUP. Every aspect of STEM is in action here," said Tracy I. George, MD, ARUP president and chief medical officer. "Our future relies on the talents of kids like these who will ultimately be the innovators and experts in the sciences, including in the medical laboratory sciences."
Peta Owens-Liston, peta.liston@aruplab.com