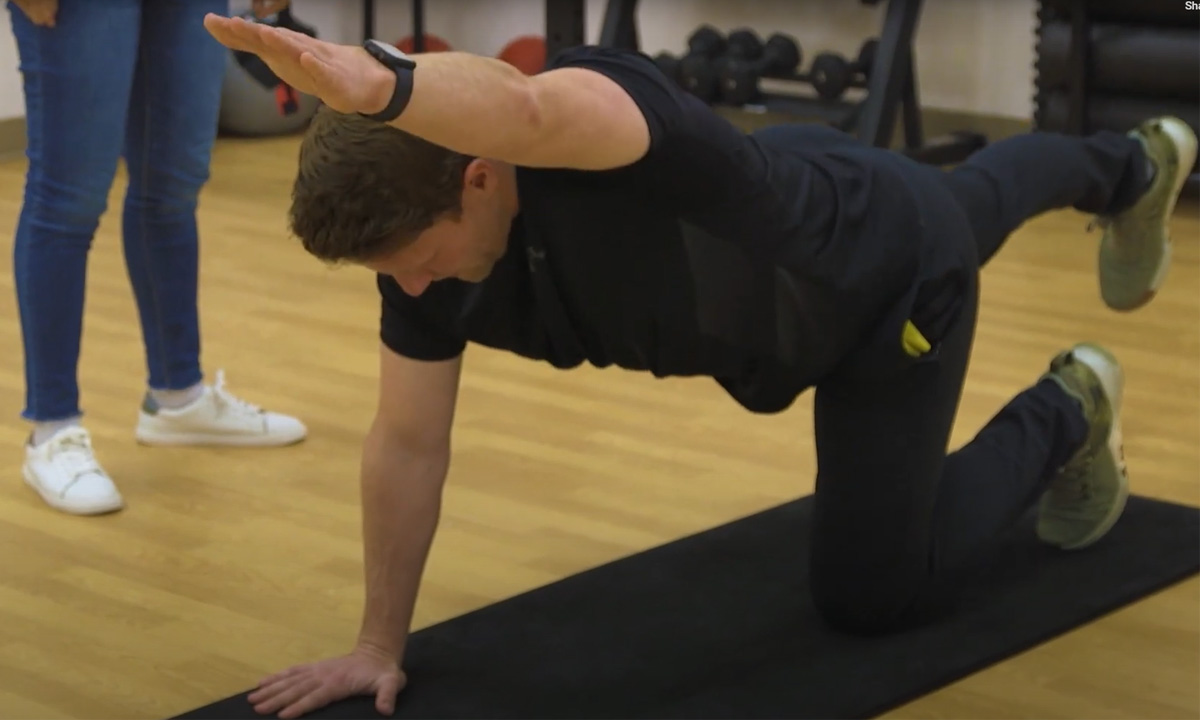 ARUP Wellness Supervisor Danny James, MS, CSCS, demonstrates the bird dog exercise for a corrective exercise participant.
August 17, 2023
The Corrective Exercise program designed by ARUP Laboratories' Wellness team to help treat and prevent injuries that can result from the repetitive nature of work in a laboratory has earned a national award.
Ragan Communications honored ARUP with a 2023 Workplace Wellness Award in the Physical Wellness category at an event in Denver, Colorado, on August 15. ARUP's Corrective Exercise program offers a no-cost alternative to physical therapy for employees with chronic pain.
"At ARUP, we promise to do all we can to create and maintain a safe and healthy work environment," CEO Andy Theurer said. "While we're pleased to be recognized for this program, we're even happier to be able to provide employees participating in the program with relief and the care they need to treat symptoms and help prevent further discomfort."
ARUP's Wellness team launched the Corrective Exercise program in early 2022 to help employees recover from musculoskeletal injuries, which are more common among laboratory employees. ARUP's wellness coaches help participants in the program recover from these injuries and build strength to prevent further injuries.
The Workplace Wellness Award is the second award the program has received. In May 2023, it was recognized by Utah Worksite Wellness, a partnership of Utah organizations that advocates for healthy worksites.
Kaitlyn Case is a wellness coach at ARUP and meets with employees, all of whom have access to a range of personalized wellness programs. As part of the Corrective Exercise program, Case consults with employees to assess their pain and creates personalized exercise plans. Employees then follow up for further consultations and assessments until their symptoms resolve or they are referred to a physical therapist.
Case knows the importance of offering comprehensive wellness services to employees. "When people have to go out and spend money, they might just make do with the injury or make it worse," she explained. "We don't want that for our employees."
Benefits of the Corrective Exercise program extend beyond pain relief. Wellness coaches distribute questionnaires throughout the program to assess employees' pain levels, perceived quality of life, and absenteeism. On average, participants who completed the program experienced a 30% reduction in pain and a 40% improvement in quality of life. Of those participants, 96% reported being satisfied with the Corrective Exercise program. Most also experienced a significant drop in absenteeism.
The Wellness team works in tandem with the ARUP Family Health Clinic (FHC) to provide comprehensive care for employees. Case said that many of the employees she sees in the Corrective Exercise program were referred by FHC clinicians.
"We've been able to bring a lot of things in-house," Case said. "I haven't seen this in many other places."
ARUP's wellness coaches and nutritionists can assist employees with a range of needs, from building exercise routines to creating healthy diet plans. Employees can also enroll in no-cost workshops centered around nutrition, including a diabetes intervention program, cooking classes, and an intuitive eating series.
"At the end of the day, we're helping people make sustainable lifestyle changes," Case said. The Corrective Exercise program is one of many ways ARUP wellness coaches offer exceptional care to employees.