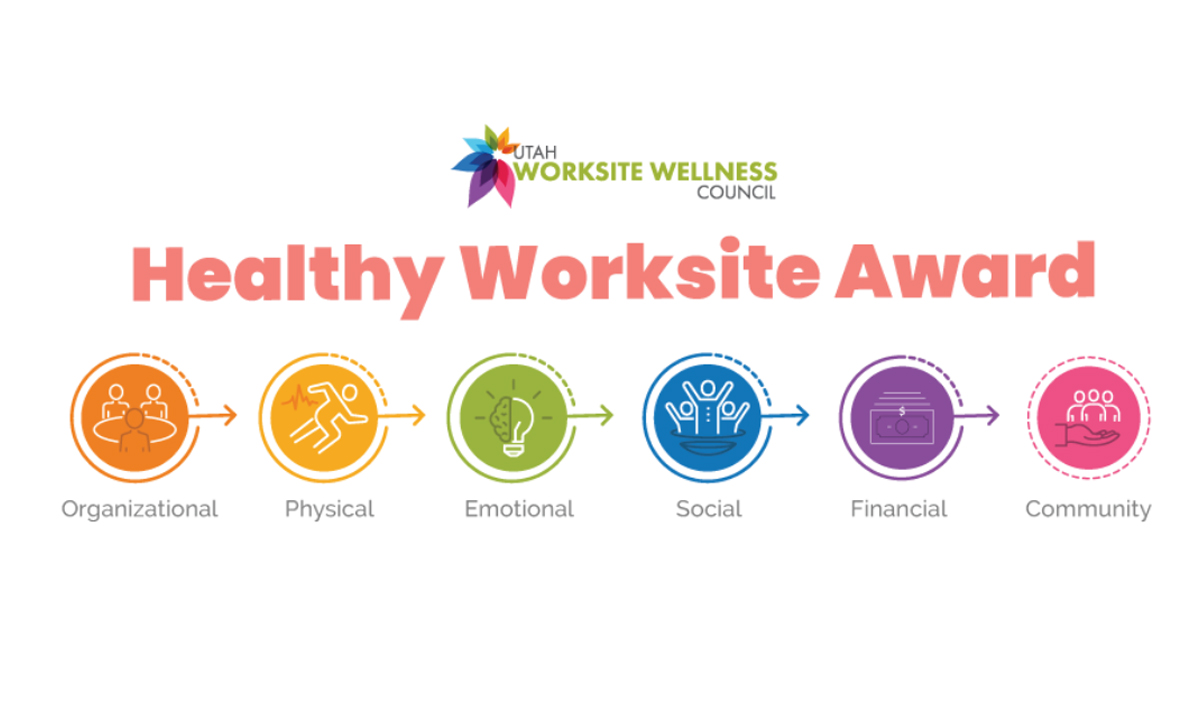 ARUP's health and wellness initiatives have earned the company a Platinum Healthy Worksite Award and Healthy Worksite Innovation Award from the Utah Worksite Wellness Council.
May 22, 2023
ARUP has been recognized for all aspects of its health and wellness programs by the Utah Worksite Wellness Council, a partnership of organizations within Utah that advocates for healthy worksites. This recognition consists of two awards for calendar year 2022, the Platinum Healthy Worksite Award and the Healthy Worksite Innovation Award.
Danny James, MS, CSCS, ARUP Wellness supervisor, attributed the awards to ARUP's culture, Wellness team, and leadership. "It speaks to ARUP as a whole and how much the company really cares for its employees' well-being," he said. "These programs create a culture where employees know that the company cares about them."
The Platinum Healthy Worksite Award, the highest honor given by the Utah Worksite Wellness Council, is a holistic recognition of ARUP's wellness initiatives. The criteria for the award are based on organizational, physical, emotional, social, financial, and community aspects of employee health. ARUP's many wellness offerings, including its 24/7 Wellness Center, no-cost nutrition coaching, breast-feeding support, diabetes care, and emotional care offerings, qualified it for the Platinum award.
As one of many methods of promoting physical health, the Wellness Center nominates an employee each month as a Wellness Champion. Dylan Noaker, an IT software programmer who was honored as one of ARUP's Wellness Champions, knows firsthand the impact of ARUP's wellness offerings. Noaker has used the Wellness Center's equipment for endurance training and to maintain his general fitness for years.
"Having that resource available through work has been really great," Noaker said. "It means I don't have to commute to a different gym. I don't have to worry about hustling early in the morning or late in the evening since I can roll up to work and exercise on site." He appreciates both the convenience and cost-savings of ARUP's wellness offerings.
In addition to the Platinum recognition for ARUP's general wellness initiatives, ARUP was awarded the Healthy Worksite Innovation Award in the Physical Health category for the company's ongoing Corrective Exercise program. The Healthy Worksite Innovation Award recognizes employers who offer creative ways to improve employee well-being. Only one company wins this award annually in each category, so ARUP was the sole winner in the Physical Health category.
Through the Corrective Exercise program, ARUP employees and their dependents can receive individualized assessments and treatment plans to address repetitive stress injuries such as persistent neck pain or carpal tunnel syndrome. These interventions improve participants' quality of life and reduce healthcare costs by offering a no-cost alternative to physical therapy.
Survey data gathered from Corrective Exercise program participants shows significant progress. "Program participants saw pain scale reductions up to 30% and reported an overall 40% increase in their quality of life," said James, who leads the Corrective Exercise program. "And 96% reported feeling satisfied with the program."
Many participants reported missing work due to their pain or injury before starting the Corrective Exercise program. Of those who completed the program, most experienced a significant drop in the number of days they missed work.
Although these awards were given for the 2022 calendar year, the initiatives of ARUP's Wellness team have long been backed by ARUP's leadership, both current and past. "This award is built on the philosophy and culture that ARUP has fostered from the very beginning," said James. "It's just one program built on top of a foundation that the company has always supported."
media@aruplab.com