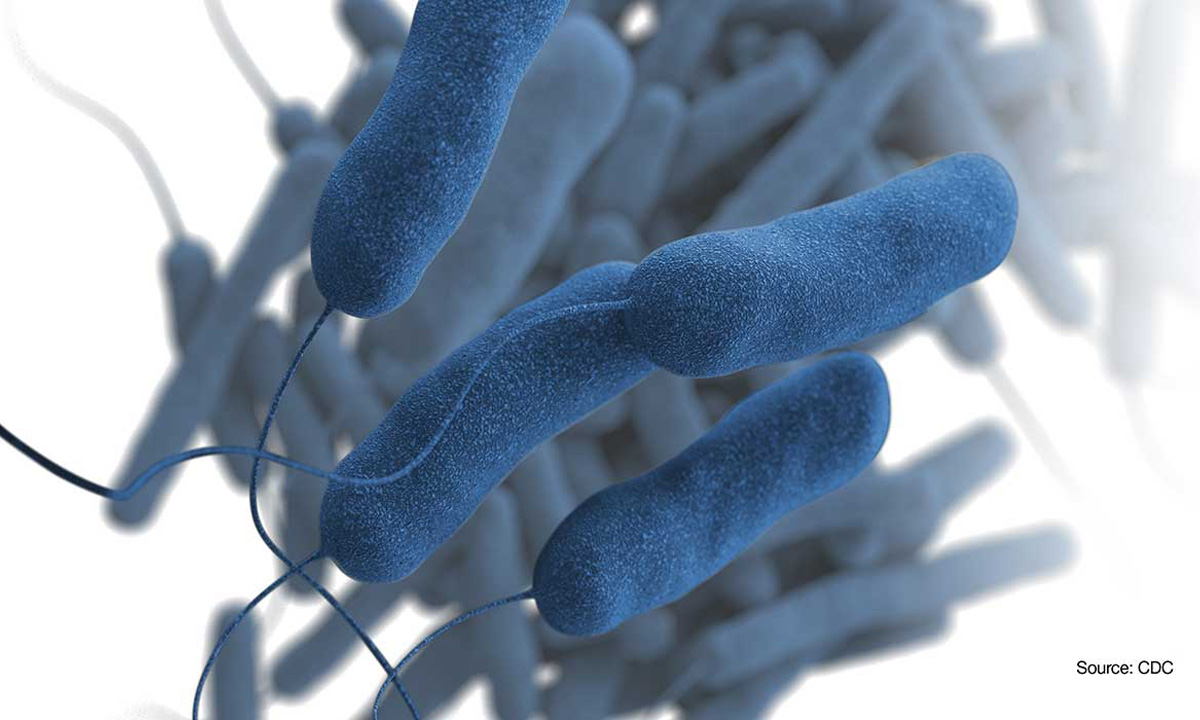 August 13, 2019
Legionnaires' disease, often mistaken for pneumonia and sometimes fatal, can be inhaled through small droplets of water.
As summer temperatures climb into the triple digits, air conditioners are running full steam. But cool air may not be the only thing people are breathing—the bacteria that causes Legionnaires' disease (Legionella pneumophila) often grows in air conditioners, as well as hot tubs, hot water tanks, large plumbing systems, and decorative fountains.
"Legionella infection should be considered in any patient presenting with pneumonia. The suspicion for Legionella pneumonia should be particularly high during known outbreaks," says Kim Hanson, MD, MHS, medical director of Mycology and section chief of Clinical Microbiology.
Legionnaires' disease presents as a type of pneumonia with symptoms usually occurring within two weeks after exposure. The bacteria can also produce a milder infection known as Pontiac fever.
So far this year, half a dozen outbreaks of Legionnaires' have been identified in prisons, resorts and hotels, an assisted living center, and even a hospital.
So far this year, half a dozen outbreaks of Legionnaires' have been identified in prisons, resorts and hotels, an assisted living center, and even a hospital.
"The process of finding a treatment that works could take time that the patient does not have," says Jenna Rychert, ARUP medical director of the Microbial Immunology labs. "That's why it is critical that outbreaks are reported so clinicians will more quickly consider Legionnaires' disease." Rychert is also an adjunct assistant professor in the Department of Pathology at the University of Utah School of Medicine.
According to the CDC, about one in 10 people who gets sick from the disease will die, but the bacteria does not generally spread from one person to another.
"Although certain clinical features, including altered mental status, gastrointestinal symptoms, low serum sodium, and elevated liver transaminases might raise suspicion for Legionella, no symptom or sign is diagnostic. Laboratory testing is necessary for diagnosis," explained Hanson who also oversees the Immunocompromised Host Infectious Diseases Services at the University of Utah Hospital and the Huntsman Cancer Institute.
Testing for Legionnaires' Disease
At ARUP, there are five different types of tests used to detect Legionella bacteria:
A bacterial culture: The gold standard for testing. Requires a respiratory sample, and the clinician must specifically ask for a Legionella culture.
A urine antigen test: A rapid assay detects bacteria antigens that are shed into the urine. Good option if securing a respiratory sample is difficult to do.
A molecular test using the polymerase chain reaction (PCR): Determines whether the bacteria are present by detecting the nucleic acid of the bacteria. Requires a respiratory sample.
A direct florescent antibody (DFA) test: Detects the presence of Legionella by using fluorescently tagged antibodies. Requires a respiratory sample.
A serology test using a blood sample: Detects antibodies that the body has produced in response to the infection. Typically used for a retrospective diagnosis.
The only way to prevent Legionnaires' is for building owners and managers to maintain the water systems where the bacteria can grow. The CDC provides a took kit to help reduce growing and spreading Legionella.
Peta Owens-Liston, Sr. Science Communications Writer, ARUP Laboratories
Legionella Bacteria
Over three days in July 1976, some 4,000 delegates from the Pennsylvania chapter of the American Legion attended an annual 3-day convention at the Bellevue-Stratford Hotel in Philadelphia. Three days after it ended, one of the participants died from an apparent heart attack. Within the next six days, hundreds of Legionnaires became sick, and 22 died. In all, 221 became ill, and 34 died.
A local physician, Earnest Campbell, MD, was the first to see a pattern in the outbreak after realizing that three of his patients with similar symptoms had all attended the convention. Eventually, the CDC was called in and launched one of its largest disease investigations in U.S. history. Suspects included bioterrorism, foul play, microorganisms, and toxins.
After a five-month investigation, CDC microbiologist Joseph McDade finally identified a red, rod-shaped organism as the cause of the illness. It was a bacteria new to scientists that had spread through the hotel's air-conditioning system. The bacteria was named Legionella pneumophila—the culprit behind Legionnaires' disease.