May 15, 2017
A breast cancer survivor is shown here; a wide range of cancers are tested at ARUP. Tests and results from the 3,000 plus tests offered here move efficiently through the more than 70 labs using a technical lab information system.
---
"I think the patient doesn't realize so much is involved," Amy Stradley, IT Clinical Systems senior analyst at ARUP Laboratories, said about a medical tour she took at the Huntsman Cancer Institute's hospital. She learned there that while a cancer patient lies under general anesthesia following removal of a cancerous tumor, tissue is speedily checked by a diagnostic lab, such as ARUP, to ensure all malignant traces are gone. "The laboratory kicks in so easily and efficiently; it is remarkable," she adds.
Seeing effective cancer treatment "brought it home to me," says Stradley, who notes that her mother was diagnosed with Hodgkin lymphoma and her sister-in-law had a tumor removed: "I don't know anybody who doesn't know somebody who has had pathology done."
Stradley is a top player in the technical network that backs up this efficient process. She and colleague Janalee Renshaw, an IT Clinical Systems architect, ensure smooth functioning for Millennium, the laboratory information system (LIS) that manages the transport of specimens and results throughout ARUP's more than 70 individual labs. "Orders come in, results happen, results go out via Millennium," sums up Renshaw. And the LIS is just "one of many important functions at ARUP that seamlessly works to serve patients and their clinicians," notes John Penrose, ARUP's chief information officer.
"Once you develop a mentor-type relationship, you want to show them that you can continue to come up with good ideas. I know I can take on any project here, because there will always be support."
Amy Stradley
IT Clinical Systems Senior Analyst
The work done by Stradley and Renshaw addresses concerns lab workers have with the system—maintaining its design and interaction with other proprietary systems at ARUP—and was recently honored by an anonymous coworker in a publication of Laboratory All-Star Trading Cards, compiled by Cerner for Medical Laboratory Professionals Week 2017, April 23–29.
On their shared card, Stradley and Renshaw are noted for their work "teach[ing] others about the systems that are touched with each test and what can go wrong in the process if things aren't adequately checked." The two shared the honors with other lab professionals, including employees from Kaiser Permanente's Northwest Laboratory Information Systems and the University Medical Center of Southern Nevada.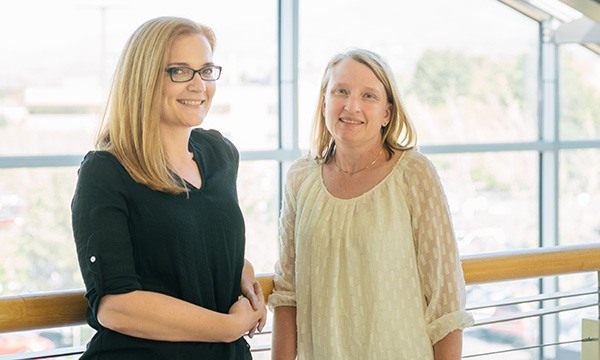 In a laboratory as large as ARUP, many systems can be touched by a test. Stradley and Renshaw help make sure everyone looks at the process from beginning to end, rather than at individual pieces within it. For example, if someone no longer wants to use a serum-separator tube (SST), it's important to publish that to others so that if a phlebotomist or anyone else places a specimen-processing order, they'll know that tube is no longer an option to order. According to Stradley, a minor software change "can result in a bigger change for a real person on the client end."
The work also involves considerable troubleshooting, says Renshaw. "I like finding the root cause of an issue, maybe giving hints on how to do something within the system or help with a build of one of the proprietary systems that works with Millennium. I like figuring things out."
Both worked their way up from different divisions of ARUP. "I've had amazing mentors at ARUP for learning software and technical aspects of the work," says Stradley. "Once you develop a mentor-type relationship, you want to show them that you can continue to come up with good ideas. I know I can take on any project here, because there will always be support."
With that in mind, while receiving the honor was unexpected, it felt good. "I thought it was neat to be recognized, but I was just doing what I enjoy: helping people and solving puzzles," says Renshaw. Stradley agrees: "It's great to have someone say something nice; we like working with the Cerner system. We're also getting teased a lot."
Ah, the dangers of being All-Star puzzle-solvers.
Catherine Arnold, Science Communications Writer
---
Related blog:
"Hurricane Relief: ARUP Engineer Rebuilds Puerto Rico's Network Infrastructure"