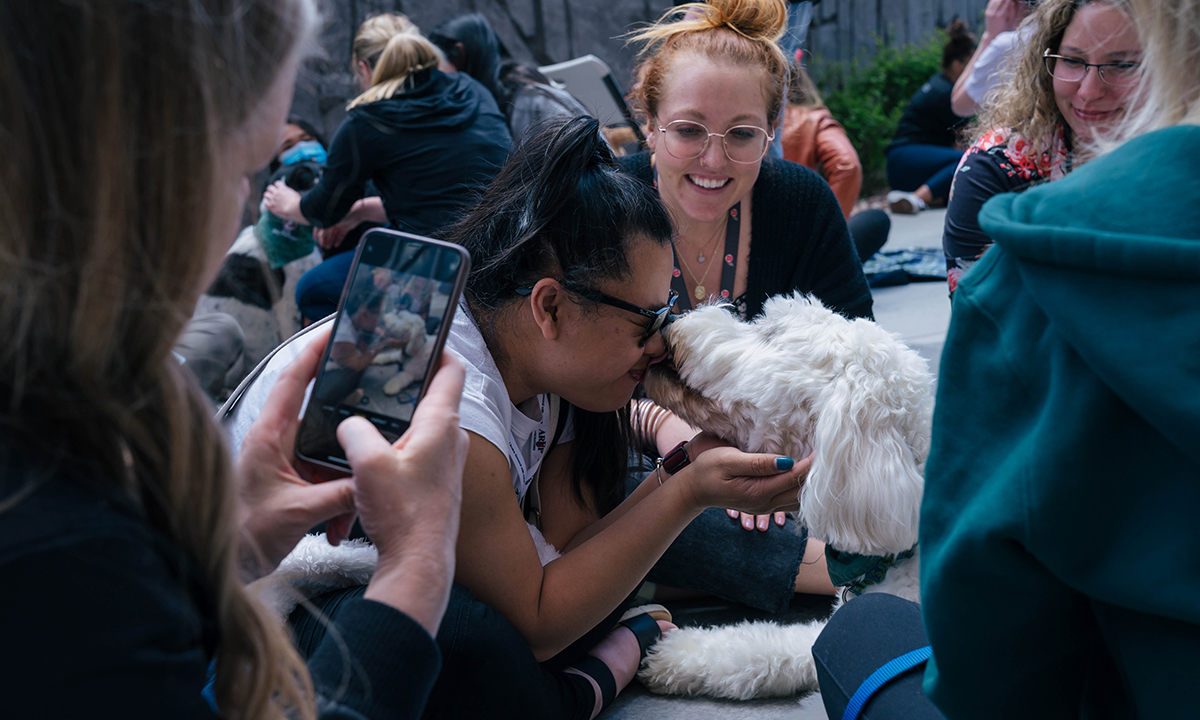 Is there anything better than dog kisses? ARUP Laboratories is adding dog therapy mental health breaks to its array of companywide initiatives to improve employee well-being.
May 12, 2022
For a dog, there may not be anything better than a good belly rub.
Turns out giving dogs a belly rub is good for humans, too—a fact that quickly became obvious on the ARUP Laboratories campus on Tuesday, May 10, 2022, as the company held its first dog therapy event for employees as a part of Mental Health Awareness Month.
"People absolutely loved it," said Brysen Bocchino, CMHC, NCC, mental health clinician at ARUP's on-site Family Health Clinic. "I saw people so giddy and excited to come. I think we exceeded expectations."
ARUP is committed to supporting the health and wellness of its 4,500-plus employees and has been focused on building a culture of good mental health by making efforts on multiple fronts, Bocchino said. An employee committee is working on mental health initiatives, and Bocchino is working on creating company policies and training programs to support mental health.
In addition, crisis counseling is available at the clinic, as are referrals to ARUP insurance-approved therapists. A program is in the works to bring master's degree-level social work students from the University of Utah and Westminster College, as well as students from the University of Utah's Clinical Mental Health Counseling program, on site to help provide talk therapy to employees and their dependents. The first student is scheduled to begin this fall.
Adding interactive dog therapy to the mix—a suggestion that came from an employee—was a bit of an experiment, Bocchino said, and it proved to be a great alternative to video presentations or lectures that many might find boring or not engaging.
The event ran for about 90 minutes and featured five therapy dogs and more than 100 enthusiastic employees in small groups.
Each employee had 15 minutes to spend with a new furry friend, which included plenty of belly rubs, treats (as rewards for tricks), and many proclamations of "you're such a good dog," Bocchino said.
"There was so much happiness," he said. "Many people asked for more opportunities to spend time with the dogs, and based on our successful first run, I'm happy to say ARUP plans to host six therapy dog events each calendar year."
The nonprofit Utah Pet Partners supplied the furry friends for the warm and fuzzy event. The all-volunteer group provides animal-assisted activities free of cost to many organizations, including hospitals, correctional facilities, homeless shelters, and Salt Lake City International Airport.
There is a growing body of research that shows that animals—from cats and dogs to guinea pigs and fish—can have a positive impact on an individual's general health and well-being.
Therapy dogs are especially effective at providing comfort and support, according to the National Institutes of Health's National Human-Animal Interaction Research Program. Dogs have been shown to reduce anxiety and stress for nursing home residents and hospital patients, help kids with attention deficit disorders achieve better focus, reduce loneliness, and improve mood, as well as provide a sense of social support.
"I think overall people just love dogs," said Bocchino, who is allergic and kept his distance from the canines with a lint roller in hand.
Tory Martin, an administrative assistant for the Biochemical Genetics and Chemistry department, said she was immediately excited when the notice of the dog therapy clinic popped into her email inbox.
"I think I clicked on that sign-up link faster than anything I've ever clicked on before," she said.
In addition to her administrative duties, Martin is also the coordinator of two ARUP fellowship programs and is part of the team preparing for the upcoming ACGME site-visit inspection for the Biochemical Genetics Fellowship, which is taking place at the same time as the upcoming inspection by the College of American Pathologists later this year.
"I'm pretty stressed right now," she said.
She's also healing a broken heart. In January, Martin lost her four-legged best friend, Murphy, who had been by her side for a decade.
"I really needed some puppy time," she said. "I felt lighter afterward and like I could go finish the mountain of paperwork."
Jennifer Dobner, jennifer.dobner@aruplab.com