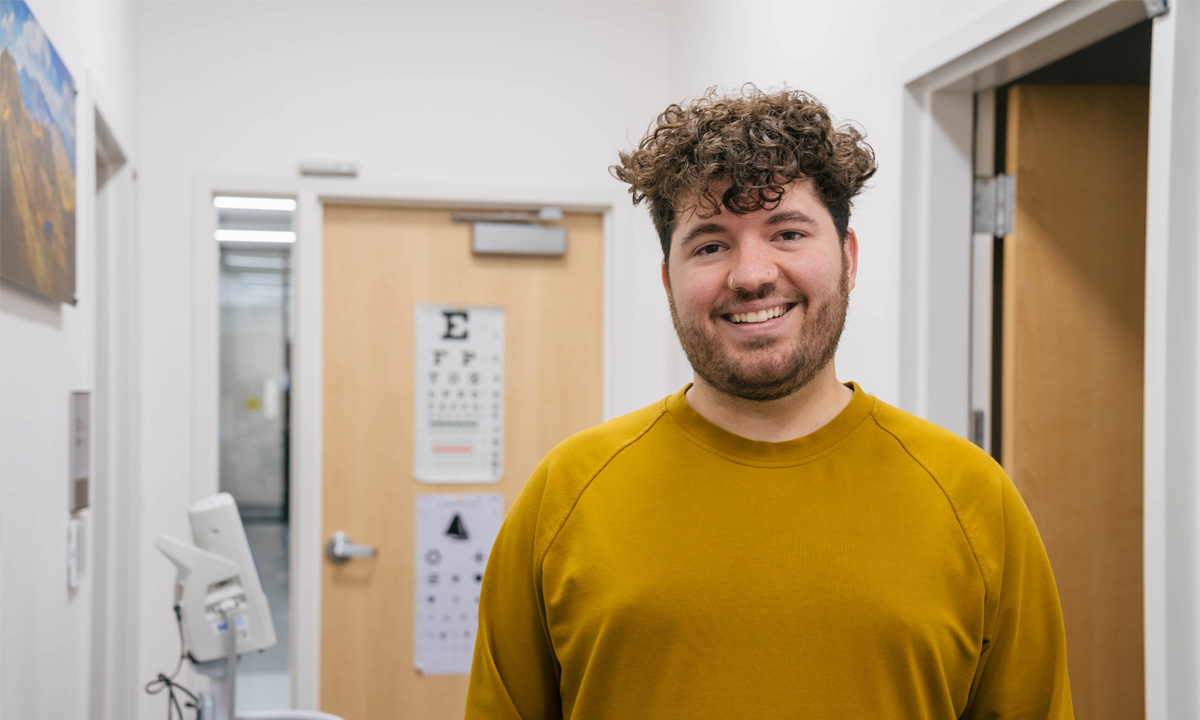 Brysen Bocchino, a former laboratorian, left ARUP to pursue a career as a therapist. Now he's back at ARUP as the Family Health Center's first mental health clinician, and he's working to develop policies and programs that support ARUP employees.
April 4, 2022
Not long ago, Brysen Bocchino, CMHC, NCC, was a college student working the bench at ARUP Laboratories with an eye on a career in mental health.
At the time, some of his coworkers would jokingly suggest that ARUP should hire a therapist and Bocchino should come back after graduating to take the job.
"I was like, 'I'd love to come back here to work,'" said Bocchino, who previously worked as a technician in Specimen Processing and as a document control specialist in Immunology. "We have physicians and physicians' assistants, why don't we have an in-house therapist?"
No one could have predicted the joke would become a reality, but it has. After a four-and-a-half-year hiatus, Bocchino returned to ARUP in late 2021 as the first mental health clinician in ARUP's Family Health Clinic, which provides free primary care and wellness services to ARUP employees and their dependents.
"I'm excited that ARUP recognizes the importance of creating a culture of good mental health," Bocchino said. "It makes ARUP more legitimate in the sense that when we talk about health initiatives or overall wellness, we include mental health. It's not just a box to check."
More and more, he said, research supports the premise that good mental health in the workforce translates into a happier workplace with higher levels of productivity and job satisfaction. On-site care remains unique for now, but Bocchino said he and Kathryn Gibson, MD, medical director of the Family Health Clinic, anticipate the demand for mental health care will explode in the coming years.
"Since employees are the most important part of our organization's success, ARUP made what I believe is an industry-leading decision to employ an on-site mental health clinician," Gibson said.
The exacting technical standards of laboratory science require a level of precision, skill, and critical thinking that can tire and test individual laboratorians, a fact made worse by the COVID-19 pandemic, she said.
"COVID-19 has strained labs and lab workers just as much as other healthcare providers, and rates of stress, burnout, depression, and anxiety, therefore, are being seen in nearly 50% of our workforce," Gibson said. "Brysen is a unique find because he previously worked at ARUP and intimately understands the unique demands of lab work at ARUP."
The full scope of Bocchino's role is a bit of a work in progress, but he's already making a difference. He has developed company policies for crisis response and educational training for department managers and leaders. He's also providing a professional rudder to the employee committee that began last fall to develop initiatives to raise mental health awareness.
Bocchino said he won't offer individual therapy sessions, but he will provide support for crisis intervention. Bocchino has compiled a list of ARUP insurance-approved therapists, and there's also a program in the works to bring master's degree-level social work students from the University of Utah and Westminster College on site to help provide talk therapy.
"I hope to just bring a broader awareness of mental health, even if there are people here at ARUP whom I never speak to," he said. "I want them to know it's OK to not be OK and OK to reach out for help and to speak up about their mental health."
That's what Bocchino said he did for himself while weathering "major depressive episodes" during his undergraduate and graduate studies. Big changes in family relationships and a rough first year at the U hit hard, as did a tough break-up and a cross-country move to Maryland that left him without the support he typically relied on.
His first call to a therapist was "terrifying," Bocchino said, but it was also life-changing, even though they only met a few times. His first therapist gave Bocchino a sense of hope and ignited the spark that led to a career in helping others.
"I have so much gratitude for what he did for me," he said. "I did a lot of the work myself, but without him, I don't think I would have been able to do it."
Jennifer Dobner, jennifer.dobner@aruplab.com