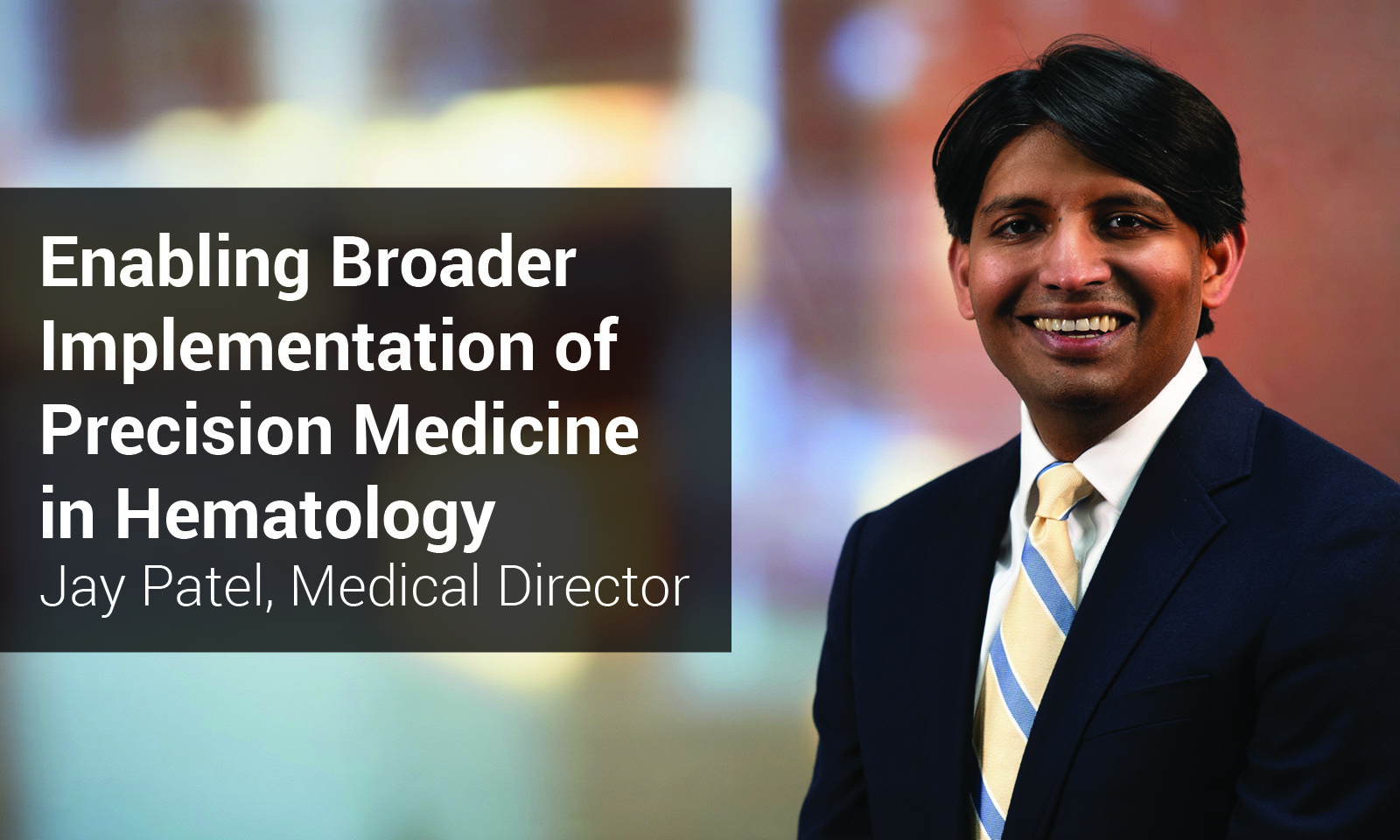 ARUP's Jay Patel, MD, and an expert panel of hematologists say that leveraging resources and communication can help expand access and outcomes for patients with cancer.
May 3, 2022
Advancements in science and technology have provided modern medicine with an ever-growing array of disease-specific tools and tests that can improve the diagnosis, treatment, and prognosis for patients with cancer and other tumor-driven diseases.
Still, accessing and implementing the opportunities presented by precision medicine, including biomarker testing, can be a challenge for care providers when the pace of scientific change is fast and the needs of the patient are immediate.
"The goal of precision medicine as it's defined really should be to marry biomarker testing to the appropriate patient stratification or therapy selection," said Jay Patel, MD, executive director, PharmaDx and Clinical Trials. "We're trying to make diagnoses informed by biomarkers and provide information that is useful to treating physicians."
Patel was one of the experts sharing insights and experiences on Tuesday, April 26, 2022, during a panel discussion about biomarker testing in hematologic malignancies.
In addition to Patel, the panel included Kenna Shaw, PhD, executive director of the Khalifa Institute at MD Anderson Cancer Center, and Tsewang Tashi, MD, assistant professor, medicine, hematology, and hematologic malignancies, at Huntsman Cancer Institute, University of Utah.
Precision medicine uses genetic information to create a molecular profile or characterization of disease and identify specific biomarkers of disease within groups of patients. Biomarkers can aid in diagnosis and patient prognosis, as well as predict a patient's response to a specific treatment, and may point to new therapeutic targets.
The explosion of genetic sequencing during the past few decades has exponentially increased the amount of available data about gene mutations and function, allowing for a greater understanding of disease mechanisms. However, integrating that testing data with clinical and pathologic findings to help patients through optimized therapies can present challenges for both institutions and care providers, panelists said.
Barriers to data integration can arise from a variety of sources: limited knowledge about or access to tests, complex health system operations, or the rapid pace of scientific change. Getting over the hurdles requires thoughtful answers to both critical and practical questions.
Do clinicians have familiarity with biomarker testing, and do they have the resources to interpret that test data to identify actionable genetic alterations? What laboratory testing is available, and which are the right tests to meet a patient's needs?
On an operational level, can a team of oncologists and pathologists quickly respond to a patient diagnosis that requires rapid testing of multiple biomarkers? How can resources be leveraged to do the most for the patient, and is there access to an appropriate clinical trial if a treatment approved by the U.S. Food and Drug Administration (FDA) isn't available?
"The role of the payer is also very important," said Tashi. "We don't want the patient to end up with a huge bill for medical testing that is an important part of their medical care."
Among Shaw's concerns: How to create a robust decision-support system that supports personalized care in a dynamic environment where the content of our knowledge is constantly changing.
"We see we need to be able to provide our clinicians with just-in-time information exactly when their patients are in need of the 'next' therapy," Shaw said.
Patel agrees. Hematology has relied on biomarker testing for decades in predicting patient outcomes, but Patel, who has firsthand experience, said that the rise of FDA-approved, biomarker-driven therapies is a game-changer.
In 2021, he was part of the ARUP Central Pathology Review team of hematopathologists that performed multiple bone marrow response assessments to evaluate the efficacy of a drug treatment for adults with advanced systemic mastocytosis.
ARUP's work played a critical role in helping Blueprint Medicines secure FDA approval of the precision therapy, avapritinib (AYVAKITTM), a kinase inhibitor that targets KIT D816V and was found to be effective across specific advanced disease subtypes, including aggressive systemic mastocytosis, systemic mastocytosis with an associated hematologic neoplasm, and mast cell leukemia.
It's a rare disease with a difficult diagnosis, Patel said during a panel analysis of a systemic mastocytosis case study.
"You need to bring together multiple pieces of pathologic, molecular, and clinical information, integrate that data, and then make a comprehensive diagnosis," he said.
That sort of multidisciplinary communication and collaboration could also help integrate precision medicine more seamlessly into daily clinical care.
"We should be taking advantage of the available tools in our institutions," said Patel. "And we need to incorporate that practice so that it's not something that you're doing once a month or once a year; it's a constant touchpoint."
Jennifer Dobner, jennifer.dobner@aruplab.com