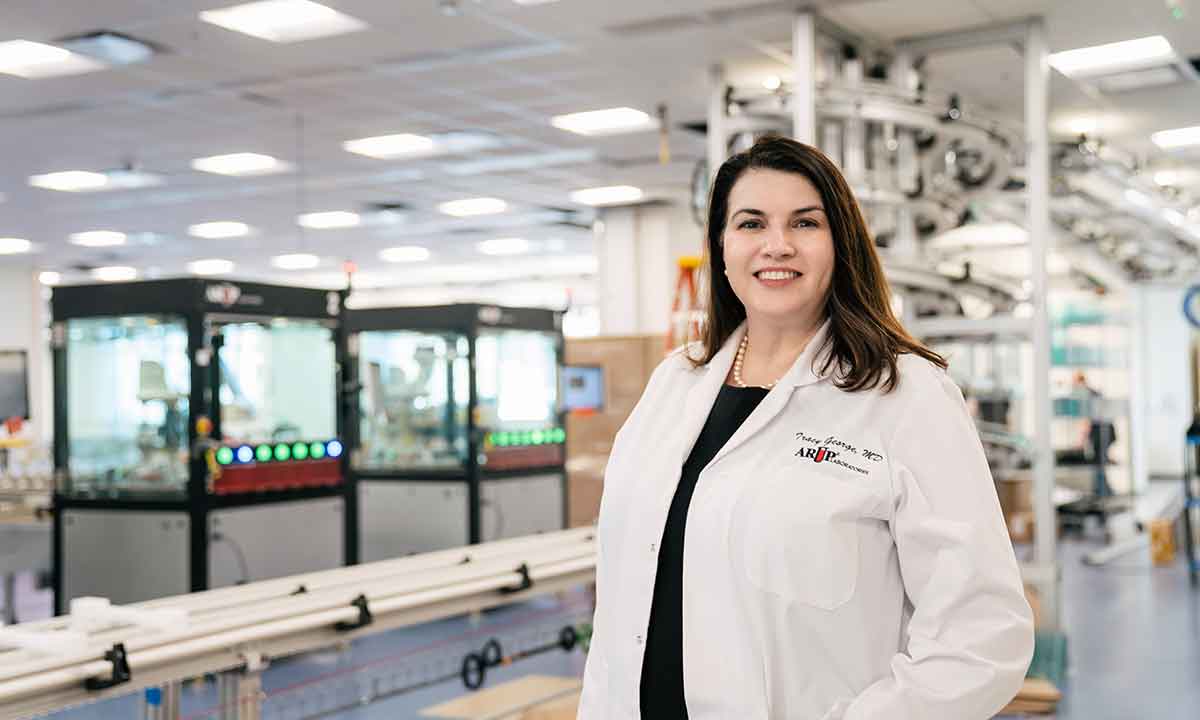 President and Chief Medical Officer Tracy George, MD, worked with ARUP's PharmaDX and Clinical Trials group to create the central pathology review offering used in clinical trials for AYVAKIT. The new precision therapy for advanced systemic mastocytosis recently earned approval from the U.S. Food and Drug Administration.
July 2, 2021
The U.S. Food and Drug Administration (FDA) recently approved a new precision therapy developed by Blueprint Medicines for adults with advanced systemic mastocytosis, a rare and potentially fatal hematologic malignancy.
The therapy's approval is a win for ARUP Laboratories and its PharmaDx and Clinical Trials group. Cambridge, Massachusetts-based Blueprint Medicines relied on ARUP hematopathologists to screen and confirm eligibility of candidates from around the globe for participation in two clinical trials of the therapy, avapritinib (AYVAKIT). Using ARUP's central pathology review model, hematopathologists also performed multiple bone marrow response assessments to evaluate and report on the drug's efficacy.
"It's work that we're really proud of because it resulted in approval of a drug that may provide benefits to patients with unmet need," said Tracy George, MD, ARUP president and chief medical officer (CMO). "It affirms our decision to offer central pathology review for clinical trials as a valuable service that facilitates standardization in the thorough assessment of disease response."
Avapritinib is a kinase inhibitor that is designed to target D816V mutant KIT, the central driver for the vast majority of patients with advanced systemic mastocytosis, which may lead to extensive damage in multiple organ systems. Avapritinib was found to be effective, regardless of prior therapy, across specific advanced systemic mastocytosis disease subtypes, including aggressive systemic mastocytosis, systemic mastocytosis with an associated hematologic neoplasm, and mast cell leukemia.
"AYVAKIT provides remarkable clinical efficacy to patients with advanced systemic mastocytosis, and this approval solidifies the therapy's strong value proposition in this population," Blueprint Medicines CEO Jeff Albers said in announcing the FDA's decision. "With a deep commitment to driving continued research innovation in collaboration with the mast cell disease community, we are now building on this progress with the goal of bringing the benefits of precision therapy to a broader range of patients through our ongoing and planned clinical trials for non-advanced systemic mastocytosis."
ARUP also plays a key role in these newer clinical trials, said Jay Patel, MD, MBA, executive director of ARUP's PharmaDx and Clinical Trials group.
The group does significant work related to mastocytosis, primarily due to the expertise offered by George, a key player in global efforts to diagnose and treat the disease. Before joining ARUP in 2018, she participated in clinical trials that led to FDA approval of midostaurin, the primary treatment option available to patients with advanced systemic mastocytosis before the FDA approved avapritinib. George has continued to build on her work alongside her fellow ARUP hematopathologists since joining the company.
The central pathology review offering she started as director of PharmaDx and Clinical Trials before being named CMO in September 2020 initially focused on evaluating treatments for hematologic disease, but Patel and George are working to expand it as an offering for clinical trials studying treatments for other types of disease.
"Central pathology review is especially relevant for rare disease, for which diagnosis is challenging and assessment of response to therapy can be even more difficult," Patel said.
He and George added that the model is a great fit for ARUP because it also enables ARUP's experts to continue to advance knowledge about laboratory medicine through their academic publications.
"The cool thing about this is that it's totally aligned with ARUP's mission and the mission of the University of Utah," Patel said.
As always, optimizing patient care is the key driver, George said, and the FDA's approval of avapritinib is a clear shift in that regard.
Click here to see the full prescribing information for AYVAKIT.
Trademarks
Blueprint Medicines, AYVAKIT, and associated logos are trademarks of Blueprint Medicines Corporation.
Lisa Carricaburu, lisa.carricaburu@aruplab.com