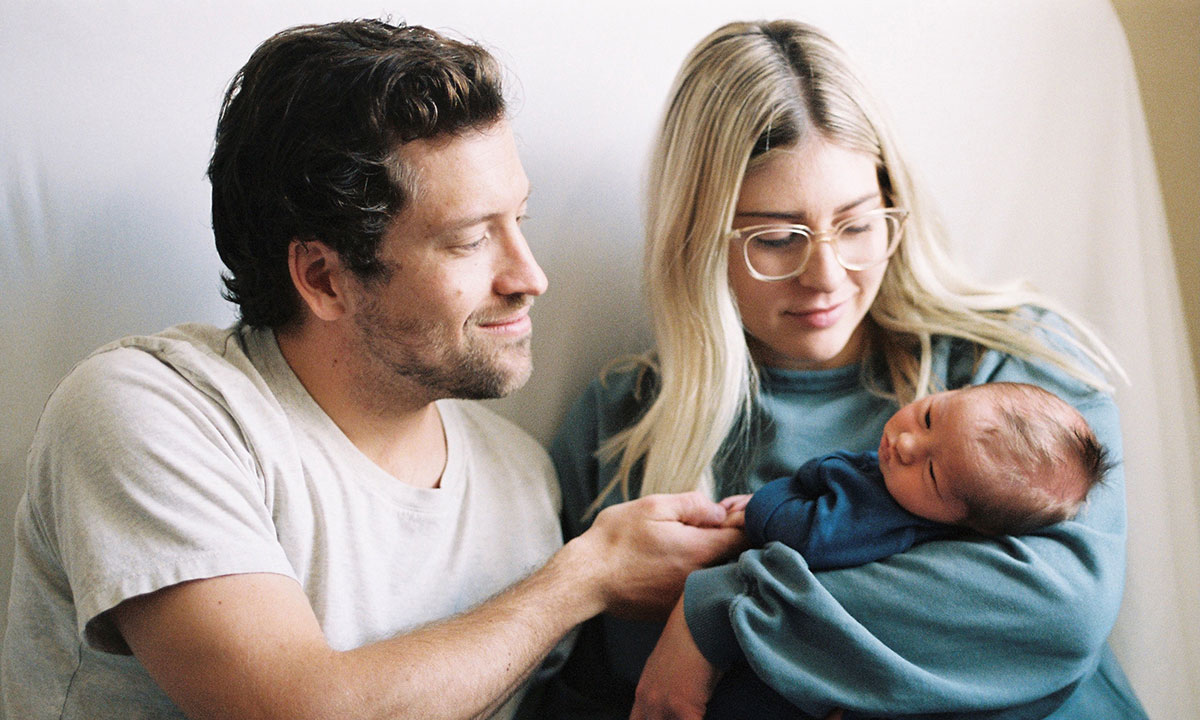 Stew and Becky Tribe hold their newborn son, Woodward, who was the first baby in Utah to be diagnosed with GAMT deficiency through Utah's newborn test panel. Utah is one of only three states that include this screening for newborns.
January 11, 2021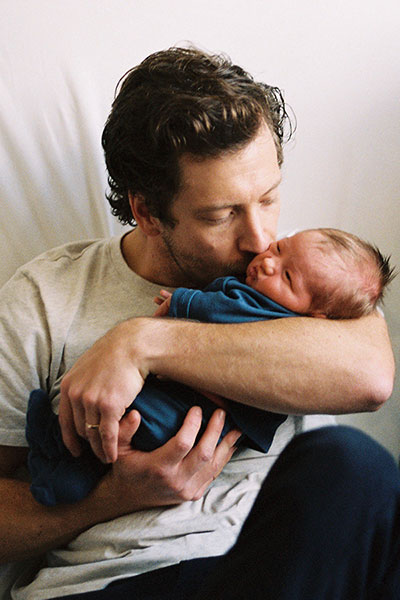 Becky and Stew Tribe were not planning to have their baby in Utah, but when the COVID-19 pandemic hit and Los Angeles went into lockdown, they decided to move to Utah to be closer to family. Unbeknownst to them, that decision would change the fate of their son, Woodward, who was born in early December and appeared to be a healthy, howling, 6-pound, 14-ounce newborn.
A few days after the Tribes left the hospital, their doctor called to inform them that something had come up on Woodward's newborn screening test, something he was unfamiliar with but knew was rare. Another doctor and family relative told them not to be concerned about it because no baby in Utah had ever been diagnosed with it through the newborn screening (NBS) panel.
The red flag was for guanidinoacetate methyltransferase (GAMT) deficiency, an inherited condition that affects the body's ability to produce creatine. Utah added screening for GAMT deficiency to its NBS panel in 2015, becoming the first state to do so. It is now one of only three states (Michigan and New York are the other two) to screen for the condition. If the disorder is not caught early, severe neurological problems, including intellectual disability, limited speech development, recurrent seizures, autistic-like behavior, and involuntary movements can result.
Woodward was tested twice more to ensure earlier tests hadn't been false positives, and then a DNA test confirmed he had GAMT deficiency. He was the first baby without a family history of GAMT deficiency to be identified with this condition through Utah's NBS panel. The test was added to Utah's panel after years of advocacy by ARUP medical directors Marzia Pasquali, PhD, Nicola Longo, MD, PhD, and Heidi Wallis, president of the Association for Creatine Deficiencies and the mother of two children with GAMT deficiency (detected in one child at birth, but not until the age of five in the other).
"The implementation of this additional screening is very easy and inexpensive to accomplish," said Pasquali, who is a University of Utah (U of U) professor of pathology and ARUP's section chief of Biochemical Genetics. To validate the test, she tested 10,000 deidentified bloodspots and was able to identify three known GAMT deficiency samples.1
"Newborn screening for GAMT deficiency in Utah has forever altered the course of this child's life for the better. GAMT deficiency is a debilitating disease. Most families are forced to watch their children decline and desperately search for answers. When treated from birth, children with GAMT live a typical, healthy life," Wallis said in a Utah Department of Health news release. She hopes Woodward's diagnosis will prompt more states and countries to add the GAMT deficiency test to their screening panels.
Longo, U of U professor of Pediatrics and chief of the Division of Medical Genetics at the University, also identified GAMT deficiency as a treatable condition as long as therapy is started early in life. He added that treatment is relatively simple and inexpensive. He suspects there are many more children with developmental delays and seizure disorders who may actually have a creatine deficiency disorder.
Luck Played a Role for the Tribe Family
Woodward is quickly outgrowing his newborn clothes. His parents describe him as "audible," and his 3-year-old sister loves having a new brother, so far. After initial frustration and fear of the unknown, as they tried to understand the need for all the tests, the Tribes now feel incredibly grateful for Longo's care and Wallis' experience and tips on getting a newborn to take supplements, which include a mix of creatine, ornithine, and sodium benzoate.
Each morning, the Tribes mix up the powders and divide them into four doses, each in a mini baby bottle with breast milk and water. "We give him this bottle first thing when he is hungry, before I nurse him, so he can't refuse it," Becky said.
Not long after Woodward's diagnosis was confirmed, the Tribes looked up the newborn screening panel in California. GAMT deficiency was not on it. Looking at his son, Stew said, "The stars aligned, and then the stars aligned again."
References
Pasquali M, Schwarz E, Jensen M, et al. Feasibility of newborn screening for guanidinoacetate methyltransferase (GAMT) deficiency. J Inherit Metab Dis. 2014;37(2):231–236.