Picture This: Beauty and Disease in Digital Pathology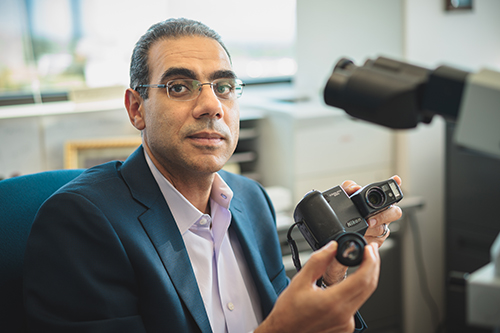 Salama admits at the time, it took some convincing of his wife, that his old Coolpix 990 was indeed a good $1,000 investment when he purchased it as medical resident 15 years ago. It was the range of motion and how well the lens fit with the microscopes eyepiece that sold him on it. Two decades later at ARUP, hundreds of specimens a day are scanned and, with the use of algorithms, many are being mined for more diagnostic information.
During his residency at the Henry Ford Health System in Michigan, Mohamed Salama, MD, was the young man who always had a digital camera in his shirt pocket. While training to be a pathologist, he recalls constantly aligning the lens of his Coolpix 990 camera to the microscope eyepiece to snap a shot of a slide.
"It's the way my brain works. I'm always looking for more innovative ways of doing things," confesses Salama, ARUP's chief of Hematopathology.
Today, his collaborative work is propelling digital pathology forward using whole slide imaging (WSI), a tool destined to change the evolution of pathology, much like functional magnetic resonance imaging (fMRI) changed neurology.
"There have always been cameras and photos taken in pathology. It is now just being taken to a different level, allowing for teleconferencing, remote consultations, and image analysis," points out Salama. He adds that it is an invaluable tool for teaching, research, and—an area he is especially interested in driving—clinical application.
He explains that digital imaging is more practical, streamlines the workflow for quicker turnaround times, and avoids some of the pitfalls of glass slides (i.e., fading, breaking, missing). Whole-slide imaging and image analysis allows for a reliable standard, avoiding subjectivity or human error, while allowing us to see more.
Digital pathology is increasingly transforming pathology from a qualitative science into a quantitative one.
Mohamed Salama, MD, ARUP Chief, Hematopathology
"There are limitations to what our eyes and a microscope can do; with digital imaging, we can construct algorithms that can help us identify and collect data from specimens," says Salama, who is also professor of pathology and director of the Hematopathology Fellowship Program at the University of Utah School of Medicine. For example, an algorithm can count the number of cells in a specimen or identify the repetition of a certain kind of biomarker.
Extreme Data Drives Collaborations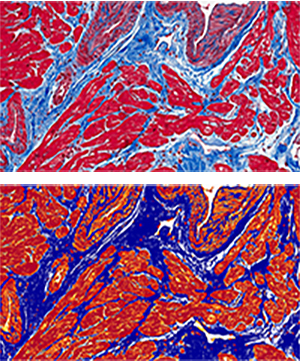 Like anything that can now be electronically delivered (i.e., bank statements, birthday cards), digital imaging decreases time and transport efforts. Salama points out that digital pathology is revolutionizing the traditional workflow involved in analyzing slides. "Once we get the tissue, the slide never has to leave the lab," says Salama. A pathologist can circle the area of the (digital) slide tissue they want further analyzed remotely. Previously, a circle of tissue would be cut out for molecular testing and there would be no record of what exactly that area contained. Annotations and observations can also be added and shared.
As digital pathology, as well as the data collected from these images, grows, it requires an accessible and comprehensive data system. Foreseeing this need, Salama is collaborating with the University of Utah's Scientific Computing Institute (SCI), which specializes in scientific imaging and "extreme" data management.
Through this collaboration, the institute is able to bring the software infrastructure needed for accessing and processing high-resolution images. Together with SCI's Valerio Pascucci, PhD, and his team, Salama is developing the technology to scale pathology WSI down to an iPhone and all the way up to a super-computer. Currently, this process is being tested on one of the world's largest computers in Saudi Arabia.
"Access to large data has become a major bottleneck for many applications, so we are specifically focusing on the challenge of accessing data and making it usable," explains Pascucci, who is the director for the Center for Extreme Data Management, Analysis, and Visualization. "We're able to increase speed and allow for practicability, especially when you have a lot of data and people in the loop." Some components of this technology being developed with ARUP will be open source, while other components will be proprietary.
Such a system will benefit educational, research, and clinical environments, easing communication between experts or a professor and student.
Still Hoops to Jump Through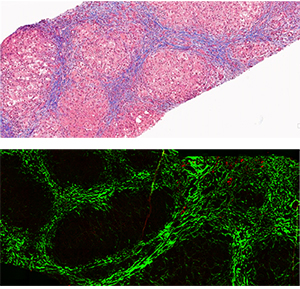 Currently, ARUP has an e-slide manager system where hundreds of thousands of slides from the past five years have been analyzed and stored. "We are working on an interface so our laboratory information systems can interact and access these images," says Brian Thompson, IT analyst, who oversees the slide manager website.
If a client or a pathologist works on a report and needs to refer to the slide, they can access it through this system. Interfacing with Epic, an electronic medical record system, is also in the works.
Despite this digital transfer of information, a glass slide is required for making clinical decisions, so the original slide is still sent. One of the hurdles ahead for the full transition to WSI in pathology is working with the Food and Drug Administration (FDA) to establish regulations. "This is such a new field that the FDA wants to make sure the new tools being used allow for quality compliance," explains Salama, who serves on the College of American Pathologists committee for digital imaging.
In the meantime, ARUP is already cresting this wave with the ability to offer imaging capabilities, pathology expertise, and programming together. "We have the power to make the most of WSI; we have everything in one place and know how to use it in practice," says Salama.

He adds that digital imaging is like any other tool, but when images are placed in context of their need, they become even more powerful. "These images help in diagnosing patients' conditions and in time could lead to major discoveries," points out Salama. "This is content-rich material and we have to take advantage of it."

HOME