Solutions and Standardization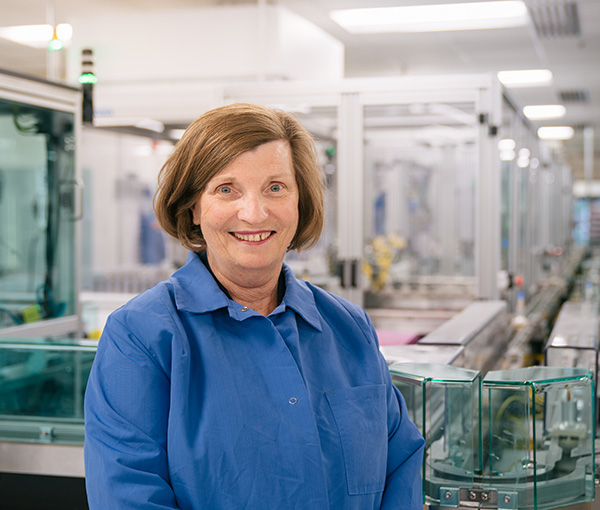 In operations, we view solutions as a step forward. They may not be perfect, but they provide momentum in keeping us always moving toward 'better.' Waiting for the perfect solution can lead to stagnation or paralysis. It is a mindset of continual improvement that fuels our evolution.
Martha J Bale
Over the last two decades, I've witnessed an industry that has continually evolved, rigorously interacting with and reacting to advancements in science and technology. To excel, ARUP has had to adapt to keep up with this progress—at times even driving it.
We approach every operational challenge guided by our commitment to continuously improve without ever compromising quality or service. That's how we find solutions.
What's our advantage? As an academic medical reference laboratory, we have experts in the field constantly eyeing how we can improve existing tests and spot the need for new tests. This keeps our test-development pipeline robust. We are also always striving to improve the diagnostic value of current tests by improving sensitivity and specificity, as well as turnaround times.
Add in technology; that accelerates everything! More so than ever, we are constantly reevaluating and adjusting to take advantage of technological advances. Consider, in the last 20 years, ARUP has gone from one lab using PCR (polymerase chain reaction) to 10 labs now employing this technique. This growth is also evident in development and use of mass spectrometry. We were one of the first major adopters of mass spectrometry for clinical testing and have now adopted versions of this technology across ARUP.
Right now, one of our key areas of focus is streamlining and standardizing instrumentation and processes. It is easier to support 10 of the same instrument than it is to support the same technology from 10 different types or suppliers of that instrument. We want to simplify to fewer platforms as long as the quality of our testing is not compromised.
Imagine using 12 different blenders and each one operates a bit differently, is built a bit differently, and whips up a different final product. This increases complexity; we are already a complex organization based on the nature of our industry. So standardizing instrumentation will allow us to continue driving high-quality diagnostics (i.e., consistent results) while also making practical sense (i.e., training, maintenance). We've already achieved this in mass spectrometry, where our own engineers maintain and service the instrumentation.
We're applying this same standardization approach for liquid handling platforms. Currently, we have a lot of pipetting automation, but it consists of many different instruments all working toward the same purpose.
In addition, we are streamlining processes to meet increased demands in our labs using nextgeneration sequencing (NGS). The realm of NGS is taking off and is a key part of our laboratories, involving genetics, oncology, infectious disease, and immunology.
We want global solutions; it isn't about each lab figuring out its own way of solving an issue— often the same issue might present itself in other labs as well. It is about developing and implementing the same solution across all labs. While there is separate testing in each lab, in many cases the processes are the same, and often there are similar pressure points.
In operations, we view solutions as a step forward. They may not be perfect, but they provide momentum in keeping us always moving toward "better." Waiting for the perfect solution can lead to stagnation or paralysis. It is a mindset of continual improvement that fuels our evolution, and the fact that we know we are never done. It is this mentality among every single individual here that keeps us strong and moving forward.
Martha Bale, MS, MT(ASCP)
Vice President, Director, Technical Operations, ARUP Laboratories

HOME