Order Status and Results functions include:
Monitoring of the status of pending orders
View, print, and download new test results
Search for patients, view patients' test history, and print or download reports
For additional questions contact Ashley Carlisle, Product Manager, ashley.carlisle@aruplab.com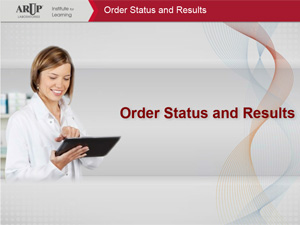 Watch Now
Where to find Order Status and Results
Order Status and Results is a menu choice located under the Order Management tab in Connect, our client portal.
Quick Tips
Help files can be accessed by clicking Help Center.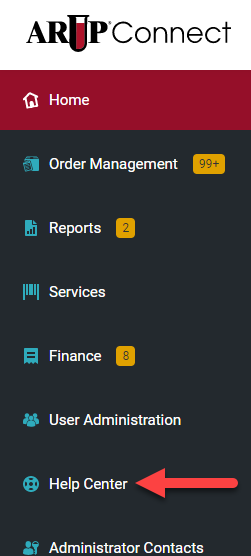 ---
Monitor Pending Orders
The Pending Orders tab offers a comprehensive view of all pending orders with status. This includes all orders placed using an LIS-to-LIS interface, ARUP's Order Entry located in our client portal Connect and paper requisitions. The status of an order may be Ordered, In Transit, Received (central collect), In Lab, and Preliminary.
The default display for pending orders is seven days and the date range field allows you to select any period of time up to 90 days. Filter options give you the ability to quickly search pending orders.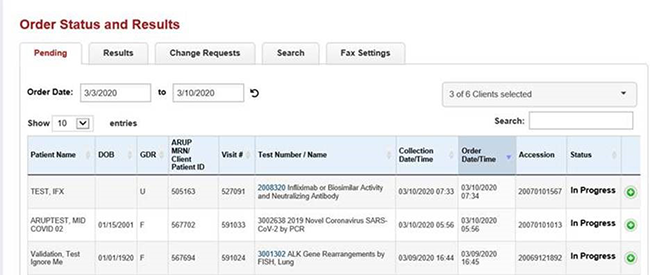 Process New Test Results
The New Results tab allows you to quickly identify and process new test results for manual orders—those sent to ARUP using Order Entry and paper requisitions. You have the option of viewing final results or partial and final results. Test results are displayed chronologically from newest to oldest for seven days and can be sorted by the column headers Patient Name, Date of Birth, Visit Number, Collection Date/Time, Completed Date/Time and Accession. Reports can be downloaded or printed individually and collectively.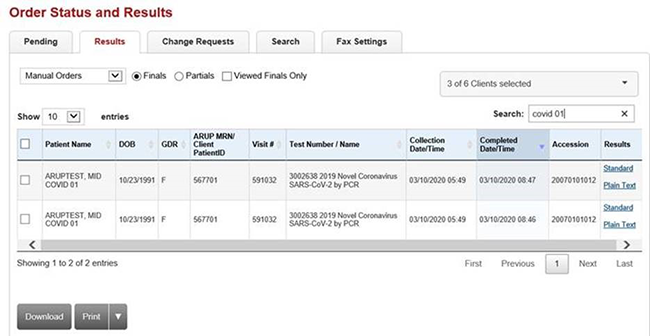 Search for Patients
Search by one of the following criteria to find a patient's test results:
At least two letters of the patient's Last Name.
The patient's First and Last Name.
A Patient Identifier.
A patient Identifier can by an MRN, Patient ID, or visit Number, which can be a FIN, ARUP Accession or your internal Accession number.
A list of patients that matches your search criteria will display. Sort and filter options give you the ability to quickly review results.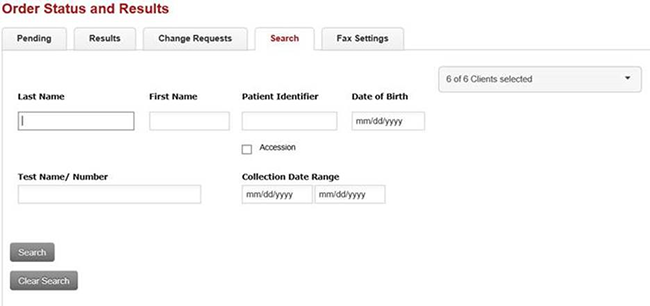 View Patient History
Test history is displayed chronologically and can be sorted by all column headers. When the test's status is completed or final, click the Text and Enhanced links to open and view test results. Reports can be downloaded or printed individually and collectively. When you download, a zip file will be created saving each report as a unique PDF formatted document.