eInvoice provides a secure, web-based location for clients to view, download in various formats, and print current and historical invoices. Key benefits include filtering invoices, making payments via 3rd-party service and the ability to eliminate hard copy invoices. Notifications of new invoices are emailed quarterly or for every new invoice created. Client Access is through ARUP Connect™.
For additional questions contact Mark Reece, Product Manager (801) 583-2787 ext. 2653
Useful Links
Where to find eInvoice
Access: Sign in to Connect → Select Finance tab → Select eInvoice from drop down menu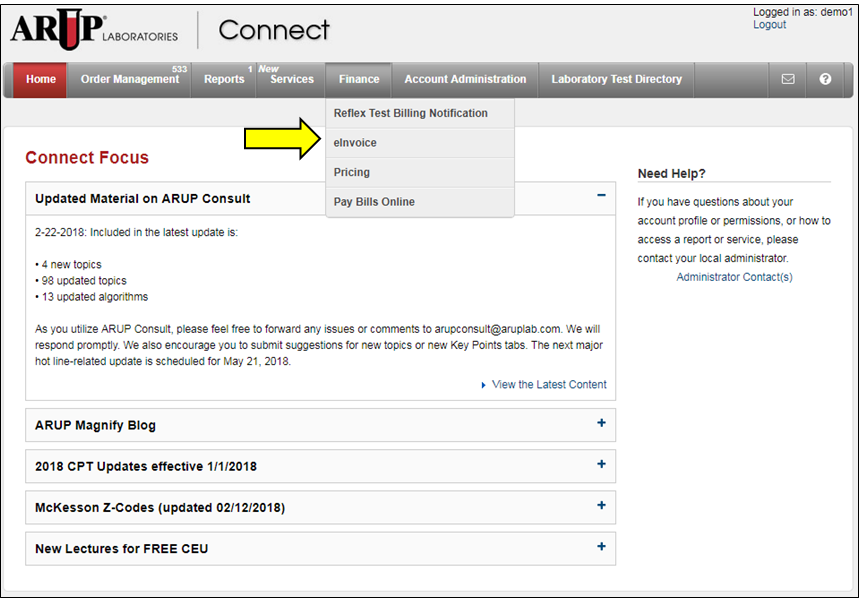 Quick Tips
Invoice details; submit payments online.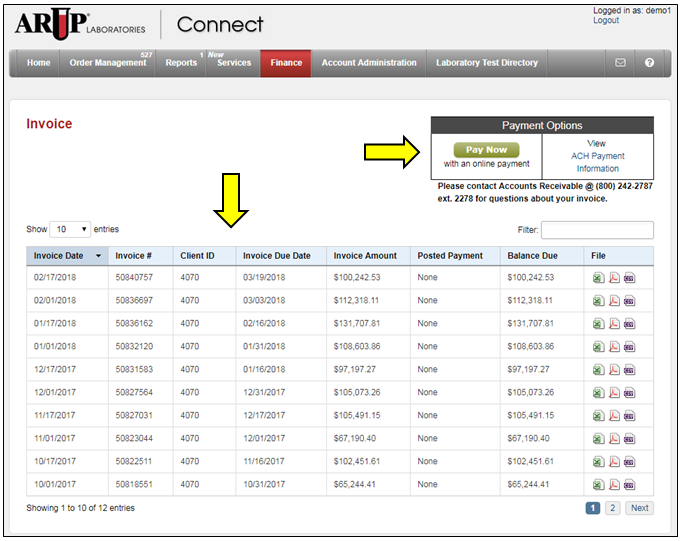 Download invoices in various file formats.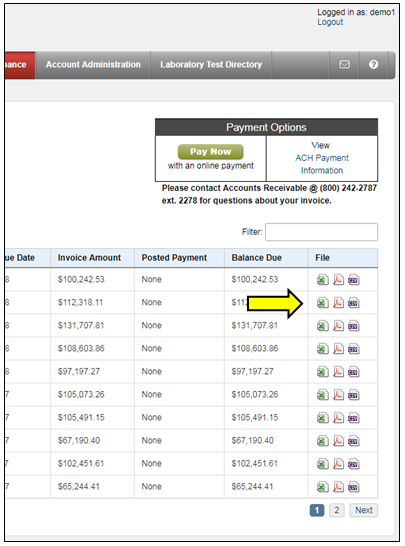 FAQ
Q: What are the details for invoices? Who owns or manages content for eInvoice?
A: Patient information, test numbers, amounts due and provider information is detailed on the downloadable and printable invoice. For questions about the application, contact the Informatics Product Manager (PM).
Q: Who should be contacted regarding technical issues with eInvoice?
A: In most cases, Helpdesk (801-583-2787) is the primary source to troubleshoot.
Q: Are there ever downtimes or interruptions of service to the application?
A: Yes. Downtimes to eInvoice will occur when Informatics schedules releases to the application. All downtimes or planned interruptions are known in advance and communicated to clients within the Connect Message Center or on the Connect Login homepage within 24-48 hours of downtime. Typically downtimes for releases are for 2-3 hours, usually in the evening after close of business.
Q: Are there example invoices available to view?
A: Contact Client Services (Phone: (800) 522-2787) for example reports.
Q: Can clients turn off email notifications for eInvoice?
A: It is not recommended to turn off email notifications, unless a large volume of reports is frequently expected. Email and visual notifications are very useful for clients to manage their workload and to benefit from the timeliness of eInvoice.
Q: What file formats are available for report downloads?
A: Formats include Excel, PDF and CSV.
Q: Is there a mobile app version of eExcept?
A: No. The invoice and application would be difficult to view and manage on a mobile phone screen. But Connect applications can be accessed with tablets or other devices that have Internet access to ARUP's secure websites.