IMPORTANT NOTE:

Prospera Transplant Assessment (Qualified Clients Only) is a send-out test that is available to qualified clients through ARUP.
Test Overview
Test utilizes a single-nucleotide polymorphism (SNP)/ informatics-based approach to detect donor organ DNA (dd-cfDNA) in transplant recipient's blood. The dd-cfDNA fraction is determined using a proprietary algorithm that does not require prior analysis of either donor or recipient DNA. When samples do not meet the necessary quality metrics, a test result is not provided, and the clinician is advised to perform a second draw. False positives and false negatives can occur. High dd-cfDNA fraction is associated with increased risk of active rejection (AR) and may require diagnostic confirmation of AR by alternative testing methods. Low dd-cfDNA fraction results do not fully exclude the diagnosis of AR nor do they exclude the possibility of other kidney injuries. Test results should always be interpreted by a clinician in the context of clinical data.
For more, please visit www.natera.com/organ-transplantation/prospera-organ-transplantation-assessment
Ordering Recommendations
Assessment of active rejection and injury in kidney transplant recipients that are more than 14 days post-transplant.
Ordering
Please contact ARUP's interface team to add the test in your system. Test code will be provided upon completion of this step.
A completed Patient History Form is required. Failure to provide this information may result in a testing delay (this form is included in each collection kit for Prospera).
You are required to provide the patient's insurance information together with the specimen.
| | |
| --- | --- |
| Billing: | Third-party payors are billed directly by Natera. Test is NY approved |
| Methodology: | Targeted Sequencing with SNP |
| Reported: | 5-7 days. For stat and expedited testing, please contact Natera directly at 650-273-4468 (press 3) or prosperacares@natera.com |
| Stability: | Ambient: 5 days; Refrigerated: Unacceptable; Frozen: Unacceptable |
Required Supplies
All specimens must be collected using the Prospera Transplant Assessment Collection kit (ARUP Supply #55552) available online through eSupply or contacting ARUP Client Services at (800) 522-2787.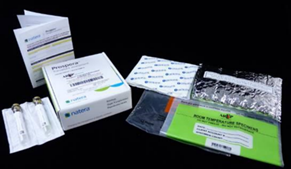 Collection Instruction and Patient History Form
Example Reports
Resource for Test Directory
Limitations
Prospera is not indicated in pediatric patients (weighing less than 100 pounds) or patients who are: pregnant, less than two weeks post-transplant, recipients of an allograft from an identical twin, recipients of an allogeneic stem cell transplant, or recipients of a non-kidney organ transplant.
This test was developed by Natera, Inc., a laboratory certified under the Clinical Laboratory Improvement Amendments (CLIA). This test has not been cleared or approved by the US Food and Drug Administration (FDA). Although FDA does not currently clear or approve laboratory-developed tests in the US, certification of the laboratory is required under CLIA to ensure the quality and validity of the tests.
More Information
For more information, please visit www.natera.com/organ-transplantation/prospera-organ-transplantation-assessment
Information for clinicians www.natera.com/organ-transplantation/prospera-clinicians