Congratulations on becoming part of one of America's finest reference laboratories. We are excited to have you join us. To help you become familiar with ARUP, we provide a paid new workforce member orientation.
Welcome to ARUP!
We will have a fabulous time in ARUP's Orientation. We are going to learn and laugh a lot. Please read the Important FAQ's listed below, the Orientation Schedule and each of the above tabs. Looking forward to meeting you!
All the best,
Tiffany Greathouse
Talent Development Specialists
Important FAQs:
When to arrive: 7:50 am
Where to park: Front row that is closest to the 585 building. To enter the parking lot, turn off of Foothill Drive onto Wakara Way (entrance to Research Park), take the first right onto the street Komas Drive (south). You will pass ARUP's 560 building. On the south side of the 560 building turn left into this parking lot, Security will have the first row closest to the 585 building reserved for you to park there.
Where to arrive: 585 Komas Drive, Salt Lake City UT 84108. See parking instructions above.
What to wear: Business casual.
Piercings & Tattoos: Earrings should be professional in appearance. Gauged ears must have inserts during work hours. Small nose piercings (studs) are acceptable; septum piercing is not acceptable. Visible tattoos may not be allowed in certain departments, including all University Healthcare locations. The acceptability of tattoos varies based on the specific position an employee holds but is determined based upon perceived offense, and community and business norms.
Cell phone use during class: Please only on breaks.
Snacks and lunch: Provided. Feel free to bring any additional snacks if you wish.
Bring any remaining required documents (originals i.e. I-9 proof of citizenship; education documents for human resources).
Bring proof of dependents: For benefit coverage of dependents, proof of dependents needs to be provided to HR Benefits within the first 30 days of employment.
Spouse – Marriage Certificate
Dependents – Birth certificates
Guardianship – Court paperwork
Bring banking and dependent information: routing and account numbers for direct deposit and social security numbers for those you plan to insure.
Please see all the amazing benefit options at aruplab.com/benefits and come prepared to make your insurance selections.
There will be a benefits representative available in the afternoon to answer any questions you may have.
New Hire Orientation Schedule
Day 1:
7:50 a.m. - Arrive to Orientation – Take Badge Photo
Get to Know You!
ARUP Laboratories Video
Executive Greeting
Nucleus – ARUP's Intranet
ARUP Family Health Clinic & Wellness Center Presentation
9:50 a.m. – Break
Payroll
Parking
Division Overview
Employee Handbook
Culture of Safety/Fire Extinguisher Training
11:35 a.m. – Meet & Greet with Mentor from Department
Benefits Presentation
Day 2:
7:50 a.m. – Welcome Back!
LAN Password
LEaP Training (Continued throughout the day…)
Benefits Enrollment – Direct Deposit, W-4
Regulations
New Hire Occupational Appointments
11:15 a.m. – Lunch
Work Worth Doing Videos
Diversity/Inclusion/Belonging
Retirement
Set Up Email & Milliman Account
MS Teams/Outlook
Pre-Employment Requirements
Complete:
Drug screen: 48 hours.
Offer letter: Sign and return offer letter three (3) days from acceptance.
Provide original I-9 documentation prior to start date.
Provide original educational requirements as outlined in the job description to ARUP preferred prior to start date but no later than 60 days after start date.
Benefits
To be eligible for benefits you must work 20 or more hours a week on a continuous basis. Your spouse and children under age 26 are also eligible for coverage under our health plan.
Benefit coverage starts on the first of the month, after 30 days of employment
Changing Your Elections
You can enroll during your first 30 days after hire and can make changes only during specific times of the year. Those are:
During our open enrollment period each fall.
Within 30 days of first becoming eligible or loss of coverage.
Within 30 days of a life event, like getting married or having a baby.
Medical: ARUP offers three medical plans with affordable rates and the same great coverage with options as low as $10 per paycheck. ARUP provides in network preventative care at no cost to you and your eligible dependents. A choice of low deductible plans is available and your cost for in network services is 15% after the deductible is paid. All medical plans include prescription coverage.
Dental: Coverage is provided through Dental Select. Two dental cleanings are offered at no cost to you and your eligible dependents each calendar year. For basic services such as fillings extractions and root canals, your share of the cost is only 20%. Orthodontia benefits are available for children under age 19.
Vision: Get discounts on contacts and eyeglasses through Eye Med.
Flexible Spending Accounts (FSAs) are a handy way to save money on taxes. These accounts let you set aside pre-tax dollars from your pay to cover eligible expenses.
With the Health Care FSA you can use your card on qualified expenses for medical, dental or vision. Up to $500 of any unused balance will automatically be added to your account the next year. In 2017, you can contribute up to $2,600 annually.
A Dependent Care FSA can be used to reimburse you for children of an eligible dependent. Any unused money in your account at the end of the year is forfeited. In 2017 you can contribute up to $5,000 annually.
The Transportation FSA can be used to reimburse you for parking or mass transit such as UTA, Trax, Front Runner and Van Pool. In 2017 you can contribute up to $255 per month.
Basic Life and AD&D Insurance coverage is provided at no cost to you. It includes basic life insurance of $50,000 and basic accidental death and dismemberment (AD&D) insurance of $100,000.
You may purchase Voluntary Life and AD&D Insurance with the following optional coverage and cost is based on your age: Voluntary life insurance for yourself of up to five times your base annual earnings, max $450,000. Voluntary life insurance for your spouse of up to $50,000. Voluntary life insurance of up to $10,000 for all dependent children. Voluntary AD&D insurance for yourself, or your spouse and family.
Short Term Disability pays when you have an injury or illness and are unable to work. The cost depends on age and salary. It pays 60% of income up to 90 days (after a 14 day waiting period). This is a GREAT benefit for new employees, 7/7 schedules and those considering maternity.
Long Term Disability applies if your condition restricts your ability to work for more than 90 days. You may be eligible to receive 60% of base pay until retirement age at no cost to you.
Some other benefit options include, but are not limited to:
pre-paid legal
travel insurance
will preparation
UTA bus passes
home/auto/pet insurance
supplemental accident/hospital/critical illness insurance
adoption benefits
tuition reimbursement
employee assistance program
long term care
This is only a brief summary of our benefit options. Please refer to our benefit website at www.aruplab.com/benefits for complete details and summary plan descriptions.
Be Sure to Bring
I-9 documentation.
Educational diplomas, transcripts, etc. required for your position.
Social security numbers and dates of birth for spouse and dependents.
Direct deposit information, routing and account number.
Be sure to bring Social Security numbers and dates of birth for any dependents you will cover. Also, bring your bank routing and account numbers to enroll in direct deposit.
Proof of dependent for benefit coverage must be provided to HR Benefits team within the first 30 days of employment.
Spouse – Marriage Certificate
Dependents – Birth certificates
Guardianship – Court paperwork
Lunch
Lunch will be provided by ARUP. If you have any special dietary concerns, feel free to bring your own lunch.
Appropriate clothing for orientation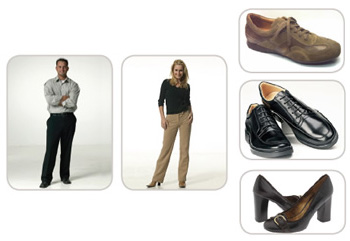 Dress code for new employee orientation is business casual, and a professional demeanor is expected.